---
Introduction — On the Street Where You Live
For about five years, I have been researching the buildings, residences and growth of Bemidji by reading old newspapers, city directories, and public records. The research focuses on the older parts of Bemidji from Lake Blvd west to Dalton Ave., from 1st Street north to 15th Street, Mill Park, the Midway Drive area, and the additions south of the railroad tracks to Lake Irving, such as the Carson Addition. The research took on a life of its own. It may evolve into a book some day, so if you wish to send information or pictures of a place your family lived in, please consider submitting it for possible inclusion on the website and/or future book. The Depot Express, the newsletter of the Beltrami County Historical Society, has carried an article quarterly called "On the Street Where You Live" which you can find on the website http://beltramihistory.org/blog/.
The original townsite was surveyed by Charles Forbes. It encompassed 22 blocks. Most were 25' lots, 140 ft. deep. Some are laid north to south, and some east to west. It was filed March 7, 1896. The original plat included 1st to 8th St., and Lake Boulevard to America Ave. There were numerous additions before 1900, as this small lumbering town was booming.
Carson's Addition – Surveyed by Marcus Stoner. Cora B. Carson & G. E. Carson. This includes the land between Irvine Avenue and Park Avenue, from Woodland Avenue on Lake Irvine to Fourth Street, and the south half of blocks 1 and 12, between 4th and Fifth Street. It consisted of 12 blocks. Block 6 and 7 are odd sized and are situated between Woodland and Oak Street. Filed Oct 30, 1897.
First Addition –  Lake Boulevard to America Avenue, Eighth to Tenth Street. Encompassing Blocks 1-10. From Dewey west to America Ave, each block is divided into 24 lots, each 25 ft. wide and 140 feet deep. Between Lake Blvd and Dewey, they are odd sizes. Plat field for record on June 20, 1898.
Railroad Addition, Bemidji Avenue to America Avenue, Blocks 1, 2, 3, each block divided into 12 lots, each 25' wide and 140 feet deep. Fronts First Street and Gov. Lot 1. Filed March 8, 1899.
Lake Park Addition. From Tenth Street to Twelfth Street, Encompasses Lake Boulevard to Bemidji Avenue. From Lake Boulevard to Dewey, they are 40' lots, and are 150 feet deep. Block 1 has 15 lots, Block 2 has 15 lots. All are large lots facing Lake Bemidji. Lots between Dewey and Bemidji Avenue are 25' lots, and are 120 ft. deep. Filed March 29, 1899.
Swedback's Addition consists of one block south of the tracks on Irvine Avenue. Block 1. Lots are 40' x 120 ft. and there are 12 lots, except for lot 1, which is an odd triangle facing Railroad Street. This addition is located between Railroad Street and Lake Irvine. Filed July 1, 1899.
City Directories did not include street addresses in 1904. The first Bemidji directory to include street addresses was 1910. Houses faced various directions. Sometimes they were placed at the back of a lot; sometimes they were set back a considerable distance from the street.  Many buildings were occupied by several families. There might be an entrance facing the street, but also an entrance to the back and an entrance to the upstairs.
It is often unclear whether the person or family listed in the newspaper or directory actually owned the building or was a renter. In-depth property records, tax records, and so on would be necessary to do a thorough study of each property. This is not the intent of this column. Newspapers usually supplied information about a resident, but did not necessarily distinguish between an owner and a renter.
The words "avenue" and "street" were not capitalized by newspaper editors in the early decades.
Dates in parentheses indicate the date of an article. Early references make it difficult to determine the exact location of a building or residence. An early example is that of Sam Simpson and another is John McDonald.
Sam Simpson is building a very neat barn near his residence on Bemidji avenue, where he has purchased three or four lots, which indicates that he is going to make Bemidji his home. (Oct 16, 1902)
John McDonald is moving his residence and will face it on Bemidji avenue. The lots it occupies at present will be used as a site for a new residence. (1904)
---
317 America Avenue
This was the home of John and Mathilde Thompson in 1910. John was a bartender for Ole Anderson in 1910. Ole Anderson and John Croon were early partners in the Lake Shore Hotel. Mrs. J. A. Thompson (Mathilde) advertised in the Bemidji Pioneer in 1911 that she would do child care for children up to ten years of age.
An eight-pound girl was born to Mr. and Mrs. Otto Ashby of Fowlds this morning at Mrs. John Thompson's maternity hospital, 317 America Avenue. (Mar 18, 1913)
The Ladies Aid of the First Scandinavian Lutheran church will meet Wednesday afternoon at 2 o'clock at the home of Mrs. John Thompson, 317 America Avenue. (June 20, 1911)
By 1915, the home was owned by Arthur and Laura Smith. A. W. Smith was the representative for the Pierce Chemical company of Chicago which manufactured toilet articles, and soaps of every description. Mr. Smith moved to Bemidji about 1900. A news clipping from January 1910 said that he expected to make Bemidji a shipping point for the Pierce Chemical company but would fill orders at that time from 1313 Irvine avenue.  There were three men out on the road taking orders for this company under the direction of Mr. Smith.  Mr. Smith planned to open up town quarters for both office and jobbing purposes.
On Oct 21, 1918, a ten-pound daughter was born to Mr. and Mrs. Edgar R. Rich of Island Lake, formerly of Duluth, at the home of the grandparents, Mr. and Mrs. A. W Smith, 317 America avenue. At an auction on Aug 8, 1920, A. W. Smith purchased lots 36 and 37, block 3, of the Lake Park Addition but did not move there.
On March 8, 1921, a number of ladies surprised Mrs. Smith at her home at 317 America avenue, the occasion being Mrs. Smith's birth anniversary. A delicious lunch was served at six o'clock. Music, conversation and a number of interesting diversions assisted in passing a very pleasant evening. The ladies presented Mrs. Smith a beautiful bouquet of American Beauty roses, as a token of their esteem for her.
The Smiths rented out rooms in the large house and ads appeared in the newspaper offering single rooms or a furnished flat for rent at this address.  Some of the lodgers over the years were Mr. and Mrs. Ganter, Olga Wallin, Mrs. Nellie Cattien, Delbert and Leslie Campbell, Bertha Hendershot, Emma Moe, and Henry Smith.
When an officer of the Ladies of the Grand Army of the Republic visited Bemidji In 1922, Mrs. Smith hosted a dinner at her home.
"Mrs. Kittie Coyne of St. Paul, department president of the G. A. R. Circles, spent yesterday in Bemidji. A special meeting of the Circle was called by the president for 2:30 at the Moose Hall for the purpose of inspection. An interesting meeting was held and a short talk given by Mrs. Coyne on the Old Ladies' Home at Anoka. Following the
business session the members of the Circle were escorted to the home of Mr. and Mrs. A. W. Smith, 317 America avenue, where a 5 o'clock dinner was served to about 22 guests
Bouquets of purple and white chrysanthemums were used as table decorations, and a very pleasant social time was enjoyed." (Nov 7, 1922)
The Smiths continued to live at this address until the death of Laura Smith on July 20, 1947. A.W. Smith died three years later in 1950 and is buried at Greenwood Cemetery.
---
311 America Avenue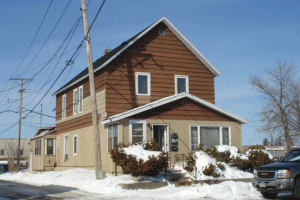 The west side of America Avenue was residential but also offered lodgings over the years.  The first residents that we know of are Anton and Kate Aller who ran the Bemidji Hotel on Third Street very early in Bemidji and resumed ownership in 1904. The hotel  burned in January 1906. Mrs. Aller, on behalf of her husband's estate, then sold the lot to Fitger Brewing Company which erected a new two-story brick building on the lot in 1906.
William P. Barnes and Miss Annie Aller, daughter of Kate Aller, were married in St. Philip's Catholic Church May 14, 1910. The young people made their home at the Aller residence on the corner of Fourth Street and America Avenue. Mrs. Kate Aller, and William Barnes lived at this address from about 1910 until about 1920.
This was the residence of Duncan and Elsie McDougal in 1920. Elsie McDougal ran a boarding house at this address, while Kate Aller moved in with her daughter and the Barnes family who lived next door at 315 America Avenue. The house was up for sale in May of 1922. The Barnes and Aller families took over the boarding house again in 1922 and ran it until Katherine Aller died on Sept 4, 1930 at the age of 65. The Barnes family moved to Washington, D. C.
The house was occupied by Charles Beard in 1931-32.  Several of the lodgers in the 1930's were Arthur Johnson, William Hedge, John  J. Riley, and Cora Beckon. William Lefaive lived there from about 1939-42. Frank Dewey and his wife Manda lived here from about 1951 to 1970.
Mr. and Mrs. Frank Dewey were pleasantly surprised on a Saturday evening in 1962 when a group of neighbors and friends gathered at their home at 311 America Ave. to celebrate their 50th wedding anniversary. Mr. and Mrs. Dewey were married in Bemidji Feb. 28, 1912 and lived in Bemidji practically all of their married life. Mr. Dewey was engaged in the furniture business for many years. Mrs. Dewey died on July 11, 1969. Frank Dewey died unexpectedly at his home on March 5, 1973. He had been a resident of Bemidji for 66 years.
The building became Kirkvold's in 1973 and Kirkvold's Boarding house in 1975. It was Aultman's Boarding home in 1980. It has continued as an apartment building.
---
321 America Avenue
Amanda Grodland lived at this address in 1910. Joseph and Alvina Wells lived there in 1912-1913. Mrs. Wells had worked as a cook for Joe Blondo at his Third Street restaurant, and in September 1914, she sued him for compensation for half of her salary during the ten week's period while she was suffering a sprained ankle and was unable to perform her duties.
Mary McDermid (widow of Peter McDermid), and sons Judd, Simon and William McDermid lived at 321 America in 1914-1915. She previously had a restaurant at 304 Third Street, and her son William was the cook. Joe Blondo bought out the McDermid Restaurant and ran it until 1917. Mary McDermid continued to live at 321 America Avenue in 1916-1917. Duncan McDougal lived at this property in 1922-23. Mrs. Lillian Pettingill ran a boarding house at this address in 1927. William and Ethel McDermid offered lodgings in this building from 1930 to 1940.
McDermids also owned Cabin-Inn Café and the McDermid Hotel on Third Street. The building continued as a multi-family dwelling offering rooms and apartments to the present day.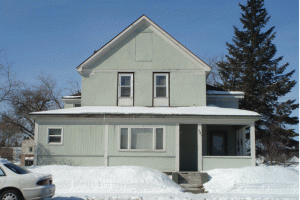 ---
401America Avenue
The interesting yellow brick house at the intersection of America Avenue and Fourth Street was built by Frank Silversack. He was born in Wisconsin, homesteaded in Koochiching County and then became a saloon owner in Bemidji. In February of 1900, he was among the first to donate to a purse made up to defray the burial expenses of his bartender Bennie "Frenchy" Moore who was murdered on opening night at the Olympic Theatre. The Silversack saloon was located at 322 Minnesota Avenue and was named  the City Hall Saloon.
Silversack purchased the corner lot on America Avenue on May 27, 1900 from W. F. Street. He built the house for his mail-order bride Louise Pennison Silversack. She was not happy with her husband's occupation or the rough and tumble life of Bemidji, as her interests were much more literary and in line with the arts.
Their beautiful new home was struck and badly damaged by a severe summer storm on July 29, 1902. Lightning penetrated the roof in several places tearing holes several feet in length, and followed the walls to the cellar where it struck the brick foundation and destroyed it. Posts and boards were smashed into kindling wood. Frank Carson and George Harvey were doing carpenter work in the house at the time and the lightning's course came within two feet of where they stood. They received a shock; Carson was taken to the hospital but he soon recovered.
Silversack ran afoul of the law a couple of times for selling liquor to a minor. He was first arrested in June 1904, and again in May 1905. Two men were charged with assault at his saloon over the Fourth of July 1905. The next month Mrs. Silversack was arrested and charged with two counts of arson – one for attempting to set fire to the saloon and the second for attempting to set fire to the livery located behind the saloon. Silversack discovered the fire in the stable and managed to put it out before it spread to the rest of the building. Silversack swore out a complaint against his wife and she was placed in the county jail and held until the Grand Jury met in September 1905.  She was indicted for arson but furnished bonds and allowed her liberty until the spring session of 1906. No further mention is made of the case, so perhaps the charges were dropped. By November of 1906, Mrs. Silversack was advertising three well-furnished, steam-heated rooms for rent at this location.
By 1910, there was only unhappiness and dissatisfaction in the Silversack house. Mrs. Silversack sought an absolute divorce and alimony from her husband. He answered the complaint by filing a cross complaint asking for divorce. The testimony was exceedingly pithy, and the couple split and went separate ways.
On September 12, 1911, Frank Silverack sold the City Hall Saloon to the Bemidji Brewing Company. He also traded his house at America Avenue for the Louis Lauritzen farm about seven miles west of the city. He planned to move to the farm and live an independent life, while Mr. Lauritzen moved his family to the city and occupied the splendid home vacated by Silversack. Lauritzen was a mason by trade and formerly followed this trade while he lived in the city. Frank Silversack remarried twice after that, died in 1930 and is buried in Greenwood Cemetery.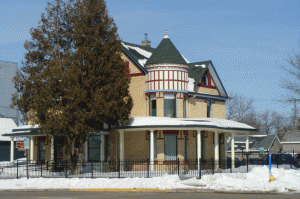 Harry and Jennie Mooney were living in the house in 1921 and the house was sold to Mary Jane Mooney on September 10, 1923. Harry was an employee of the Crookston Lumber Company and later was engineer at Bemidji State Teachers College. They had a son, Ernest Lisle Mooney. In 1940, Fletcher Grimoldby, Deputy County Treasurer, was living there as well. He was Harry's brother-in-law. Harry died in 1943, and Jennie died in 1959, and ownership of the house passed to Lisle Mooney. Upon his passing on April 8, 1965, the house went to Florence Jeanette Owen. Robert and Joan Bernstrom bought the house from the Owens and turned it into the Catalyst Bookstore, which many people still remember. On April 12, 2000, Ron L. Anderson purchased the house from the Bernstroms with the intention of creating a spiritual place for people to lead healthier lives. In honor of his late wife, he restored the building to its original splendor that we see today. On July 15, 2007. Sanya Mortenson purchased the building with the dream of a permanent home for the Bemidji Health & Wellness Center, and has made it a beautiful and welcoming building.
---
314 America Avenue
Two hotels once existed on the east side of America Avenue between Third and Fourth Street. The Minnesota House at 314 America Avenue was operated by G. O. Bang in 1910, then by Jens Johnson and then by Joseph Blondo.  Blondo purchased the Minnesota House, remodeled and refurnished it in 1921.  Opening day at the Blondo's Hotel was December 1, 1921. He advertised beds for 25¢ and 50¢ a night. The hotel ran on the American plan. Meals cost 25 cents. Blondo had previously run the West Hotel and also the City Hotel. This address was not listed after his death and the building is gone.
---
310 America Avenue
The Trondhjem Hotel was operating at this address as early as 1904, owned by H. M. Johnson. Ole Erickson purchased it and renamed it the Erickson Hotel and operated it from at least 1912 to about 1920. Oscar Kranz was the proprietor in 1920 and Olson Brothers were the proprietors in 1922.  In 1922, Joe Blondo purchased the old Erickson Hotel and carried out extensive repairs. The rooms were all redecorated and greatly improved. The Doran Plumbing company had the contract for installing a heating plant and plumbing in the hotel. This gave Mr. Blondo 22 modern rooms. Joseph Blondo died in March 1928 and is buried at Greenwood Cemetery. Olson Brothers were listed as proprietors again in 1928, and the hotel operated until about 1960. The building is gone.
---
406 America Avenue
Agnes McConnell Robinson lived in this house for 42 years until her death on May 5, 1941. Samuel and Agnes Robinson built the house about 1898. Their daughter Ella Robinson was born in 1898. On the 1900 census, Samuel and Agnes have four children, Mable, Effie, Elliot and Ella living with them.  Agnes was the mother of the three youngest children. Judge Spooner granted an absolute decree of divorce to Mrs. Agnes Robinson from her husband, Samuel Robinson on June 5, 1905, and she was allowed the custody of two children, a boy of eight and a girl of five, presumably Elliot and Ella. On the 1910 census, she and her three children, Effie, Elliot, and Ella, were living at 406 America Ave.
Edward Joseph Brouillard was born in Crookston and moved to the Bemidji area in 1917. He was a private in the infantry in World War I. Upon his return, Ella Robinson and he were married on Sept 25, 1919 and he moved into the Robinson home. During his career, he worked for the Crookston Lumber Co., the Bigelow Lumber Co., Robertson Lumber Co., and for E. E. Kenfield & Sons. He was a member of the Ralph Gracie Post and the Bemidji Fire Department.
Agnes died in 1941 and is buried at Greenwood Cemetery. Edward and Ella continued to live in the home. Edward, retired, and Ella were still there in 1964. They moved to the Northland Apartments after they were opened in the fall of 1968. Edward died on Dec 24, 1970 and is buried in Greenwood Cemetery. Ella died in Indiana in 1976.
---
407 America Avenue
In 1905, this house was occupied by Richard O. Richardson, and it was also the residence of Dr. G. A. Jones, a practical chiropodist, who advertised that his office was at his residence at 407 America Ave.
Richard O. Richardson was born in Norway. He came to Bemidji before 1905 and went to work for the Crookston Lumber Company. He and Ella Richardson had two children Robert and Ella. Mrs. Richardson entertained the Norwegian Ladies' Aid at her home periodically between 1912 and 1925. They lived in the house until 1925 when Mrs. Richardson died. Dick Richardson stayed in the home for a few more years. He died April 1933 in Olmstead County.
Hjalmer J Erickson and Matt Reed lived there in the 1930's. Einor Kristofferson and Melvin Iverson lived there in 1946.   (1934-35)
The house is no longer there. The area is a parking lot.
---
415 America Avenue
The first mention of this residence in the newspapers is an announcement of the upcoming marriage of Otto Johnson and Miss Lavinia Arnitz. Their marriage took place on October 17, 1905. The ceremony occurred at St. Anthony's hospital and Rev. Father O'Dwyer officiated. Clyde Hollingshead was the best man was and Miss Florence Huck was bridesmaid. After the ceremony the bridal party repaired to the home of Mr. and Mrs. J. Bisiar, where they received the congratulations of about 60 of their friends after which a sumptuous wedding supper was served and then dancing was indulged in until a late hour. Mr. and Mrs. Johnson were well known in Bemidji and had many friends who wished them a long life of happiness.
Several children were born while the Johnsons lived here: Lawrence, Vincent, Francis, Wilbur and a fifth child born Jan 21, 1916. Otto was appointed agent for the School Farm about 1916 and they moved to a home on the school farm on Irvine avenue.  Mrs. Johnson fell ill on January 21, 1916 and died from an attack of bronchial pneumonia and other complications on March 1, 1916.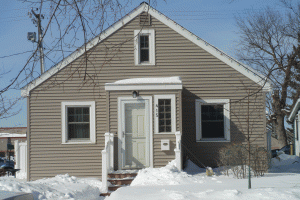 According to a 1914 Sanborn map, the dwelling was set back from the street, with  one small building on the alleyway. The house was next occupied by Harry Crusberg, Salvation Army (1917 -1918); then by C. L. Arnold, patrolman and wife Myrtle (1920-21); and then by B. H. Hunt (1927-1938); and by Maurice Madsen (1934-35)
After World War II, the house was again occupied by Otto Johnson and the  Vince Johnson family. Vince Johnson attended school in Bemidji and worked as a salesman in clothing stores most of his life. He married Myrtle V. Enstad on Jan. 5, 1936 in Bemidji. For a time he sold boots for the Chippewa Boot Co., then operated his own clothing store for several years before returning to Patterson's. He was a salesman for clothing stores most of his life. He retired in 1970.  Mrs. Johnson worked at O'Meara's Clothing Store for 21 years. They raised four daughters in the house.
---
1001 Mississippi Ave
1001 Mississippi Avenue
AYB 1920, EYB 1983
Miss Vera Campbell entertained a few friends at a fudge party at her home, 1001 Mississippi Avenue, Monday evening, and a pleasant social time was enjoyed. Those present were: Misses Kate Hines, Martha Maag, Esther Bendickson, Bertha Davies, Ruth Martin and Miss Owen. (Sept 29, 1921)
Unfurnished Rooms for Rent (1921, 1922)
Jas Smith, Mrs. M. E. Jones, Ernest Wilett, Napoleon Stone (1927-28)
Sever Flom died at his residence at 1001 Mississippi Avenue on Dec 31, 1930. Retired farmer. Came to Carr Lake 12 years earlier.
Mrs. Idella Connick, Hector Landry, Wm. Sommers (1934-35)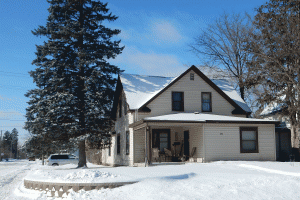 Etta Mae Vedder, widow of Charles Vedder (1939) (1942)
Theo Bruers (1956)
For sale: 10 Room House, 1001 Mississippi Avenue. (May 19, 1966)
Bangerter Foster Home, Russell Bangerter (1970)
---
209 Seventh Street
Lots 13 and 14 were sold by Bemidji Townsite Company to W. F. Street on Sept 3, 1898 for $175. He then sold lot 13 to W. K. Roberts on May 1, 1899 for $200. This lot was just north of the current courthouse.
This was the home of John C. Parker and his wife for about two decades. John C. Parker was mayor of Bemidji in 1910 and again in 1911. He served as a city official for several years. [See John C. Parker under the Pioneers section]. He had two daughters, Ella Parker and Josephine Parker.
The J.C. Parker Company was incorporated in Bemidji on Jan 25, 1915. Corporate members were J.C. Parker, S. F. Parker, and E. F. Parker.
Mrs. J. Ryan, of Bend, Oregon, arrived in Bemidji yesterday and is a guest of the J. Parker home, 209 Seventh street. She came via Minneapolis where she visited friends. Mr. Ryan was a former resident of Bemidji. (Aug  25,1921)
Miss Joseph Parker entertained friends (1921)
Mrs. John Parker – birthday surprise party in 1922.
Residents of 209 Seventh Street in 1930 census. John and Sylvia, Ella, Josephine and her husband Arthur Voshage, and Abbie Murphy, lodger, who was also a teacher and lived with them.
John C. Parker died at his home at 207 Seventh Street in October 1936. The same house seemed to use both the 207 and 209 Seventh Street address in city directories and in the news accounts.
Ella Frances Parker, merchant. Born in Stillwater of John and Sylvia Parker. Taught in city schools at Bemidji from 1911-1918. Asst Cashier at Security Bank from 1918-1925; Asst Beltrami Co. Supt. From 1925-1931. From 1931, treas & gen mgr. of books and stationery store. During World War active in American Red Cross work. Collector of old masters, over 200 paintings in her collection. She lived at this address until about 1945. Ella moved to 421 Bemidji Avenue by 1946.
Jens A. Dale (1956)
Harold & Evie Barrett (1970) (1982)
Resolution by City Council on Nov 26, 2009 to repair or remove structure at 209 Seventh St. (Original Townsite, Block 2, Lot 13)
---
423 America Avenue
This home was first owned by Andrew Clavin. It was sold to Fred Rhoda in 1907. The postal address for this corner lot has changed several times, as the owner can choose the postal number if the house is on multiple lots. The house has been designated as 423 and 425 America Avenue over the past 100 years, and it is currently listed as 429 America Avenue.
Fredrick William Rhoda was born on July 19, 1869, on a farm in Morrison County. On December 24, 1897, Mr. Rhoda came to Bemidji and with William M. Taber started the city's first bank, the Bank of Bemidji. It was before the days of incorporated state banks, and so it was a private institution. In 1898, the bank sold out and became what is now First National Bank. In 1898, Mr. Rhoda started the Merchants Bank of Bemidji and operated it until the turn of the century, when it was sold to the Lumberman's State Bank.
He was helping the county auditor at Bemidji in 1901. He ran for the office of Clerk of Court in the fall of 1902 and was elected by a comfortable margin.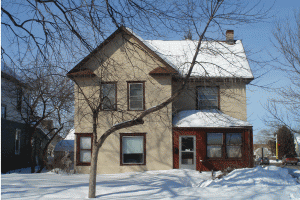 Melvina Yunk was born August 11, 1892 in Marinette, Wisconsin. Her family came to Bemidji in 1906. She and Fredrick married in Bemidji on Nov 11, 1907 when Melvina was only 16 years old. The wedding was covered on the front page of the Bemidji Pioneer on Nov 12, 1907: "F. W. Rhoda and Miss Vinie Yunk were married last evening, the ceremony being performed at the residence recently purchased by Mr. Rhoda from A. Clavin. Judge of Probate M. A. Clark performed the ceremony, which was solemnized in the presence of a few of the relatives and friends of the bride and groom. Mr. and Mrs. Rhoda left last night on a wedding trip to Duluth and other points."
Mr. and Mrs. F. W. Rhoda returned last night from their wedding trip and will make Bemidji their home, occupying the splendid residence recently purchased from A. Clavin of this city. They report having had a pleasant trip. (Nov. 19, 1907)
A lawn social for the benefit of St. Philip's church was held at the home of F. W. Rhoda on America avenue and Fifth Street Thursday evening. (Aug 15, 1913) Mrs. Mary Yunk of Deer River, Minnesota, came to stay as a guest of her daughter for some time in May, 1914.
Fred was Clerk of District Court for Beltrami County from January 1903 until he died at his home at 423 America Avenue on November 27, 1938. Melvina lived at their home on America Avenue from the time she married until her death on June 12, 1959. Since I lived next door, I remember her sometimes sitting on her screened-in front porch facing America Avenue.
Fred and Melvina had one adopted son, Albert M. who was born September 17, 1918. Master Albert Rhoda celebrated his second birth anniversary Friday afternoon in 1920. A party of eighteen little guests, were invited to play games for the afternoon at the Rhoda home on America avenue. At 5 o'clock a pretty birthday luncheon was served to the little folks. In 1940, Albert, at age 21, was living with his mother at their home at 423 America Ave. Albert was a bookkeeper for a retail lumber yard.
(Information from the Depot Express, Fall, 2014 by Sharon Geisen; articles in the Bemidji Daily Pioneer).
---
1018 America Avenue
This was the single family home, built about 1910, where the Collard family lived for decades. They were there by 1912 and were in the same house 40 years later. The oldest son, Clayton, lived on the same block at 1022 America Avenue from at least 1951-1981.
Sam Collard has established a Harness Repair Shop in the rear of the city hall. Mr. Collard has had 20 years' experience in the business and is prepared to render prompt service and give entire satisfaction to all.  (March 22, 1905)
Sam Collard of this city, died Sunday morning from a stroke of paralysis He has lived in this city for about nine years, and is a brother of A L. Collard. He was fifty years old and leaves five children. Four daughters and one son. Mr. Collard had been carrying the mail the past year from the post office to the depot.
The funeral of Sam Collard will be held at the Presbyterian church, at 2 o'clock, Tuesday, September 3rd.
Woodmen Attention!
All members of Bemidji Camp No. 5012, M. W. A., are requested to meet at the Presbyterian church on Tuesday at 2 o'clock, to attend the funeral of Neighbor Samuel Collard.
H. N. McKee, Consul.
Six-year-old Eva Collard entertained a number of her little friends Saturday afternoon at her home on America Avenue, in celebration of her birthday anniversary. Games were played and the children enjoyed a dainty little birthday lunch. The guests were Ardath Bliler, Dorothy Lundgren, Altha Whitney, Bethel Amundson, Beatrice McGregor, Fern
Considine, Helen Bailey and Harriet Taylor. (May 22, 1916)
Mrs. Arthur Eastman, formerly Miss Eunice Collard of this city, will make her home with her mother, Mrs. Emma Collard, 1018 America Avenue. Her husband, Corporal Arthur
Eastman, has left for France. (May 28, 1918)
William Rardin of Waterville, Minn., is expected to arrive in the city today and will visit in Bemidji until Friday. Mrs. Rardin has been the guest of her mother, Mrs. Emma Collard of this city for some time and will accompany her husband home. Both Mr. Rardin and his wife were at one time employed in the Bemidji Pioneer Publishing company's mechanical department, Mr. Rardin as a pressman and Mrs. Rardin, who was at that time Miss Collard, as a linotype operator. (March 11, 1919)
Mrs. Emma Collard, son Clayton (25), Ruth (14), Eva (9), daughter Eunice (22) and son-in-law Arthur Eastman (34) on 1920 census for this address. Clayton Collard and Arthur Eastman both working as surveyors on roads.
Mrs. Emma Collard continued to live in the home until she died in 1953.
---
1019 America Avenue
This was the home of Dennis Considine and his family for nearly 50 years, although the property was first owned by Mrs. Harriet Clark [1906-1912] prior to the marriage of Dennis and Myrtle Considine.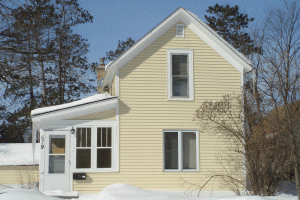 Dennis Considine was one of the first three mail carriers for the city of Bemidji. He served for 39 years for the postal service and retired in 1945.
The city mail carriers were the cynosure of envious male eyes today when they appeared on their routes wearing the new regulation shirt waists provided by your Uncle Samuel. The waists are comfortable-looking affairs and are much appreciated by the carriers, Adam Otto, Dennis Considine and J. C. Cobb. They are greyish-blue in color, to match the uniform, and each man has been furnished two. (July 28, 1906)
Dennis Considine was one of three regular mail carriers in Bemidji. (June 5, 1907)
Dennis Considine of this city and Miss Myrtle Hubbell of Schoolcraft, were married on Wednesday, June 12, at the home of the bride's parents at Schoolcraft. They left on
Wednesday evening on a two weeks' honeymoon trip. On their return they will go to housekeeping at once on America Avenue. Mrs. Considine is well known in Bemidji, having spent part of the winter here. Mr. Considine is a mail carrier here and has made his home here for many years. (June 14, 1912)
Mr. and Mrs. Dennis Considine returned Wednesday afternoon from a two weeks' honeymoon spent at the Twin Cities and Duluth. They will go to housekeeping at once at 1019 America avenue. (June 28, 1912)
Dennis Considine was born on January 25, 1877 in Clare, Ireland. He and his wife Myrtle had four daughters during their married. He died on December 16, 1957 in Bemidji at the age of 80 and is buried in Holy Cross Cemetery.
Mr. and Mrs. Considine lived in the house until his death. Mrs. Considine remarried in 1960 and moved elsewhere with her husband Leo O'Grady.
---
1113 America Avenue
1113 America Avenue
This was the home of William and Otto Grimm. They built the house about 1920. A complete surprise to Mrs. P. M. Dicaire was the party held at the home of her daughter Mrs. O. W. Gwmm, 1113 America avenue Tuesday afternoon, at which she was the
guest of honor the occasion being her sixty first birthday., Mrs. Grimm was assisted by Catherine Brown. A beautiful scarf was presented to Mrs. Dicaire. (Bemidji Pioneer, Sept 7, 1922)
William Otto Grimm was born in 1896 at Muskegon, Michigan. He moved to Crookston as a boy and moved to Bemidji in 1910. On September 23, 1917, he was married to Bertha Dicaire at Bemidji. He worked as a Millwright for the Crookston Lumber Co. and later worked for the Crookston Stores until his retirement. He died at the age of 75, while still a resident of 1113 America Avenue. He was survived by two sons, William and Larry, and a daughter, Mrs. James (Helen) Gregoire.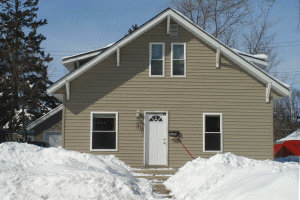 Mrs. Bertha Grimm continued to live in the house until her death on August 3, 1982. Bertha was born to Peter Dicaire, a tinsmith and storekeeper. The family moved to Bemidji in 1902. Bertha spent her younger years helping with her father's store at 1101 Irvine Avenue, and the rest of her adult life bringing up her family. While growing up, she witnessed many changes in Bemidji and is considered a pioneer of the Bemidji area.
---
1200 America Avenue
The Bemidji Townsite Company sold these two lots 13 and 14 to Christa Wallace, a single woman on October 1914 for $300. She built the house and she signed a mortgage for it for $751 on May 25, 1918.
Christa Wallace and Milton Groff  were quietly married at the residence of Rev Blaine Lambert, pastor of the Methodist church, on Saturday evening at 7 30 o'clock on January 10, 1920. "Miss Wallace is well known, having made her home here with her mother while teaching in rural schools and more recently being employed in office work in the city Mr. Groff has been a friend of the family for some years and has been employed at the box factory for some time and boarded at the Wallace home. They will reside at 1200 America avenue." (Bemidji Daily Pioneer, Jan 13, 1920)
This couple owned the home from then on, although Mrs. Ruth Thole lived there in the 1930s.
"Mrs. Ruth Thole home, 1200 America Avenue, was damaged by fire, when a stove pipe overheated. Three high school girls lived on the second floor. Mrs. Thole occupied the first floor. The house is owned by Mr. and Mrs. M. E. Groff." (Dec 18, 1936)
Milton Groff celebrated his 99th birthday Saturday when a group of relatives and friends called to extend best wishes. Mr. Groff, who is in good health despite his advance age proudly displayed his display of spring flowers and also has planted many gladioli bulbs for his annual harvest of lovely blooms. (July 6, 1962)
On his 100th birthday, his niece, Mrs. Bernice Talevson and grandniece, Mrs. George Smith of Bemidji arranged an open house when a large number of friends called. (July 5, 1963)
Milton E. Groff, Bemidji centenarian, died at his home at 1200 America Avenue just two days previous to his 101st birthday. Born in Baltimore, Maryland, June 30 1863, Mr. Groff built his present home in 1918 on a lot that was thick with jackpine. He married Christa Wallace in Bemidji in 1920. (Sentinel, July 3, 1964)
Mrs. Christa Groff continued to live in the house. She died at age 95 on July 9, 1971.
Mrs Christa Groff, 95, pioneer resident of Bemidji and longtime teacher, died at her home at 1200 America Ave Friday Christa Sabrina Wallace was born at Gloxer, Vermont on Jan 24. 1876, the daughter of Izri and Lucina Wallace. She was married to Milton E Groff at Bemidji in 1920. Mrs Groff taught school for nearly 50 years. She was a member of the Rebekah Lodge, the Retired Teachers Association and the Bemidji Women's Garden Club She is survived by several nieces and nephews including Mrs. Bernice Talevson of Bemidji. One cousin also survives. She was predeceased by three sisters and four brothers Funeral services will be held at the Olson-Schwartz Funeral Home Thursday at 2 p. m. Hugh Martin will officiate Burial will be in Baldwin cemetery at Princeton. Minn. (Bemidji Daily Pioneer, July 12, 1971)
The house was still in the family in the 1980s and was occupied by their niece Bernice Talevson (1982)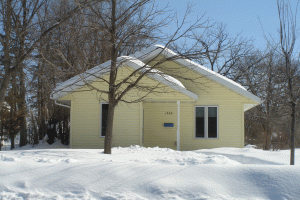 ---
406 America Avenue
406 America Avenue
Samuel Robinson and Agnes McConnell were married in 1898. They were two of the earliest residents of Bemidji. He purchased a business lot on the corner of Third St. and Bemidji Avenue on Feb. 1, 1899, and they built this house about the same time. Their daughter Ella Robinson was born in 1898. On the 1900 census, Samuel and Agnes have four children, Mable, Effie, Elliot and Ella living with them.  Agnes was the mother of the three youngest children. Judge Spooner granted an absolute decree of divorce to Mrs. Agnes Robinson from her husband, Samuel Robinson on June 5, 1905, and she was allowed the custody of two children, a boy of eight and a girl of five, presumably Elliot and Ella. On the 1910 census, she and her three children, Effie, Elliot, and Ella, were living at 406 America Ave. The house was described by the Sanborn map company in 1914 as a dwelling, 1½ stories, with a one story apartment and porch, and a small bldg also on the lot. Agnes McConnell Robinson lived in this house for 42 years until her death on May 5, 1941.
Edward Joseph Brouillard moved to the Bemidji area in 1917. He was a private in the infantry in World War I. Upon his return, Ella Robinson and he were married on Sept 25, 1919 and he moved into the Robinson home.During his career, he worked for the Crookston Lumber Co., the Bigelow Lumber Co., Robertson Lumber Co., and for E. E. Kenfield & Sons. He was a member of the Ralph Gracie Post and the Bemidji Fire Department.
Agnes died in 1941 and is buried at Greenwood Cemetery. Edward and Ella continued to live in the home. City manager reported in April 1969 that a contract for purchase of the Brouillard property had been concluded for additional parking for City Hall. The Brouillards moved to the Northland Apartments. Edward died on Dec 24, 1970 and is buried in Greenwood Cemetery. Ella died in Indiana in 1976.
---
422 America Avenue
In the late 1890's, a village school was located on the corner where the Fire Station is now located on the corner of 5th Street and America Avenue. A new school was built, but In 1899, there were so many primary students that showed up for school in September, that Miss Moon was assigned to teach the primary students in the old building on America Avenue. To the surprise and shock of the school board, over 70 students showed up for each of the two primary rooms, and they quickly had to decide to hire another primary teacher. (Sept 7, 1899).
By 1914, it was just a vacant corner lot  on America and 5th with small dwelling at back of lot with entrance at 310 5th St. (Sanborn, 1914)
A dwelling was built there in the 1920's and occupied by Mrs. A. M. Garland (1927-28). In the 1930's, it was occupied by the Chris Becker family, and as I grew up, it was a popular corner for the neighborhood where many ball games were played.
Chris Becker was a disabled World War I veteran. In 1961, a new roof was put on the Cliff Becker house at 422 America  thanks to an all-day roof-raising given him by the Bemidji Veterans of Foreign Wars Post 160. Becker purchased the materials for the new roof and the Vets, under Commander Warren Soli, volunteered to put on the shingles. (Sept 1, 1961)
Christoph Becker died in 1963. His wife, Marie, died Oct 11, 1968 at Bemidji Hospital. Her  home was still at 422 America Ave.
---
417 Beltrami Avenue
417 Beltrami Ave.
This lot was one of the few lots on the block still unsold during World War I. Charles Battles purchased the lot from the Townsite Company in 1919.
The Consumers Wholesale Supply Co., Howard R. Jones, Mgr., was at this address in 1927-28. It was next occupied by George T. Baker, jewler in 1934-35.
The L. A. Hermanson Co. store was located at 417 Beltrami Avenue. Then Justus Larson of the Larson Co. took over operation of the L. A. Hermanson Co. store on May 1, 1937. The company sold electric refrigerators, radios, Skelgas, washing machines, musical instruments, sheet music, phonograph records and all connected lines.
Irvine Lee opened his shoe store in Bemidji in 1930, and he was at this location in 1941-42. Next, it was the home of Horn's Café.
Mrs. Clara Allandslee purchased the restaurant from Edwin Horn in September 1947. Mrs. Allansdlee had formerly operated Clara's Café on Fourth Street between Beltrami and Minnesota avenues. She sold that establishment to Tommy Calhoun in October 1946 and spent a year away from the restaurant business.
It then became Mack's Shack for a time. The Mack Shack carried cigarettes, cigars and tobacco and sold some of the best greasy hamburgers in town. The location became Steve's Café operated by Raymond Stephenson in 1953.  [photo from 1956]
Steve's Café until it moved across the street and was located at 422 Beltrami in 1964.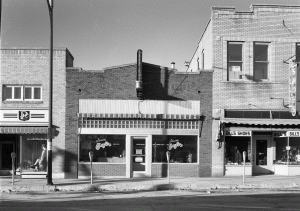 Nothing listed in city directory for 417 Beltrami in 1967 or 1974
---
1001Beltrami Avenue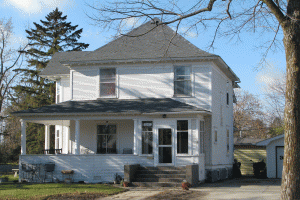 In 1912, the large white house at 1001 Beltrami Avenue was the home of Charles and Lela Vandersluis, owners of the Bemidji Hardware. It next belonged to Thomas J. Burke, the president of Northern Grocery. On May 12, 1922, about fifteen friends of Mrs. Helen Burke surprised her at her home. The guests enjoyed "social conversation" and a birthday lunch was served by the guests, who also presented her with a beautiful fern as a birthday token.  Mr. Burke was about 20 years older than his wife Helen. By 1930, she was widowed but she continued to live in the home with her three children, Margaret, Thomas J. Burke, Jr., and Helen into the 1930s.
This property was purchased for a nurses' home  in the summer of 1947 and occupied in August of that year. This was a large house that gave a more homelike atmosphere for nurses when off duty. Miss Pearl Engen, Supt. of the Bemidji Lutheran hospital announced on Aug 15, 1947 that ten cadet nurses had moved into the new nurses' home at 1001 Beltrami Ave. and that other nurses would take up residence there at a later date. Mrs. Harriet was the housekeeper.
In 1959 this home was sold and a three story brick home was purchased just three doors south of the hospital, facing the lake  known as Warfield Hall.
Arthur and Dorothy McLaughlin lived there in 1967. He worked for the telephone company. Nancy McLaughlin was a Nurse's Aide at the hospital.
The house belonged to Theodore "Ted" Thorson in 1974 and 1980s. He was one of the college music people who instituted the Summer Music Camp held at Bemidji State College.
---
1002 Beltrami Avenue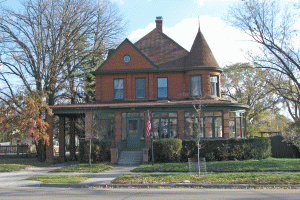 Anyone who has walked or cruised up Beltrami Avenue has surely noticed the beautiful stone house on the northeast corner of 10th Street and Beltrami Avenue. John Moberg, one of Bemidji's most prominent loggers and logging railroad builders, contracted to have the large brick home at 1002 Beltrami built in 1908. The contractor was Thomas Johnson who had
several building projects going on at the same time. While he was building the Moberg house, he was also in charge of a new eight-room house for Earl Geil, a new home on the farm of August Berg, and a new brick building for the Hamm brewing Company. The very next year he was the contractor for the new Carnegie Library.
John Moberg owned one of the first automobiles in Bemidji, brought from North Dakota in 1908, and convinced of the future of this new vehicle built the first garage and began selling Fords. He partnered with C. W. Jewett under the firm name of Northern Automobile Company. Their firm was located at 418 Beltrami Avenue. Moberg retired from the partnership in July 1910, and the business was carried on at this location by Mr. Jewett well into the 1920s.
The Mobergs lived for a time outside of town and apparently rented out the house. Several familiar names were listed at this address after 1916. The Bemidji Pioneer noted that A. M. Hayes was hosting a Christmas party there in 1916. In the fall of 1917, Mr. and Mrs. E. H. Denu and Mr. and Mrs. Frank T. Beaver moved from their summer cottage at Lavinia to the John Moberg residence on Beltrami, and Mrs. Denu hosted a musical program for the Methodist ladies at her residence in June 1918.  Mrs. Philip Gill hosted the Little Mothers Club at this address in the fall of 1921 and reported "a very pleasant social time, sewing and conversing, after which Mrs. Gill serve a dainty lunch." In 1922, this ad appeared in the Bemidji Pioneer: To Rent: Brick residence on Beltrami Avenue and 10th street. Inquire of John Moberg, Phone 272.
In 1923 John Moberg was elected mayor and served in that capacity until leaving Bemidji to take up a logging contract in British Columbia. Morris Kaplan served out the balance of Moberg's unexpired term. In 1924, Moberg was again elected mayor and by 1927, he was engaged in the automobile business. The Mobergs again took up residence in the house on Beltrami Avenue.
The Moberg home next became the long-time residence of Harvey and Inga Hoberg. They moved to Bemidji in February 1927, and he worked for the David Park Company for 30 years as a field manager. After the creamery closed, he operated Harvey's Café in Nymore. He was appointed chief clerk of the State House of Representatives in 1963 and held this job at the Capitol for eight years. He worked until 1988 as a landscaper for KKBJ radio, which his son, Justin, started in 1980. Their son Duane became a member of the legislature in the 1980s. Inga Hoberg owned and operated My Ladies Dress Shoppe in Bemidji. She also prepared the baked goods during the years her husband owned Harvey's Cafe.
When the Bemidji Hospital burned in 1929, several of the patients were taken to the Hoberg residence, as it was close and had a large number of rooms. Other patients were taken to the Poor Farm and to hotels around town. The house became the second Lutheran Parsonage in the 1970s.
---
1100 Beltrami Avenue
The Ladies Aid society of the Presbyterian church will meet at the home of Mrs. H. N. Douglass, 1100 Beltrami avenue, Friday afternoon at 2 o'clock. (May 29 1907) (Dec 31, 1907)
The Ladies Aid society of the Presbyterian church will meet at the home of Mrs. J. J. Anderson, 1100 Beltrami avenue, for the purpose of electing officers.  (Sept 7, 1909)
1910-1911 J. J. Anderson
FOR RENT: Two houses to be released March first. One located at 1100 Beltrami avenue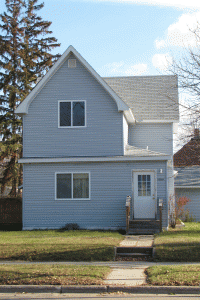 and the other at 1108 Beltrami avenue. Apply at once to Oscar Miner. (Feb 1914)
FOR SALE: Small barn. Suitable for garage, must be moved at once. Inquire of Oscar Miner, 1100 Beltrami avenue. (April 1914)
Mrs. M. Malone and family have moved from 703 Beltrami avenue to 1100 Beltrami avenue, to the Oscar Miner residence. (Sept 4. 1914)
Two Houses for Rent. Inquire within next ten days (Nov 1, 1916)
Wanted: Students for a Music Class (1917)
For sale: Property at 1014 or 1100 Beltrami Ave., for $2,500 in cash if taken this month. Look at these houses if you want a bargain. Address Oscar Miner Grand Forks. (Nov 1917)
Misses Vivian and Leona Hines, daughters of Mr. and Mrs. P. L. Hines, 1100 Beltrami Avenue, have gone to Morden, Man., Canada, where they will spend six weeks as the
guests of their grandparents, Mr. and Mrs. H. G. Elliott. (June 8, 1918)
Mrs. Sarah Marie Chapman, has moved from 1100 Beltrami avenue to 520 Beltrami avenue. (Nov 1, 1918)
Philip Hines, chief engineer at Bemidji State Teachers college, lived in the home at 1100 Beltrami Avenue in 1920, and his wife Adelia was still there in 1956. The family consisted of Philip, Adelia, two daughters Vivian and Leona, and a son Grover. Vivian worked as a clerk at Bemidji Book and Stationery.  Leona married Denis McGenty in 1933. Philip died on April 4, 1939 at the age of 63, but Adelia stayed in the home until at least 1964.  She died in 1973.
The house was for sale in 1970. Advertised as three bedroom, older home with part basement with front and rear porches. 62 ½ x 140 lot. $9700.
---
1101 Beltrami Avenue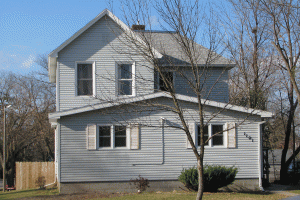 This was the home of Jens Opsahl in 1909. Accordin to the 1910 census, Jens Opsahl, Wife Clara; Sons Roy, Leo, and Morris were at this address. Jens Opsahl, Mgr of the Selkee Land Co., had a place at Lavinia, but he also owned and lived at 1101 Beltrami avenue. (1912)
The house then belonged to John and Jennie (Guthrie) Edwards.  A very quiet, simple home wedding took place on Aug 12, 1920 at the Edwards home when their daughter Miss Basha Edwards was married to Mr. Nelson Norman of Berthold, N. D. After the death of their father, John Edwards, this became the home of the Edwards sisters, Agnes, Real, and Fayal, all early Bemidji business women making their living as milliners. They owned a hat shop in 1930. In 1940, they were all living in the house with their mother Jennie and working at home as seamstresses. How many dresses do you suppose they tailored during World War II, and sewed when the conflict was over and women were eager to dress up with real nylon hose and new fabrics? The Edwards sisters likely knew many of Bemidji's society women. Agnes and Real were still living in the home in 1966 when Agnes died. Fayal died on July 16, 1970, and the house became vacant. Real died in 1973. Their home became the site of the Battered Women's Shelter and then the home of a university professor.
---
1110 Beltrami Avenue
The Elletson family resided at 1110 Beltrami Avenue from 1910 into the 1970s. W. H. Elletson, a carpenter by trade, wife Emma and two sons George and Adam Delbert moved to Bemidji in 1901. They are listed at this address in 1910. Mr. Elletson owned his own shop. George was a postal clerk. In 1920, three generations lived at the house. William and Emma Elletson, son George and his wife Ella and child Maxine; and also son Adam Delbert and his wife. Tragedy struck the Elletson household on July 1, 1921 when William Elletson drowned while bathing in Lake Bemidji. Emma died in 1925, and the house was then owned by Adam Elletson and finally by his widow Mrs. Gertrude Elletson until her death in 1981. Adam died in 1949.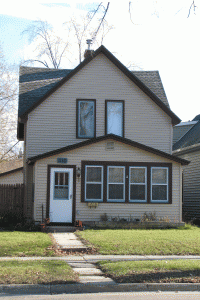 ---
1111 Beltrami Avenue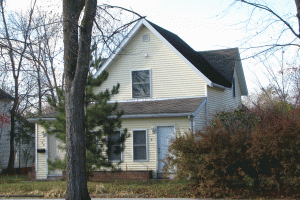 At first this was the home of A. D. Moe, who was regarded as the very best tailor in Bemidji. His business was located downtown.
The ladies aid society of the Norwegian Lutheran church will meet at the home of Mrs. A D. Moe, 1111 Beltrami Ave., tomorrow afternoon at 2 o'clock. (Feb 13, 1907)
For Rent: Two furnished rooms cheap. Inquire 1111 Beltrami Avenue. (May 7, 1908)
Sam Cutter, who worked for the U.S. Postal Service and wife Minnie lived at 1111 Beltrami Avenue for at least 25 years. Vera Cutter, their daughter, attended MacPhail School of Music. Vera married Harold Naylor in 1934. They were both excellent musicians. Harold sang at many functions. They had a radio program for a number of years in Bemidji. They lived in the house from 1934 onward. By 1951, they had moved to Park Avenue.
---
1115 Beltrami Avenue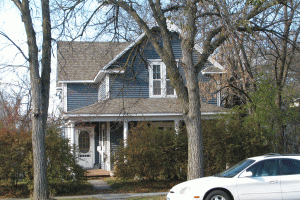 This house was built about 1905. Anton R. Erickson and his wife Carrie were at this home by July 1907 and lived there until about 1922. This furnished house was for rent in May 1922. .
C. O. Krantz lived there in 1926-1927.
John and Goldie Vinje owned the house at 1115 Beltrami Avenue starting about 1930. John Larson Vinje came to Bemidji in 1898 where he worked in the lumber mills and then was foreman of a railroad construction crew. He later was employed as stationery engineer at the courthouse until he passed away in 1939. Goldie Allen married John Vinje in 1924. Goldie married Ray Hampton in Idaho in 1949. Goldies Beauty Saloon was in operation here from 1940 until her death in 1971.
David McIlwain , wife Betty and six children moved to their new Bemidji home. Feb 1, 1973. He took over as manager of John's Super Valu.
---
803 Bemidji Avenue
In 1901, a builder completed the big white house at the corner of Bemidji and 8th Street. Ole Gennes was the owner of the Svea Hotel as well as a boathouse business and had the first pasteurization plan in Bemidji. In 1903, Ole bought the house for $500 when he became engaged to Mathilda. Ole and Mathilda raised their seven children there: Saverna, Edward, Ragna, Bertine, Harold and Katherine. Ole died in 1943, and Mathilda kept the house and took in B.S.U. students as roomers. Mathilda died in 1974. Saverna Gennes, 91, was the last family member to live in the house. She moved out of the house in 2002.
Sept 11, 1869. Died Nov 8, 1943. Ole Gennes, well known resident of Bemidji, passed away suddenly Monday morning about 9:30. Mr. Gennes had been in poor health for the past year and a half. He was born in Tronjheim, Norway and had lived in Bemidji since the time the family came to America. He had been engaged in the restaurant and creamery business before his retirement some years ago. Mr. Gennes was a member of the First Lutheran church. Survivors include his wife, Mrs. Mathilda Gennes of Bemidji; five daughters, and one son, Sgt. Harold Gennes of Camp White, Ore., three grandchildren and several relatives in Norway.
Mathilda Gennes – B. Aug 15, 1879. Died June 18, 1974.
---
1410 Bemidji Avenue
This was the home of Chauncey and Golda Prange for over 50 years. Chauncey Prange was born on Christmas Day, 1903 and married Golda Getty in 1928. He first came to Bemidji as a senior high school American history teacher in January 1938 immediately after receiving his Master of Arts degree at the University of Minnesota. Prior to taking graduate studies at the University he was employed at Hollandale as high school principal and teacher of history and English. Except for a short period during World War II, Prange's service in the Bemidji system was continuous. For a short time near the conclusion of World War II he served as senior high school principal. Upon Ray Witt's return from active duty with the United States Navy, Prange assumed the position of junior high principal, a position he held until his retirement in June 1971. He died at Bemidji on October 22, 1987.
Mrs. Golda Prange died June 1, 1973. She was a member and past president of the Woman's Study Club; a member of the Bemidji Hospital Auxiliary, the First Lutheran Church and its Women's Association.
The Prange's moved into 1410 Bemidji Avenue in 1938 and Mr. Prange was still there in 1982.
---
608 Bemidji Avenue
The original house at 608 Bemidji Avenue was owned by E. M. Bigelow, head bookkeeper for the Crookston Lumber Company. He put it up for sale in August of 1905.
Raymond H. Schumaker began work at a bank at Brainerd, later going to Cass Lake. In 1905 he came to Bemidji and became associated with the First National Bank as assistant cashier, later becoming cashier. Shortly before he became ill in 1929, he had been named vice-president of the bank. He died April 7, 1929.
Ray and Ida Schumacher with their daughter Georgia lived at 1102  Beltrami Avenue in 1905 but moved to 608 Bemidji Avenue before 1910. The house was owned by R. H. Schumaker from 1910 to 1929. Little Raymond Schumacher celebrated his third birthday with a valentine's party at the home in 1911.
Mr. and Mrs. Phil Gill moved into the R. H. Schumaker residence and were still there in 1919.
Raymond Schumaker married Marguerite Bernick in 1918. Daughter Ruth was born in 1919 and Lois was born in 1921 at Bemidji. Mrs. Schumaker hosted the Mothers club at their home of in 1920 and 1926, she hosted a birthday party for Mr. Schumaker in 1921. (Oct 1920) (Mar 4, 1926)
The house was then owned by Fred Langdon, who had established the ice cream manufacturing plant with a bottling works in 1921 known as Langdon Bottling Works. The Langdon home was moved in the late 1950s to Birchmont Drive.
In 1961, workmen from the Mohler Moving Co. relocated a two story dwelling from 715 Bemidji Avenue to 608 Bemidji Avenue. The house, formerly the A. S. Halvorson residence, was purchased by Norman P. Mohler, co-owner of the moving firm. He planned to convert the building into a home for his family. The house was the second removed from the block preparatory to increasing the playground and parking area adjacent to St. Philip's church.
---
1203 Bixby AVenue
This home was built in 1910.
Reese Loranger was the resident here in 1920-1921. Mrs. Reese Loranger won several prizes at the county fair in the fall of 1921. The dining room division of the Ladies' Aid of the Presbyterian Church is entertaining this afternoon at the home of Mrs. H. E. Reynolds, 805 Bemidji avenue, in honor of Mrs. Reese Loranger, who is soon to leave for her new home in Duluth. Mr. Loranger had been connected with the Bemidji Box Co. until recently. He will now be employed at Duluth. (Sept 27, 1921)
J.D.Winter (1927-1928)
Wm. H. Strand (1934-35)
Mrs. Ella Conger (1937-38)
Andrew Enstad, J. Vincent Johnson (1939-40)
Louis Caskey (1942); also Gerald Caskey, principal; and Kenneth Casey, salesman.
Mr. and Mrs. Charles Wild moved to 1203 Bixby Avenue in 1945. They were joined by their entire family for the celebration of their 65th wedding anniversary in September 1962. Open house was held at their home on Bixby Ave. Mr. Wild was very active in spite of his advanced age and planted his garden shortly before his death in June 1964.
Alice D. Nelson, a nurse at Bemidji Hospital was the next resident and was there until about 1989, when she moved to an apartment.
Mrs. Nordahl Nelson of Pinewood moved to Bemidji to spend the winter months with her daughter, Miss Alice Nelson, 1203 Bixby avenue in November 1967.
---
1207 Bixby Drive
Mrs. Sam Olson advertised to sell some furniture at this address (1910)
Mrs. Fuller is guest of Mrs. G. H. Strickland (Oct 17, 1913)
W.A. Currie (1918-1919)
W.J. Miller (1920-1921)
Joseph P. Lahr (1927-1928) (1934-35)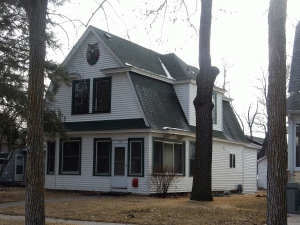 William and Elizabeth Marose moved into the residence in 1936 and was employed by the Krebs business.  Mr. Marose died on July 20, 1965. Mrs. Elizabeth Marose lived there until her death in 1984.
On June 4, 1924, Elizabeth Krebs married William Marose in Albany. They lived in Albany until 1936, when they moved to Bemidji. She cared for rural Bemidji kindergarten children. An organizer of Girl Scouts in Bemidji, she received a 30-year service pin for her efforts. She was a member and past president of Bemidji American Legion Auxiliary and was past president of the Sixth District American Legion Auxiliary. As a member of St. Philip's Catholic Church, she was active in its ladies' guild, including the St. Ann's Circle. She also was a member of the National Society of Foresters and Bemidji Duplicate Bridge Club. She died Sept 22, 1984.
---
1211 Bixby Avenue
Mr. and Mrs. A. E. Witting have moved into one of their houses at 1211 Bixby Avenue. (May 22, 1912)
Adolph Edward Witting (1861-1941); Alice Porter Witting (1865-1960)
A.E. Witting —  $5.00 reward for the return of "Billy", my Llewelyn setter dog. (1912-1913)
The current house was built in 1916. Mr. Witting was engaged in the lumber and cedar business.
A. E. Witting (1920-1921) (1921-22)
David Park (1927-1928) (1934-35) (1937-38). David J. Park, Creamery was owner/operator of Creamery in Bemidji. Mayor of Bemidji in 1931.
Chas Sattgast (1939-40) (1942)
Charles Richard Sattgast, President of Bemidji State Teachers College (1942 – Who's Who in Minnesota). Born Mt. Vernon, Illinois on Jan 26, 1899. Married Bertha G. Summers Aug 8, 1923 in Hugoton, Kansas. Became President of BSTC in 1938.
George E. Forsell (1946) George and his brother Paul Forsell were owners of Bemidji Paper Sales at the end of World War II.
Leon Harris (1951)
Eugene Scribner (1956) (1958)( (1964).
Eugene Scribner was a teacher at Bemidji High School for 17 years. He resigned in the spring of 1968. Mr. Eugene Scribner resigned after seventeen years with Bemidji Public School System to become assistant director in the Elk River Science Curriculum project. Dr. Wm. Britton, BSC Professor of chemistry, in his capacity as a consultant is able to provide not only knowledge of chemistry, but many fresh new ideas as to how material can be presented to students in the most interesting and easily grasped manner. They left immediately after the completion of their duties as staff members of the summer institute in Nuclear Science and Radioisotope Techniques at B.S.C., to start writing in Elk River. They are writing new materials to be used in an experimental program: the Elk River Science Curriculum Project. This project is funded by the federal government through the auspices of the Central Minnesota Educational Research and Development Council of St. Cloud Mn. (Aug 16, 1968)
Eugene Scribner was a district deputy of the Knights of Columbus.
Marriage license application by Leo Edward Hughes, 28. 1207 Bixby Ave., and Vickie Lynn Wiseth, 922 Dewey Ave., May 16, 1971.
James Cecil (1970) (1974) (1977) (1978) (1982) (1989); Prof. James Cecil, Bemidji State College, political science department.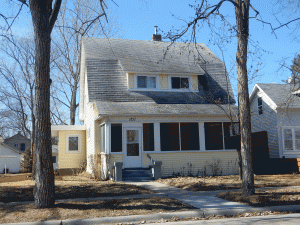 ---
1215 Bixby Avenue
Home built in 1910.
Bemidji City Directory Information:
P.A. Hoffman (1912-1913) (1915)  Mr. and Mrs. P. A. Hoffman moved to Virginia. Mrs. Hoffman was the daughter of Mrs. John English of Bemidji.
FOR SALE: 5 Room house hardwood 3 floors, 50 ft. east front lot, 1215 Bixby. Price $1800.00. Reynolds & Winter.
Henry McKee (1918-19)  (1920-1921) (1927-1928) (1934-35)
The Mystic Circle held its regular meeting at the home of Miss Catherine McKee, 1215 Bixby avenue, Friday evening, December 15.  After the meeting, members enjoyed dancing and music and a delicious lunch. (Bemidji Daily Pioneer, Dec 1922)
Alf Elliott (1937-38)
Roy H. Larson (1939-40)
Elmer Knutson; John H. McKee (1942)
Geo W. Minkel, Betty Wenzel (1946)
Marvin  Smith; Roger Briar (1951)
C.E. Johnson, John N. Meigham (1956) (1958)
Irving Berg (1964)
Paul T Hoyem (1967)  (1970)
Henry Lindsey (1974)
Barry Yocum (1978)
Ronald Daughterty (1982)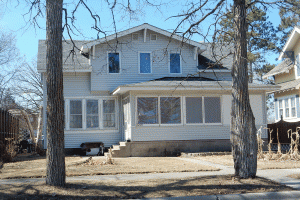 ---
1217 Bixby Avenue
The Ladies' Aid of the First Scandinavian Lutheran Church will be entertained at the home of Mrs. I. Nygaard, 1217 Bixby Avenue, on Wednesday afternoon at 2.30. (Nov 11, 1910)
Ingbrit Nygard (1912-1913) (1918-1919)
Mr. and Mrs. I. Nygaard returned this morning from the Twin Cities where they attended the amalgamation convention of the Norwegian Lutheran churches. (June 12, 1917)
Mrs. I. Nygaard, 1217 Bixby Avenue, will entertain the Ladies Aid society of the First Scandinavian Lutheran church, Wednesday afternoon at her home. A cordial invitation is extended to all. (Aug 14, 1917)
Ingbrit Nygaard (1920-1921)
Elmer I. Nygaard, eight years and four months of age, died Wednesday morning at the home of his parents, Mr. and Mrs. I. Nygaard. 1217 Bixby avenue. He is survived by his parents and three brothers. Funeral services will be held at home Friday afternoon at 2:30
o'clock. The funeral will be private. (July 7, 1921)
The beautiful new home being erected by I. Nygaard at 1217 Bixby Avenue is nearing completion and is now ready for the plasterers. (1922)  Mrs. Nygaard moved from Bemidji in 1934.
The residence was next occupied by Rev. G. W. Sanstead (1927-18); Rev. Joseph C. Mattson (1934-1942); Rev. Blomquist (1951); Rev. Donald Conrad (1956) and Rev. Vernon Nelson.
It was then owned by Lloyd Kuhrke, manager of People's Natural Gas. Lloyd Kurhke was named local manager of Peoples Gas Company in June 1967. Peoples purchased the assets of Bemidji Gas Co., a subsidiary of Solar Gas Inc., of Minneapolis last January, 1967. The system in Bemidji serves approximately 700 customers. In another personnel assignment, Lowell Ayres has been named operations manager in Bemidji and will assist Kuhrke in various Peoples activities. (June 28, 1967)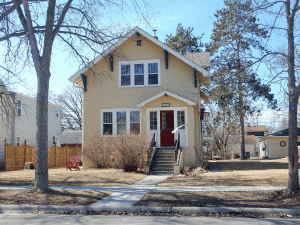 Lloyd Kuhrke was the representative for Bemidji Dairy, distributor of Oak Grove in 1973.  He was retired but still at this address in 1989.
---
1301 Bixby Avenue
Albert Treichel of Ada purchased the corner lots from C. E. Battles. Mr. Treichel expects to commence building on these lots at once and complete the structure by spring when he will move his family to Bemidji. (Oct 26, 1914) He built one of the smallest houses in the Bemidji area at 672 sq. ft.
Albert and his wife Eliza lived at this residence for decades. In 1930 and 1940, Albert was a caretaker for the city library park. Children: Amanda, Max, Helmuth, Alvina, Bertha and Isa. Eliza died on Feb 21, 1940. Albert died Jan 19, 1945. Helmuth Treichel then lived at the house 1946 – 1957. He was employed as custodian for the Markham Hotel, retired in 1957.
Wm. Okerman lived at the house from at least 1964 to 1970. William Okerman was a surveyor for the US Forest Service.
Arthur Gullette was listed at this residence in the city directories of 1974, 1978, 1982.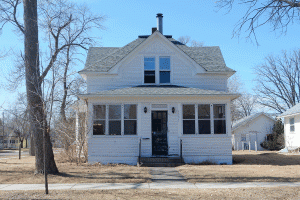 Arthur Gullette was a professor at Bemidji State College. Mrs. Jeanne Gullette was librarian at St. Philips Catholic School and then a supervisor for the Bemidji Clinic.
---
1305 Bixby Avenue
Built about 1920. It became the home of Dr. Vandersluis in 1936.
Charles Wilson Vandersluis, Jr. was born in Walker on Nov. 8, 1906. He became an MD in 1935. He married Rosalie McCullough June 1, 1936 in Bemidji. He practiced medicine in Bemidji from 1935 onward. In 1937, he was coroner for Beltrami County. He had an office in the Medical Building.
It was then the home and the office of Marcus Reed, attorney,  from 1951-1967.
Dale Norby (1970)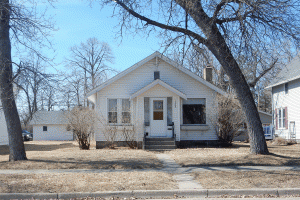 Mrs. Doris Havumaki was at this residence from at least 1974 to 1989. She was a counselor for Rural Minnesota C. E.  P. She was the widow of Sulo Havumaki.
---
1311 Bixby Avenue
George W. Slater bought lots 7 and 8 on Oct 7, 1911 for $350 from Townsite Company.
George Slater, an employee of Ottertail Power, and his wife Addie lived at this home until 1944. One of their sons lived in Ohio and they  moved out there to live with him. Addie died in 1946, and George Slater died in 1947.
Slaters sold Lots 7 and 8, Block 9 to Verland and Onolie Allen on Oct 2, 1943.  The property was transferred Oct 12, 1944.
Verland and Onolie Allen sold the lots to Harry and Harriet Moore on Aug 15, 1947; filed and transferred Sept 18, 1947
Harry Moore lived there from 1947 to 1957. Harry Moore was an agent for Standard Oil Company.
Moore transferred the property to Hon. Frederick Weddel and Ruth Weddel on Dec 4, 1957. They owned it for at least ten years.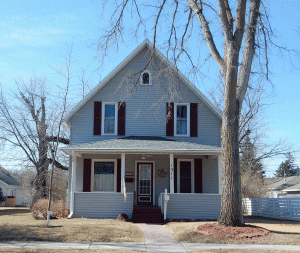 It was then owned by Robert Eudeikis, professor of Bemidji State College,  from at least 1970 through 1989. Mrs. Barbara Eudeikis was a teacher for District 31.
---
1315 Bixby Avenue
Lots 5 & 6 were sold to Glenn R. Martin on April 11, 1913 for $250 from the Bemidji Townsite Company.
Baptist Bible training class at the home of Glenn R. Martin in Feb 1915. Mrs. Martin was the teacher. Ira D. Alvord, pastor of Baptist church (Feb 6, 1915)
Glenn Roy Martin was a pioneer Bemidji resident. He died at the local hospital following a month's illness on Sept 26, 1961.
The Martins owned the home for nearly fifty years.
Mr. Martin came to Bemidji in 1906, was employed as a millwright at the Crookston Lumber Company and by the Bagley Manufacturing Co., and Interstate Power Co. before establishing the G. R. Martin & Son mill at Shevlin in 1928. His son, Chester, assumed active management of the mill in 1940 but Mr. Martin continued to go to the mill each day until about six weeks before his death in 1961.
Mrs. Margaret Busse (1964)
Alpha Beta Lambda Fraternity, Klara Marti, James Walk (1967); Mrs. Margaret Busse lived in the rear of the residence.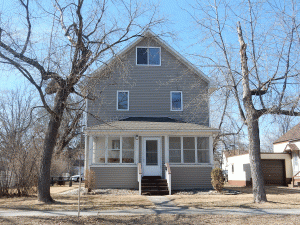 Rodgers McFarland (1970) (1974)  (1978). Rodgers and Marlys McFarland were the owner/operators of the McFarland Cabinet Shop, and later the McFarland Kitchen Center.
---
1319 Bixby Avenue
This home was built in 1937 for Anton Hoganson.  He lived there until he retired in 1949.
Anton O. Hoganson was born in Spring Valley, Wisconsin in 1878. He grew to manhood there. He and his brother, John, established the Model Dry Cleaning House at 106 Second Street in Bemidji in April 1909 which he continued to operate until his retirement in 1949. They installed a telephone in May 1909. He was married to Hilda Hanson in Minneapolis in 1912 and she preceded him in death in December 1960. Mr. Hoganson was a long-time member of First Lutheran Church, a member of Civic and Commerce for many years; served on the Bemidji Hospital Board during much of its development period. During World War II, Mr. Hoganson spent a great deal of time promoting War Bond sales and was an avid sports enthusiast his entire life. Toward the end of his life he lived at Lake Plantagenet. He died at the Bemidji Hospital on Feb. 9, 1965, following a brief illness. He had been a resident of Bemidji for over 60 years. Anton and his wife Hilda had two sons, Harold and Donald, and one daughter Mona.
Kermit Lysen (1951)
Wm. Keenan (1956)
Jerome & Valborg Skeim (1964) (1967) (1970). Jerry Skeim was the Beltrami County Assessor from 1957-1969. Mrs.Jerome Skeim was the organist for First Lutheran Church and also directed the choir. He became the Meeker County assessor from 1969 to 1973.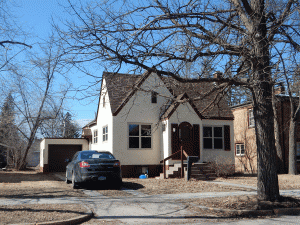 Jerry & Patrick Oelrick (1974)
Dawn Skittone (1978)
Wayne Simmons (1970)
Sandra Traczyk (1982)
Patty Tracy, Ann Haugo (1989)
---
1323 Bixby Avenue
Lots 1 and 2 were sold to Rose Winter for $500 on Oct 18, 1921.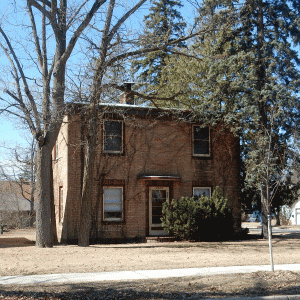 The home is best known as the home of the Thelander family. It was listed in the city directories as the home of Otto Thelander in 1937 onward. He died Dec 27, 1969. it was then listed as the home of Mrs. Cyri R. Thelander, and then was part of the Thelander estate.
---
1401 Bixby Avenue
This was the home of Mr. and Mrs. Oliver Rood from approximately 1912 to 1927.
Oliver C. and Lewis. E. Rood,  were, previous to the establishment of their business in Bemidji, for ten years extensive dry goods merchants at Crookston. They carried an immense line of dry goods, shoes, furnishings and notions of the latest styles and textures, and at prices which range from high priced to nominal. They made a specialty of the Foot-Schulz shoe, a Minnesota product.
The Rood Brothers were warm advocates and active workers in the move to secure for Bemidji the proposed Normal School.
Oliver C. Rood was a commercial traveler for the tobacco industry on the 1920 census. The family then moved to Albert Lea, Minnesota.
Other residents were: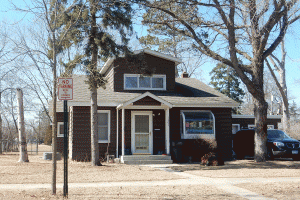 Chester J. Clements (1934-35); Peder I. Ness (1937-38) (1939-40); Lorayne Angvall (1942); Geo Licke (1946); Harry Wisdom (1951); Judson Martin (1956)
Donald J. Zuelhke lived in the home for at least 25 years as indicated by city directories from 1964 to 1989. He was a member of the faculty at Bemidji State University from 1953 until his retirement in 1986 and was chairman of the business education department.
He and Lorraine Prosa were married July 31, 1949, at Deerfield, Wis. He was a member of Trinity Lutheran Church, held offices of secretary of the congregation and elder, and was a Sunday school teacher. He was a member of Ralph Gracie American Legion Post 14 and Tri-County VFW Post 1260, both in Bemidji. He enjoyed fishing, golf and playing bridge. Donald Julius Zuehlke died in 1995.
Donald J. Zuelhke was the happy winner of a 23 inch Coronado color television set in a drawing held at the First National Bank. The set was given away by the Bemidji Jaycees with all proceeds of the ticket sale going to support the Beltrami County day Activity Center for mentally retarded children. (Bemidji Pioneer, Dec 27, 1966)
---
1403 Bixby Avenue
This was the home of James J. Deneen (Who's Who in Minnesota 1958). He moved to Bemidji in 1953 and became the City Manager. He retired in 1963. He was a member of the Bemidji Masonic Lodge and Eastern Star; a life member of the Elks; member of Shriners of Grand Forks; the Bemidji Rotary and Lions clubs; the International City Managers Association. He was a past president of the City Managers Association of Minnesota.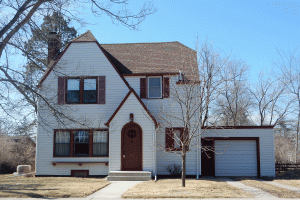 ---
1413 Bixby Avenue
City Directory Entries:
Albert T. Stevens (1939-40) (1942)
Douglas Sommerville (1946) (1951) (1956)
Leo Cooper (1964) (1967) (1970)
Thos. L. Strowbridge (1974) (1978) (1982) (1989)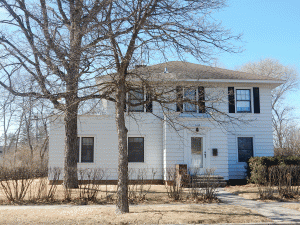 ---
1426 Bixby Avenue
This was the home of Leon M. "Pinky" Johnson and his wife Lois  from 1939 to his death in 1987.
Leon Johnson was born April 20, 1904, at Fosston. He graduated from North Dakota State University in 1927 and began teaching at Hankinson, N.D., in 1928. He also taught at Grand Rapids and Floodwood before moving to Bemidji in 1937. He married Lois Vennewitz Dec. 21, 1931, at Alexandria. He taught vocational agriculture at Bemidji High School until retiring in 1968. He was an advisor to the Future Farmers of America Club in Bemidji and coached four teams to national championships in FFA competition.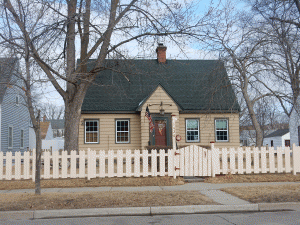 He was a Minnesota Teacher of the Year, past president of the Minnesota Vocational Agriculture Teacher's Association and past vice president of the National Vocational Agriculture Teacher's Association. He served on the Bemidji City Council from 1969 to 1972 and was secretary of the Beltrami County Fair Board from 1962 to 1977. He was a member of First Lutheran Church, the Elks Lodge, Lions Club, Curling Club and Bemidji Town and Country Club.
Mrs. Johnson died in 1983. He died June 1987. He was survived by a daughter, Nancy and a son, Leon L. Johnson.
---
1427 Bixby Avenue
This was the home of George Deibert and his family from 1964 until at least 1989.
Wednesday, May 8, marked the tenth anniversary for Deputy George Deibert with the Beltrami County Sheriff's Department and began his 17th year of police work in the Bemidji area. These years of service began in 1958 when George became a police officer for the Blackduck community and covers the investigation of every imaginable crime from minor juvenile delinquency to murder. Though now a long-time resident, George is not native to the area. He first came to Minnesota to visit a friend he had met in the Pacific theater during World War IL That visit was followed by several Minnesota vacations until finally, an avid fisherman and hunter, he decided this was the place to be. Originally from Illinois, George served in the Army Air Corp during World War II and was recalled to service for a year during the Korean conflict. After his military service, in which he saw duty in small arms repair, bomb reconnaiscance, and demolition, George worked as an electro-plater in a factory in Elgin, Ill. Tiring of factory work and finding the call of northern Minnesota increasingly irresistible, he applied and was accepted for the position of police officer in Blackduck. George is a graduate of numerous police schools and is known throughout the state for his work with forged checks, as well as for his knowledge of small arm s. He is now the senior deputy with the sheriff's department. (May 10, 1974)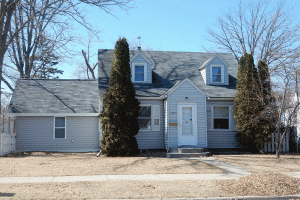 He and his wife Adeline, a native of Blackduck, have lived in Bemidji since he joined the sheriff's department in 1964. They have one daughter, Janice, age 9, still at home and two married children. The Deiberts are members of the First Presbyterian Church of Bemidji, and George is both a Shriner and a Mason. In addition to fishing and hunting, which he does with considerable expertise according to those who have fished and hunted with him, George maintains a vegetable garden and has a history of raising racing pigeons. That's right — racing pigeons. (Bemidji Pioneer, May 10, 1974)
---
2406 Calihan Avenue
This was the home of Earl and Vesta Kerns.
Earl Kerns came to Bemidji in 1939 as director of the band and the orchestra at Bemidji High School. He started the elementary band program his first year at Bemidji and later initiated the summer marching band program. He also taught baton twirling and later initiated classes for baton and majorettes. Mr. Kerns also started the junior high band performing instead of just practicing. In total, Mr. Kerns accompanied the Bemidji High School band to the state basketball tournament 17 times during his high school career. It is estimated that he taught 350 students each year during his 32 years at the high school.
Earl Kerns died at his home Tuesday, Aug. 12, 1975.  Mr. Kerns was born on September 5, 1905 at Omemee, ND. He grew up in the Devils Lake, N.Dak. area and played in the original Governor of North Dakota Band. He attended North Dakota State University at Fargo and the South Dakota University at Vermillion, S.Dak. He took his undergraduate degree at the University of North Dakota in 1931 and attended Vandercook School of Music in Chicago. On Aug. 2, 1933 he married Vesta Quarve at Fessenden, N.Dak. He received his Master of Arts degree at the University of Michigan and taught school at Fessenden and Grafton. In the fall of 1939 he came to Bemidji where he was a band director at Bemidji High School until retirement. He was a former Jaycee and Lion in Bemidji. He belonged to the Bemidji Elks, the SAE fraternity at the University of ND and was a member of the First Lutheran Church in Bemidji. He also enjoyed hunting and fishing.
Services we're held Friday at the First Lutheran Church in Bemidji. Mrs. Thelma Bender was organist, Beth Baker played a trumpet solo and David Naylor played a trombone solo.
Vesta Kerns attended St. Olaf College, Valley City State College and graduated from Bemidji State University. She taught Math & Science for 17 years in Bagley, Mn. Vesta died at Bemidji in 2011. She was a frequent world traveler with Elder Hostel Programs. Despite her diminished eye sight, she knitted hundreds of caps for newborns at the local hospital. Her hobbies also included playing bridge, gardening and pressed flower pictures. She was a member of Chapter CZ, PEO 50 plus years and also a member of Delta Kappa Gamma.
The Kerns family included their son, James and a daughter Kristie.
---
922 Dewey Avenue
This beautiful corner residence began with the delivery of lumber and materials by Swedback Brothers to George W. Stone and the Bemidji Townsite & Improvement Company. These materials were sold, furnished and delivered on Nov 10, 1899 for the erection and construction of a dwelling house on  lots 13 and 14, of Block Ten of Bemidji's First Addition.
E. L. Naylor purchased lots 13 & 14, Block 2, First Addition on Feb 1, 1902 for $175. Naylor sold this property to M. H. Sullivan on March 31, 1903 for $1200. Sullivan then transferred this same property to James Cahill on the same day.
James Cahill and wife Ida sold these same two lots to O. J. Laqua for $800 in 1904.
Mrs. Emma Stewart, widow, her daughter Capitola Stewart and son Scott Stewart moved into the home by 1910. The Stewart family members lived there for at least fifty years until 1963.
Scott T. Stewart first came to Bemidji  on Feb 6,1904 and went into the restaurant business in the old Nangle building. Mrs. Emma Stewart, Capitola and Scott lived at the store property at 302 Third Street until sold in 1906.  Scott Stewart purchased the Roe & Markusen Grocery at 207 4th Street in 1914. Then for many years he owned and operated the store known as the Campus Food Market at 1101 Birchmont Drive. He retired from business in 1943.
Capitola B. Stewar was born in 1875. Her mother, Emma, was born in Canada. Miss Capitola worked as a clerk at several shops including Berman Emporium, the Bazaar, and finally for Wilson's on Third Street. Her talent was as a milliner.
The Stewarts were mentioned in the society pages as part of many neighborhood activities.
Mr. and Mrs. N. E. Given of Dewey Avenue entertained at a toboggan party last evening. The guests were Misses Capitola Stewart, Elizabeth Erickson, Ida Virginia Brown, Carrie Armstrong, and Messrs. Scott Stewart, Harry Stark, William Raymond and Thomas Quayle of Virginia, Minn. Lunch was served at the Given home at a late hour. (Feb 13, 1917)
A new club, to be known as the "My America Club," was organized Tuesday evening at the home of Misses Mabel and Lucy Brooks on Lake Boulevard. These clubs are being organized throughout the United States. The members will take up different lines of work, such making bandages and knitting, various articles for the soldiers. The members of the club are Misses Fail Edwards, Real Edwards, Agnes Edwards, Alma Olson, Thelma Johnson, Clara Sather, Carrie Armstrong, Ida Virginia Brown, Elizabeth Erickson, Emma Gornes, Capitola Stewart, Florence Bell, Mary Bell, Lucy Brooks and Mabel Brooks. The officers are: President Miss Mabel Brooks. Vice president-Alma Olson. Treasurer – Ida Virginia Brown. Secretary – Capitola Stewart. (May 24, 1917)
O. J. Laqua and wife sold the property to Capitola Stewart on March 3, 1924 and indenture was paid and recorded Feb. 13, 1929 for the sum of $2300.00.
Mrs. Emma Stewart appears to have lived there until about 1939. Joe Hartness, the Secretary of Civic & Commerce Association came to Bemidji in 1939 and rented the property for several years.  Meanwhile Capitola lived with her brother Scott and his wife Hallie.
Capitola B. Stewart, unmarried, sold the property to Scott T. Stewart and Hallie A. Stewart on Aug 15, 1947, and continued to live with her brother and sister-in-law. Scott T. Stewart died in 1954. For more on Scott Stewart, please see an account of his life and businesses in Bemidji in the Pioneer category on this website.
Capitola Stewart died in 1956. Hattie Stewart moved away and the residence was occupied by Theodore and Delores Elmore. They purchased the property and then sold it to Robert and Gloria Tibbetts in 1963. Mrs. Tibbetts was still a resident in 1982.
View of the residence with entrance fronting Dewey Avenue NE.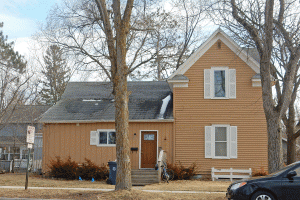 ---
313 Fifteenth Street
Oscar M. Johnson and Agnes Melhorn were married on Dec 8, 1922 in Bemidji. They built their home in Bemidji on 15th Street. Oscar was a well driller and later shop foreman of an auto garage. He passed away in 1966. Mrs. Johnson lived in the house for 68 years before moving into the Beltrami Nursing Home. She passed away in 1990.
---
610 Fourth St.
This was the home of Isaac Streeter in 1904.
Oliver Anton Rudhe married Hilda Hartin in Bemidji on May 16, 1908. Myrtle was born May 31, 1913. Clarence was born Sept 2, 1918.
By 1920, it was the home of the Rudhe family where they raised their family and lived for  nearly 50 years. Oliver Rudhe was born in Norway; his wife HIlda was born in Sweden. He was a filer for the Kenfield sawmill operation. They moved to Washington in 1965. He died at Cathlamet, Washington on June 21, 1973. His wife Hilda died March 24, 1972. They lived in Bemidji most of their lives. They raised two sons, Alex and Clarence, and three daughters, Helen, Jennie, and Myrtle.
---
614 Fourth Street
This was the home of Paul and Anna (Peterson) Foucault. They were at this address by 1920.
Paul Foucault was born in Canada. He moved to Bemidji in 1902.
Paul Foucault will move his barber shop to a new location next week. The shop will be in the basement of the First National bank building which has been especially fitted for its occupancy and the location will be one of the best in the city. (May 5, 1904)
Clarence Foucault, son of Paul Foucault of this city, had a narrow escape from death yesterday while he was switching on the M. & I. road at International Falls. Mr. Foucault in stepping from a moving engine slipped and fell just as another engine was coming right behind him. The engine brushed his cap off his head and ground it to pieces. Mr. Foucault suffered a wrenched back and dislocated hip. He was taken to the Northern Pacific hospital at Brainerd last evening. (Feb 21, 1917)
Paul died Aug 20, 1938, age 64. He was a barber in partnership with Sam Baney at 220 Minnesota in 1931. He was a former member of the Bemidji city council, serving for six years, and was a charter member of both the Knights of Columbus and Moose Lodges there, and a member of the Catholic parish.
Mrs. Anna Foucault, widow on the 1940 census.  She was born in Denmark Nov. 3, 1870, the daughter of Christ Peterson. In 1940, she owned the home and had two women boarders. She lived there until her death on Dec 25, 1953. She had been a resident of Bemidji for 53 years.
---
201 Irvine Avenue South
E. J. Swedback was the first resident at 201 Irvine Ave S. Swedback moved that house to the corner of Eleventh and Bemidji and remodeled it for his home in 1913. A. J. Naylor purchased the lot, and the Bemidji Pioneer socials noted on December 26, 1913 that A. J. Naylor "has the outside work of his new home completed and is occupying it. Mr. Naylor will complete his home gradually, and, when the interior work is complete, will have spent $2,000 on it." The Naylor family owned the home until about 1960, and the house is still an attractive structure.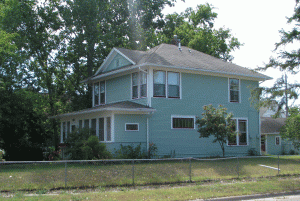 ---
707 Irvine Avenue
The Hillgrove/Huck Family owned this home from 1904 to 1975.
William Hillgrove was a stone mason. He and Elizabeth lived at 707 Irvine in 1904. A party was given for about 30 guests at the home of Mr. and Mrs. Hillgrove on Jan 23, 1905.
Children of Mrs. Hillgrove were Florence, age 22, a teacher; Allen, age 19, a telegrapher, Clarence, age 16, a bell boy,  Susan, age 5, and an infant, Severn.
William Hillgrove died in 1911. — After having advanced well on the road to recovery from injuries received from a fall on cedar poles July 31 at Turtle River when four ribs were broken and his collar bone fractured, William Hillgrove fell a victim to pneumonia Thursday and died yesterday. At the time of the injury, Mr. Hillgrove was assisting the D. K. Deal Lumber company in loading cedar poles. He was a mason by trade and was doing work at Turtle River but yielded to a request to aid in handling the poles, and while on top of a car which was being loaded was hit on the head with a pole, throwing him to the ground. While being brought to Bemidji he caught a severe cold which developed into pneumonia. Mr. Hillgrove appeared to be recovering rapidly, and yesterday afternoon while talking to his wife told her he soon expected to be taken home. An hour later he was dead, his heart having given out under the strain of the disease, although double pneumonia is given as the real cause of his death. He is survived by his wife and four step-children. The funeral will be held Tuesday morning at 8:30 from St. Phillip's Catholic Church. He was 52 years old. (Aug 12, 1911)
Elizabeth Hillgrove, a pioneer resident,, passed away on January 12, 1945 at the home of Ms. Ernestine Tharaldson, 723 Irvine avenue, following a short illness. Mrs. Hillgrove was born April 17, 1864 at Wellesley, Ontario, Canada, and came to Bemidji in 1904, where she was married to William Hillgrove and resided at 707 Irvine Avenue for many years. She is survived by one daughter. Burial will be held at New Hamburg, Ontario, Canada, her childhood home. The body will be taken there by Miss Huck, accompanied by Mrs. Tharaldson.
Florence Huck lived at the home from the time she was 21 in 1904 until her death in 1975. Florence Lorraine Huck, 92, of 707 Irvine Ave. died June 4, 1975 at the Beltrami County Nursing Home. Mrs. Huck was born March 13, 1883, at Wellesley, Ontario, and attended school in New Hamburg, also in Ontario. She came to Bemidji in 1904 and made her home here since. For a time she taught in the Nebish School and later worked at the W. G. Schroeder General Store for a few years. In 1920 she joined the establishment of Given Hardware in Bemidji and was employed there until they sold in 1952.
---
823 Irvine Avenue
Henry P. Minton, Frank Minton, and Stella Minton were all teachers living at this address in 1904.
Henry P. Minton, 90, one of the few surviving veterans of the Civil War, died at his home, 823 Irvine Ave., on Sept 5, 1928. Funeral services were held at the home Thursday afternoon at 2:30 with interment following at the Greenwood cemetery. Mr. Minton enlisted in Company A, Eighth regiment of the Peoria cavalry on August 16, 1861. He saw much active service in the fight for the Union and was given an honorable discharge September 14, 1864. He married Mrs. Mattie Minton in December of the same year.
Mrs. Martha E. Minton, wife of H. P. Minton, passed away Feb 5, 1922. Mr. and Mrs. Minton had made their home at 823 Irvine Avenue over the past 20 years. During the past several years, Mrs. Minton was confined to her home by ill health the majority of the time. Mrs. Minton is survived by her husband, a Veteran of the Civil war and a member of the local post of the G. A. R., a daughter, Stella, who has made her home with her parents while teaching in this vicinity, a son, Ernest who lives at Ventura, Iowa, and several other children living in California.
"We stopped at the Minton house on Ninth and Irvine. The same old frame house is still standing, but has been all boarded up for many years. What a shame! It had so much charm. At that spot was the pot at the end of the rainbow for me – the cuckoo clock. How I loved that little bird! Poor Grandmother! I would always make her late getting home from there, begging just one cuckoo, please Grandma."
The Mintons were an old couple. She was a plump lady and Mr. Minton was frail looking; both had pure white hair. They had one daughter, Stella. She had black hair with corkscrew curls. She let me play with her doll and the trunk full of doll clothes…. After Stella grew up, she wrote stories and sold them. She never married and lived on in the house after the old folks died. Then she sold the house and left. (Memories of Alice Cameron Bowers, North Country, 1989)
Stella Minton appears to have moved between 1942 and 1946. The house was listed as vacant from 1956 to 1982 in the city directories.
---
1019 Irvine Avenue
This house was built in the 1940s. It was the home of Ray and Dorothy Stephenson until his death in 1983. They owned Steve's Grill in Bemidji which was located on Beltrami Avenue.
The house was in a pleasant neighborhood near a neighborhood grocery store. There was also a dip in the street at the corner of 11th and Irvine. Youngsters in the neighborhood of 11th Street and Irvine Avenue splashed happily in a miniature lake formed in a low area of the street after a downpour which occurred on Aug 26, 1965. The precipitation was light in most of Bemidji but approached flash-flood proportions in the northern areas.
Photo from 1956.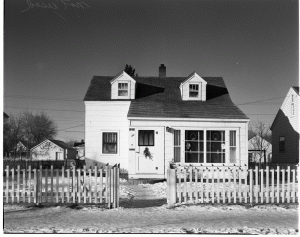 ---
413 Irvine Avenue
On the west side of Irvine Avenue there was a very large house which was owned by Fred W. Rhoda in 1904, and next by Fredrick Eberlein, a German beer brewer, who was the president, treasurer and manager of the Bemidji Brewing Company. After it was occupied by D. C. Breneman in 1910, it next was occupied by M.E. Smith, owner of the Smith Retail Company located at 424 4th St.  This house was very large and appears to have had two families living there most of the time. On a summer afternoon on July 24, 1913, it was the scene of a small wedding when Miss Alice Senear hosted a wedding for her cousin Carrie Cochran and Mr. Peter Kanz, and the room was reported to be beautifully decorated with ferns and flowers.
By 1918, it was the residence of Reuben "Rube" Miller and family. He was a machinist and had Miller's  Repair Shop at this address also. He came to Bemidji in 1900 with his parents and operated a gunsmith and locksmith shop with his father until the latter's death. From 1916-1941, he operated the shop alone. He joined the Bemidji fire department in 1911 and continued until his death in 1941.
Michael Downs, his wife Kathleen, daughter Kathleen and adopted son James all lived here from 1922 to about 1935.  Canadian M. A. Downs came to Bemidji about 1899.  He went into business with George Fleming and formed the firm of Fleming and Downs. By mutual consent, they went out of business in October 1905. Fleming continued the business and Michael Downs then went into business with Fred O'Leary and opened the Downs-O'Leary Grocery Store in 1906. They were featured in the 1909 Souvenir edition of Bemidji. It was considered an exclusive grocery store. It didn't work out and they went bankrupt on Sept 9, 1909. He went to work as a switchman for the M & I Ry. Michael Downs had married Kathleen Walker on Sept 13, 1904 in Bemidji. They lived at 506 Fourth Street from 1905 until they moved to the Irvine Avenue address sometime during the early 1920s. Michael died by 1935 and his family moved to the Lakeview Apartments.
Wendell and Addie Gregg lived here in 1946, about the time this photograph was taken. It was then purchased by Wilfred and Agnette Marks. Mr. Marks was the agent for Lutheran Brotherhood Insurance (1951). In the 1953, it was the residence of Louise Anderson and the Hair Fashion Studio. There were several owners after that including Herman Ihde and his family from 1956 into the mid 1960s.
---
417 Irvine Avenue
417 Irvine Avenue
The first resident listed in the 1904 directory for this address was Joseph Barney, a local bartender and his wife. By 1907, it was the home of Mr. and Mrs. M. E. Ibertson, the local undertaker and coroner for Bemidji for many years. Mrs. Ibertson entertained the members of the Eastern Star at the Ibertson home in 1907. On Feb 2, 1909, Mr. and Mrs. M. E. Ibertson celebrated their fifteenth wedding anniversary on Friday evening with a "crystal" wedding at their home. There were twenty-six guests present and all enjoyed a social evening. The Ibertsons received many cut glass presents in commemoration of their crystal wedding. The Ibertsons then moved and this became the residence of John and Grace (Toombs) Hormann. Grace Toombs who were married in 1911. He was associated with the Peoples Meat Market and then Hormann's Meat Market on Third Street. His young wife, Grace, died at the house in February of 1914 when she was only 25 years old after a relatively brief illness. Her daughter Grace was only sixteen months old. The funeral was held at the house as was common in that period. Mr. Hormann hired a housekeeper and stayed with his daughter in the house until putting it up for sale in 1920. It was advertised as 5 rooms and bath, on a 50 ft. lot, surrounded with an iron fence. He then married Sophia Larson Gustafson on May 5, 1921 and continued to work as a meat cutter.  They moved to Nymore.
Dr. Ed Franklin and his wife moved into the house. Dr. Franklin traveled in northern Minnesota for Drs. Larson and Larson but spent whatever time he could with his family at the house. His father, Wilbert Franklin, a retired carpenter, was staying with the family in 1924 when he took sick and died at the Lutheran Hospital. Between 1930 and 1942,  Leo and Gladys Phillips owned the house. He was proprietor of a billiards room on Third Street for 24 years. He retired and moved to California about 1946.
Michael and Beatrice (Gould) Corrigan owned the house in 1946. Sons James, John, and Thomas also lived there. In the 1930s, Michael had owned a hotel on Third Street. Michael and James worked for the State Highway Department in 1946. Thomas was a student. John was manager of the VFW.  By 1953, Beatrice was a widow and lived with her son John at this address. He was sales manager for Land O'Lakes Motors in 1953.
By 1956, Ed O'Malley and his family had become the new neighbors and lived there until the house was removed and replaced by the post office. The O'Malley girls were the neighborhood babysitters. Ed O'Malley was a linotype operator at the Northland Times and then for the Bemidji Pioneer.
---
421 Irvine Avenue
421 Irvine Avenue
Matt Thome, a saloon owner, moved to Bemidji in 1899 and settled with his family at this address. You may have noticed the Thome name on a building or two in town.  His saloon was in the Rex Hotel and then at 400 Minnesota Avenue. When Bemidji was declared to be in Indian country and the saloons were forced to close, Matt did not give up his business interests.  In 1915, he made front page news when special officers discovered and confiscated wines, whiskey and champagne, valued at approximately $200, in the cellar of the residence. The officers upon introducing themselves, went directly to the cellar of the residence, found a barrel containing 35 gallons of port wine and a keg in which they found five gallons of blackberry cordial. In suitcases well hidden were found 4 pints of champagne and 10 quarts of imported wine. In a small hole beneath the flooring of the cellar the officers found 37 quarts of whisky. The entire "plant" was destroyed. Thome retired from business and took up farming in Wisconsin. After that, the house had new owners about every five years until it was purchased by the city from the last owner, Dewey Johnson.
This is currently the site of the U.S. Post Office.
---
905 Lake Boulevard
F.A. Mayo first owned this property. He has had plans drawn for additions to his residence which will make it one of the most handsome in the city. The building will be enriched with furnace heat, hardwood floors, plate glass windows, stairs finished in hardwood, etc. Boyd & Gilbert are the architects. (May 30, 1901)
For Sale: Cash or terms, F. A. Mayo's home on Lake Boulevard, No. 905—also two nice rooms to rent over Barker's Drug store. P. J. Russell.
The home was sold to Dr. Rowland Gilmore on Apr 10, 1906.
In the coming to this city of Dr. Roland Gilmore, Bemidji has not only gained a physician who comes recommended as one of more than ordinary skill, but as well a man of character and good standing. Dr. Gilmore has for the past few years been in practice of medicine at our neighboring town of Fosston, but feeling the desire to broaden out in the pursuit of his profession, he began to look about for some place where he might enlarge the sphere of his work, and happily decided upon this city as the scene of his future endeavors. The doctor has engaged a suite of office rooms in the Miles block. (Bemidji Pioneer, Nov 20, 1902)
The Episcopal Guild will meet at the home of Mrs. Dr. Gilmore, 905 Lake Boulevard Thursday afternoon at 2:30. The ladies are cordially invited to attend. (Aug 31, 1909)
Mrs. Roland Gilmore, 905 Lake Boulevard, was hostess at a well appointed 7 o'clock dinner last evening. The rooms were prettily decorated, the color scheme being red and white. White carnations and red candles enhanced the appearance of the dining table. Covers were laid 'for nine, the guests being Messrs. and Mesdames T. J. Burke, P. J. Russell, John Parker and Miss Ella Parker. (Jan 10, 1911)
The Gilmores lived here until about 1935. It then became the home of Patrick (P.J.) Russell, attorney. Mr. Russell died Nov. 2, 1945.
Bjorn L. "Barney" Hakkerup, widely known Bemidji resident who spent his entire life in this city, passed away at his home at 905 Lake Blvd. on Sept 25, 1947 following an illness of nearly one year. Born in Bemidji March 16, 1908, the deceased was 39 years old at the time of his death. He attended elementary Bemidji schools and graduated from the city high school and the State Teachers college. Until ill health forced him to retire he was associated with his father in the photography business, handling the commercial photography end of the business at the studio on Beltrami avenue. The Hakkerups sold the studio in 1946.
In 1951, it was the home of Herman Ivers and his wife Marie. They owned Andy's Diner in Bemidji. The house was vacant in 1956.
The house was inhabited by 1958 by Eben Calder. Mr. Calder was born in Scotland. He taught for 31 years for the Bemidji State University, retiring in 1982. In 1984 the house was still occupied by retired BSU business instructor, Eben Calder.
6)
---
703 Lake Boulevard NE
This house was first owned by E. F. Crawford, an attorney. The house was a log home built about 1895 that was moved in from the Wolf Lake area in 1903 or 1904.  Mr. Crawford left the Bemidji area a few years later and moved to a farm in Virginia near Washington, D.C.
Clara Fisk was a resident of the home in 1908.
Mrs. Ike Black entertained at her home at this address in January 1911.
From 1911 to 1931, the property belonged to hardware owner Charles E. Battles. He and his wife Kittie lived there through 1930.
The house next belonged to Sewell Wilson of Wilson & Co. Shop for Women. He was born in Baltimore in 1892. He entered the army July 1917 and served overseas for one year. He was discharged in June 1919. After returning to the states, he started the Wilson Company. He married Martha Eldridge on Sept 12, 1929 in Chicago. He raised his family here.
By 1956, the house belonged to Robert and Hazel Oas. Oas was the proprietor of the Hartz Store until it burned and then was owner of the City Meat Market.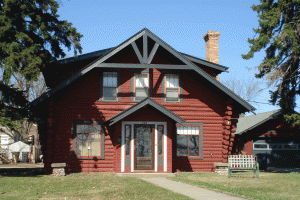 ---
711 Lake Boulevard
Andrew and Grace Warfield came to Bemidji about 1899 from Duluth.
Andrew Warfield bought lot 8 and 9, Blk 22 in July 1901 for $500. They were settled at this address by 1905.
Charles Scrutchin purchased the Warfield's first house on Lake Boulevard in 1913. He had the house moved to a vacant lot on Bemidji Avenue and Ninth Street.
Probably the finest private residence to be built in Bemidji in 1913 was that of Andrew Warfield, on the lakeshore, it being a two story brick structure and costing $10,000. (Dec 26, 1913)
The Warfields lived there until they died. Andrew Warfield died in 1955; Mrs. Grace Warfield died in 1957. It then became the nurses' dorm for the Bemidji Hospital and was named Warfield Hall. 
---
909 Lake Boulevard
In 1915, J. M. Richards lived in a two story home and in 1918 sold it to Q. A. Brooks, who added an apartment to the front for a disabled family member, and later an apartment to the rear for a newly married daughter.
In 1937 it was owned and operated as The Lake Terrace Apartments by Mrs. Luther Olson, later Katie Cords.
By 1956, under the ownership of Herman Saar, it was known as the Saar Apartments.
---
700 Minnesota Avenue
This property appears to have been owned by the Irwin family. John W. Irwin was a Scotsman, born in New Brunswick, Canada. [or Maine] He became known throughout northern Minnesota as a partner in the Irwin & O'Brien Lumbering operation, and Irvine Avenue in Bemidji is named for him.
In 1900, the family was boarding at Markham Hotel – Occupation: Lumbering, Wife Hattie, born May 1964 in Missouri.  Son, age 6, Walker Irwin, born May 1894 in Minnesota.
In 1905, the Irwin family lived at 700 Minnesota Avenue. Two sons, Walker and Kenneth. Occupation: Lumbering. He was a Charter Member of Bemidji Elks Lodge 1052 in 1906.
"The friends of J. W. Irwin, who has made his home in this city for the last ten years, are congratulating him on the fine showing which is being made by his fast little pacing mare, "Isinetta." "Isinetta" was bought by Irwin from W. J. Phelps in this city in 1906, and considerable local interest is taken in the horse since she became the property of Mr. Irwin. The little mare was carefully trained by Mr. Phelps and has at all times exhibited a world of speed." (1908)
Fast Horse Owned By J. W. Irwin in State Fair Feature Race. (1910)
Bemidji horsemen and other local sportsmen who are lovers of horse racing were greatly interested in the outcome of the free-for-all pacing race, which was the feature event of the speed program at the state fair Monday afternoon. This interest was occasioned by the fact that the owner of Isineta, one of the speediest entries in the race, is owned by J. W. Irwin, for many years a resident of Bemidji and known all over Beltrami county as a member of the big logging firm of Irwin & O'Brien. Mr. Irvin purchased Isineta from "Dad" Phelps, the veteran driver of Minneapolis, five years ago, when "Dad" was participating in the races which were being held on the fairground tracks in Bemidji. (1910) Along with Walter J. Markham, J. W. Irwin purchased the St. Louis Hotel in Duluth on Dec 4, 1911, and he planned to be an active manager of the hotel.
By 1909, the property at 700 Minnesota was owned by W. W. Browne.
Waldron W. Browne was born in Georgia in Sept 1867. He was married to Bertha Mehring on October 16, 1899 in Hennepin County. They lived in Bemidji in 1900. They appear to have purchased the property from J. W. Irwin. In 1909, Browne advertised the building on the property. For Sale: A snap: Building 16×32, new sills siding and floors, $300. Cash if moved at once. 700 Minnesota Ave. (1909)
Waldren Brown owned the Armstrong Café. They had twin girls, Verna and Vera Browne, born April 27, 1908. A new single family dwelling was built in 1910.
In 1910, he purchased the Orpheum Vaudeville Theatre in Jamestown, North Dakota, only to have the property destroyed by fire the first night it was open. That was December 8, 1910. The family moved to Stony Plains, Alberta, Canada in June 1912.
Mr. and Mrs. Philip Gill moved into the house and advertised for a girl for general housework for family of two. Mrs. Philip Gill (July 20, 1912). They appear to have lived in the house for several years. It was next owned by the G. W. Harnwell family.
Gordon Harnwell married Edith Kate Wismer. Their son George was born in Minneapolis in 1907. The family lived in North Dakota in 1910. By 1916, they were at 700 Minnesota Avenue.
The Win One class of the Methodist Sunday school will give a "Batlatnat" social at the home of Mr. and Mrs. G. W. Harnwell, 700 Minnesota avenue, Monday evening, Oct. 30. The purpose of the social is to have a get-together meeting and boost the work of the class. (Oct 23, 1916)
A daughter was born to Mr. and Mrs. G. W. Harnwell, 700 Minnesota avenue, named Jean Constance Harnwell on June 12, 1917.
The Women's Home Missionary society of the Methodist church will meet at the G. W. Harnwell home, 700 Minnesota avenue, this evening at 7:30 o'clock. All members are
requested to be present. (Oct 4, 1917)
The Home Guards and Mother Jewels of the Methodist church will meet with Gordon Harnwell, 700 Minnesota avenue, tomorrow afternoon at 3 o'clock., Everyone welcome. (May 3, 1918)
The Harnwells moved to 923 Beltrami Avenue before 1920. He was the manager of a lumber company in Bemidji. Their children in 1920 were George, Howard, Alice, Lillian, and Jean.
By 1921, 700 Minnesota Aven was owned by Dr. McCann.
Dr. and Mrs. D. F. McCann and family have moved in from their summer cottage at Birchmont to their residence at 700 Minnesota Avenue. (Aug 26, 1921)
Dr. and Mrs. McCann Entertained friends at their home (1922)
The owners in the 1930s and the 1940s were the Stout family.
James DeGarmo Stout was born at Clear Lake, Wisconsin on April 19, 1898. During WWI, enlisted in the U.S. Navy. He was married to Selma Ajer in Wisconsin in October 1923. In 1925, he was employed by J.C. Penney in Bemidji. They lived at Grand Forks Bay in 1927. He became the manager of Penney's in Bemidji in 1929. In 1942, he was listed in Who's Who in Minnesota, 1942. He was a commander of the American Legion.
President Charles Sattgast and his wife Bertha moved to this house between 1951 and 1953. Mrs. Bertha Sattgast died in 1957.
President Charles Sattgast left BSTC the fall of 1943 to begin training at Fort Custer. Michigan. Sattgast returned to the campus after military leave to officially resume his duties as president of the college. At this time work was progressing on the new laboratory school which opened in 1950 and Bemidji State Teachers College was entering the greatest period of growth and expansion in its history. Mrs. Bertha Sattgast died in 1957. Dr. Sattgast remarried in 1959. Under his guidance the college campus grew from 20 acres to 74 acres. A graduate program was started and was flourishing in 1964. He encouraged a start of the liberal arts programs. Plans were on the drawing board for the A.C. Clark library at the time of his death. He sincerely wanted Bemidji State to be and felt that it was "the friendly college." Charles Sattgast died in 1964.
After Sattgast's death, Mable Sattgast remained in Bemidji, where she stayed active in civic affairs. In August 1974, she was named Bemidji's Woman of the Year and the city's outstanding senior citizen. She left Bemidji and headed for California in 1975.
---
706 Minnesota Avenue
Original lot (Block 2, Lot 16) sold by the Bemidji Townsite Company to Joseph S. Swan on Mar 27, 1901, for $125.
J. S. Swan residence sold to L. Lauritzen (Oct 30, 1902)
Louis Lauritzen (1904)
For Sale; Six room house and two lots. 706 Minnesota Ave. (1909)
Residence of J. H. Fallon and wife Louise (Hetland) Fallon, residence (1913)
Joseph Henry Fallon was born in Reedsville, Mass. He came to Bemidji about 1904 to work as a scaler in the lumber camps, and later to work as claim agent for the M & I railroad. He was married in Bemidji on Nov 11, 1907 to Miss Louise Hetland, a sister of Mrs. C. M. Bacon of Bemidji. Mrs. Fallon operated a hat shop in Bemidji for many years.
Mrs. Fallon has been quite ill at her home but is slightly improved (1921)
Mr. and Mrs. David Rose came to Bemidji in 1920. Mrs. Rose hosted a Presbyterian church meeting at this residence in 1922.
David Rose was an engineer for the State Highway Department. Lived there from at least 1922 until he died Feb 5, 1975.  Mrs. David (Eleanor) Rose continued to live there. She was a member of the Daughters of the American Revolution, Women's Study Club, First Presbyterian Church and the church circle. She died in 1986.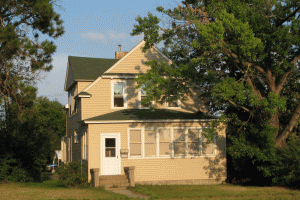 ---
713 Minnesota Avenue
J.A. McDonald purchased Lot 6, Block 3, Original Plat on June 5, 1900 from Bemidji Townsite Company for $125.
E.H. Smith, C. M. Smith (1904)
Andrew Larson (1913)
The Andy Larson family moved in from their summer home at Waville on Saturday and are now occupying their city residence at 713 Minnesota avenue (Oct 25, 1920)
Miss Viola Otto of Milwaukee, until recently employed at the First Wisconsin National bank of that city, is visiting at the home of her father, Major Adam E. Otto, and family, 713 Minnesota avenue, for an indefinite period. F. C. Otto, son of Major Otto, and his wife, visited at the Otto Home during the early part of the week, having motored here from their home in Minneapolis. (June 28, 1922)
Ruth Otto died at the family home on July 12, 1922.
Viola Otto and Robert Henry Blum were married at the home on July 19, 1922.
Major Otto and Mrs. Hilda Evans were married at the home on Sept 22, 1922.
L.S. Hanson (1927-1928)
Mrs. Fannie Brown, Ida Brown, piano tchr (1934-35)
Earl Scanlon (1956) (1970) (1974) (1982). Earl Scanlon was very active with the Bemidji Curling Club. Earl Scanlon died on Nov. 28, 1984.
---
714 Minnesota Avenue
Built about 1910. This was the home of the Tom Symons family.
In 1909, Tom Symons moved with his wife and daughter, Margaret, to this city. The year following his arrival in this city he accepted a position as traveling salesman for a Minneapolis concern until March 21, 1916, when he purchased the Dairy Lunch restaurant on Beltrami Avenue. He died in 1916. Funeral services were held from the residence, 714 Minnesota avenue. (April 5, 1916)
Home of Howard Ferrell (1927-1928)
Mart F. Creager, Howard Ferrell (1934-35)
Woodrow Garrison (1956)
Jens Dale (1970) (1974)
---
716 Minnesota Avenue
Excavation has begun for two new elegant residences on the corner of Minnesota avenue and Eighth Street. The firm of O'Leary & Bowser will each construct one there. (Aug 22, 1901)
Lots purchased by Nellie O'Leary from Townsite Co. on  April 7, 1902. Lots 21 & 22, Blk 2, Original Townsite. P.J. O'Leary came to Bemidji in 1898 and opened a general store together with W. N. Bowser. The two gentlemen retired in 1909 although their store continued in a new brick block under the corporation name of O'Leary-Bowser Corp.
P. J. O'Leary was born about 1867 in Canada, married Nellie Doran, and was one of the leading businessmen of the town for several decades. The O'Leary family lived in this house until his death in 1929.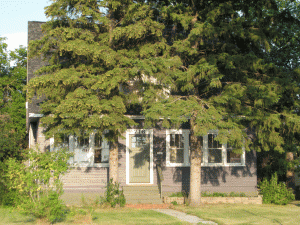 P. J. O'Leary is another of the oldest old-timers. He might even admit that he has been here so long that he knows of no other place where he could live that long. Not any more at least. He is another one of those fellows who might be induced to take part in the pageant. (Aug 8. 1922)
P. J. O'Leary (1927-1928) He died in 1929.
Mrs. P. J. O'Leary and her son Arthur, a county engineer, moved to 722 Minnesota Avenue after Mr. O'Leary's death.
Rev. Wellington Boyle (1934-35)
Carl S. Ludvigson (1956) (1970)(1974)
Ethel Ludvigson (1982)
---
722 Minnesota Avenue
Blk 2, Lots 23 & 24, Original Townsite. Purchased by Philip J. O'Leary from Townsite Co. on April 7, 1902.
Excavation has begun for two new elegant residences on the corner of Minnesota avenue and Eighth Street. The firm of O'Leary & Bowser will each construct one there. (Aug 22, 1901)
Carl Winblad (1934-35)
Mrs. Nellie O'Leary and her son Arthur moved into this house after Mr. O'Leary died in 1929. They lived here in 1935, 1940. She died Dec 20, 1946.
Geo Robson (1956)
Bemidji Music Co., Geo Robson (1970)(1974) (1982)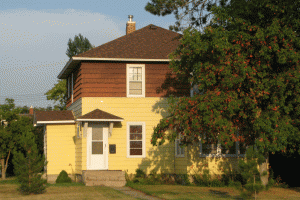 ---
1016 Minnesota Avenue
This house was built about 1900. It was owned by Arthur Corcoran (1904)
Little Miss Lorraine Aldrich entertained a few little friends at her home, 1016 Minnesota avenue, yesterday afternoon, it being her seventh birth anniversary. Games were played and a birthday lunch served by Mrs. Aldrich, and they all had a happy afternoon. She received a number of pretty gifts from her guests. Those present were Joe and Edith Naugle, Netta Strande, Jane Bye, Raymond McMahon, John and Luman Aldrich (Nov. 26, 1921)
E.O. Nordby (1927-1928)
Patrick McLaughlin (1934-35)
Susie and Arnold Anderson were married in January of 1942. They were at this address by 1956. Arnold Anderson; Susie's Sewing Shop (1956)
Susie Anderson operated Susie's Sewing and Monogramming from her home on Minnesota Avenue for her entire life. She had a uniform shop, made quilts, covered furniture and made draperies.  Her most memorable work was all the monogramming she did on bowling shirts, high school letter jackets, fraternity jackets, Elks shirts and items from the Bemidji Woolen Mills.  One of her monograms, the Fireman's Prayer Flag, still hangs in the Bemidji Fire Hall.
Arnold died April 5, 1983. Susie died later in Spokane.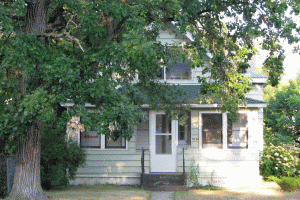 ---
1018 Minnesota Avenue
This family home was built in 1912.
Mr. and Mrs. M. Eastman of Superior, Wis., arrived in the city yesterday to make their home at 1018 Minnesota avenue. (Oct 23, 1919)
For Sale: 1018 Minnesota Avenue, fine bungalow, 7-rooms and bath, hardwood floors garage and wood house, 87 ½ ft. lot. (April 27, 1920)
This was the home of Jack and Vera Falls in 1921 until at least the mid 1930's.
Tharsille Villemin, widow of Civil War veteran Constant Villemin, died on Nov 30, 1931 while living at this address her daughter Vera and son-in-law Jack Falls.
Richard and Margaret Skinner lived here for many years. He taught at Bemidji High School from 1945-1983. At the high school, he developed and, for several years, taught a one semester course in Canadian studies, the only such course in Minnesota offered at the high school level at that time. Margaret Skinner was a very popular teacher and also taught for years at the Bemidji High school.  The Skinners moved about 1995. He died in 2004.
---
1019 Minnesota Avenue
This property is a small house built in 1908. It was owned by A. L. Bergum in 1912; L. A. Runyan in the 1920s, and by John Dunton in the 1930s.
Fred and Bessie Everson lived in the house for about 20 years. He had worked as a Nailerman for the Box Factory. They spent their retirement years in this house.
Mr. and Mrs. Fred Everson were honored at their home Sunday on their 60th wedding anniversary when a group of relatives called to extend their congratulations and served dinner. (Oct 17, 1973)
Fred Everson died April 18, 1974; Mrs. Everson died on Dec 23, 1980.
---
1109 Minnesota Avenue
Roy Bliler built a house there before 1910. His daughter Ardath was born there in 1910. That was before there was running water, sewer or sidewalks in the neighborhood. Roy Bliler became County Surveyor in 1910, a position he held until his death in 1927. They lived in the home until his death.
Everybody is invited to attend the Baptist Ladies' Aid meeting Wednesday, October 30. It will be entertained by Mrs. R. K. Bliler and Mrs. Geo. Smith, at the home of Mrs. Bliler, 1109 Minnesota avenue. (1912)
Mrs. M. D. Stoner of Brainerd came to Bemidji yesterday and was a guest of Mrs. R. K. Bliler at her home, 1109 Minnesota avenue, until this morning when she returned to her home by auto accompanied by R. K. Bliler, division engineer of the Highway, Department, and Miss Ruby Edwards-, who has been acting as stenographer in the maintenance office in Bemidji, who has been transferred to the Brainerd office. (May 16, 1922)
---
1212 Minnesota
This was the home of Dr. George Palmer and his wife Mable Palmer and then of H. Z. Mitchell.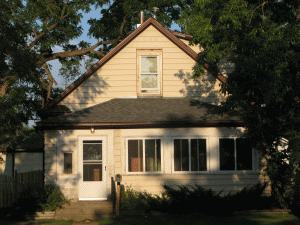 Dr. George M. Palmer moved to Bemidji about 1907. He took over the dental practice of Dr. Foster, the pioneer dentist of Bemidji. His office was located in the Miles Block. He was the commodore of the Bemidji Boat Club in 1909.
The Women's Study Club held a successful meeting yesterday afternoon at the home of Mrs. G. M. Palmer, 1212 Minnesota Avenue. The topic for the afternoon was "Art," with Mrs. L. A. Ward as leader. Papers dealing with this subject were read by Mrs. C. R. Sanborn, Mrs. A. E. Witting and Miss Beatrice Milts Two new members were added to the roster of the club, they being Mrs. R. L. Given and Mrs E. H. Denu. The afternoon was brought to a delightful close by the serving of refreshments by the hostess. The Club will hold its next meeting at the home of Mrs. F. S. Arnold. (Feb 14, 1911)
Dr. Palmer was head of the Beltrami County Public Safety Commission during the first six months of 1918. Dr. Palmer left for the battle zone in France on June 13, 1918 on behalf of the Y.M.C.A. war work. He returned home in 1919.
Henry Zehring Mitchell purchased Dr. Palmer's residence as of June 1, 1919. "Mrs. H. Z. Mitchell and daughter, Melissa, and son, William, who- have been visiting Mrs. Mitchell's parents, Mr. and Mrs. F. H. Whitney for a few weeks, returned to Bemidji today. Mr. and Mrs. Mitchell have moved into their new home, having purchased Dr. G. M. Palmer's residence, 1212 Minnesota avenue." (June 4, 1919)
H. Z. Mitchell married his wife Grace Whitney on June 23, 1914 in St. Cloud. Mitchell came to Bemidji in 1917 to become a partner with  Walter Marcum in publishing the Sentinel. In 1924 the partners purchased the Bemidji Daily Pioneer from which Mr. Mitchell retired in 1948.
H.Z. Mitchell was still living at this home when he died at age 80 on Feb. 28, 1965.
---
1101 Mississippi Avenue
Frank Freeman, teamster, reportedly lived at this address in 1907. In testimony given regarding a neighbor, he said that he had lived at the address for seven years. That was in 1914. His wife died at the address in 1909.
Mrs. Freeman Buried. Funeral services were held over the remains of Mrs. Frank Freeman, who died Wednesday morning with tuberculosis, yesterday afternoon at the Freeman home, 1101 Mississippi Avenue, and the body was laid to rest in Greenwood cemetery. Reverend S. E. P. White, of the local Presbyterian church, conducted the services at the home, which were attended by the Roosevelt Lodge, No. 1523, M. B. of A., in a body, the lodge ceremonies being observed at the grave. (Feb 1909)
Frank Freeman died May 23, 1915.
Frank Freeman, 47, for many years a resident of Bemidji, residing at 1101 Mississippi avenue, died suddenly Sunday afternoon as a result of heart failure. He was walking to his home from the business district and had reached Sixth Street and Minnesota avenue when he staggered and fell into the arms of John Peterson. Mr. Freeman was carried to a room in the Home Laundry building and died a few minutes later. Death has visited the Freeman family three times during the past several months. Maud, 19, was drowned a few weeks ago at Brainerd when the boat in which she was riding tipped over. Grief over Maud's death is believed to have hastened that of her father.
David C. Searl and Marion Searl moved to this house about 1921. David Searls died about 1928 or 1929 and Mrs. Searl moved to Springfield, Missouri. They were still listed in the 1927-28 City Directory at this address.
Stafford Chapman lived here in 1934-35.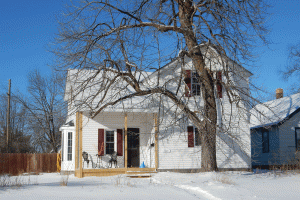 Warren Koxvold, Koxvold Body Shop (1956)
For Sale: Three bedroom home. Corner lot, Modern. Priced to sell, Warren Koxvold, Bena. (August 1964)
Louis Revoir (1970) (1982)
---
1103 Mississippi Avenue
Lot 4 sold by C. F. Ruggles to Harry M. Young on Sept 16, 1899 for $35.  (7/238)
For Sale: Six-room house at 1103 Mississippi. A snap if taken at once. (1910)
Leon Jewett (1912)
Joseph H. Paquin owned the house from at least 1927-1935. Fire following an explosion of mysterious origin almost completely destroyed the J. Henry Paquin home at Mississippi avenue and Tenth Street. No one was home when the explosion occurred. The blast shook homes within a five block radius. (Apr 26, 1935)
A new home was built on this lot in 1938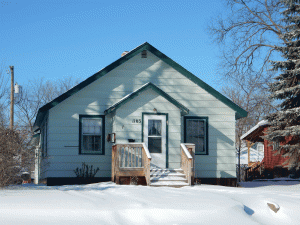 It was owned by Oliver Erickson (1956) (1970) (1982)
---
904 Mississippi Avenue NW
This house was built in 1900. In Sept of 1912, the neighborhood was worried when two small boys, age three years, were lost for several hours and caused their parents some worry. The boys were Julius Venne, son of Mr. and Mrs. Joseph Venne, 904 Mississippi avenue, and Ralph Quenneville, son of Mr. and Mrs. Telesphore Quenneville, 1005 Mississippi avenue. They were found late in the afternoon wandering down the Great Northern yards.
By 1922, the house was occupied by Honorable Sigvard M. Koefod and his family. Koefod was appointed as Judge of Probate by the office by Governor Preuss and ran for reelection in 1922. The family was still there in 1940.
Mrs. Dorothy Schauls lived there from at least 1970-1982.
---
100 – 102 Second Street NW
Ole E. Anderson and John Croon purchased Lot 1, Block 19 on May 4, 1899 from the Bemidji Townsite & Improvement Company (1/481) and paid $750 on a second deed as of Feb 1, 1901 (9/135)
This became the Lakeshore Hotel and Saloon with proprietors and business partners John E. Croon and Ole E. Anderson, who were brothers-in-law.
Petition granted in November 1901 to build a six-foot sidewalk from the old post office building [near Markham Hotel] to the Lake Shore Hotel.
Notice of Dissolution — Notice is hereby given, that the firm of Anderson & Croon is dissolved this date by mutual consent. O. E. Anderson will continue the business of the late firm and will collect all debts due the firm and will pay all indebtedness of the same. Dated January 2, 1902
The Lake Shore Hotel is being enlarged by a large and substantial addition to the rear (Oct 23, 1902)
John Croon moved to Dwight, Wisconsin where he conducted a general merchandise establishment for two years. He moved back to the Bemidji area in 1905. John Croon then took up logging and owned a saloon in Northome until returning to Bemidji where he and his wife Anna Croon ran the Nicollet Hotel.
Mr. and Mrs. James Burns leased the Lake Shore hotel in March 1904. Ole Anderson, who had conducted the hotel for some time past, left with his wife and child for Regina Canada. They spent a month visiting friends in Bemidji a year later, and then returned to Craik, Northwest Territory, where he owned a valuable farm.
Lake Shore Hotel, run by Louis Anderson, propr. (1910-1911)
Lake Shore Hotel was run by Duncan McDougal, Propr., 102 2nd Street (1912-1913).
Early Sunday morning thieves walked boldly into the Lakeshore hotel, picked up the cash register, and walked out without waking the clerk and five men who were seated in chairs in the lobby sound asleep. At six o'clock the clerk awakened and discovered the loss and immediately notified the police. No trace could be found of the guilty parties although the south section of the city including the lakeshore and tracks were thoroughly searched. Later in the morning, the register was found between the Great Northern and Soo tracks by a Mill Park resident. It had been kicked open and the contents amounting to $73 removed. A check of $30 was included in the amount taken. (Pioneer, Dec 4, 1913)
Lakeshore Hotel consisted of two buildings, the main hotel, 100' deep by 24" wide, with separate building 1/1/2 stories high on alley, but connected by a bridge between them. (Sanborn Fire Map, 1914)
Lake Shore Hotel, run by Henry Johnson, propr. (1916-17)
Henry Johnson of the Lake Shore hotel was arrested on a charge of selling liquor without a license. Pled guilty and paid a fine of $25. (March 23, 1916)
Lake Shore Hotel, Verne O. Kane, Propr., (1918)
Patrick Stapleton took over the Lake Shore Hotel on August 5, 1918. Before he and his wife and 8 children came to Bemidji, they lived at Riga, North Dakota, about 27 miles east of Minot. He ran a store at Riga and post office. Before that they were at Mantador, ND, and before that at Wild Horse, Colorado on a homestead for about seven years.
In 1920, he was arrested for an alleged liquor violation [Prohibiton Days!] and housed as a temporary inmate at the Beltrami County Jail at the time of the 1920 census on Jan 8, 1920.
A week later when the census taker visited the hotel, he was listed again on the 1920 census as the owner/operator of the hotel on January 15, 1920.
Pat Stapleton put in some improvements starting in March 1921 by excavating under the hotel and putting in a full basement 140 feet long. He raised the building and put in full basement walls and one cross wall. He remodeled the old part of the rear; put 28 feet on the rear part of the building. Removed the old front and put in a brick front and glass, installed a heating plan. The building faced north on the corner of Second and Bemidji Avenue. The front room was the soft drink parlor, about forty feet long, and 24 ft. wide. At the back bar, he sold cigars, candy, tobaccos, fruits and nuts. There was a show case, a writing desk and two tables, chairs and two card tables. A door led into the basement off of that room and another door led upstairs and into the hotel lobby, that is, the next room.
Pat Stapleton described the hotel: The hotel lobby is where I have my register and waiting room, and there is a baggage room off of there, about 14 feet.  There is a stairway is between the hotel lobby and the front room landing upstairs. Dining room is behind the lobby which takes up the entire width of the building. The dining room is about 24'x30' and contains four tables and a chiffonier. Behind that is a kitchen. About 14'x 24. There were five bedrooms on the ground floor in the new part back of the kitchen.
The first room is a bath room, and there are two bedrooms on the east side and a front room that we use for a front room for the family, south of the kitchen attached to the building. That is in the new part of the building, two stories, connected to the hotel. This has a door leading to the street, a door to the kitchen, and another one to the alley. There are thirty (30) sleeping rooms upstairs all told. Bathroom and toilet and a sideboard for the linen in the hall. Pretty much fully occupied by customers.
Peter Turcotte started working as clerk the 22nd of September 1921, started on fair week.
Stapleton was accused by Hendrickson, a detective in town, and charged with the crime of selling intoxicating liquor to Henry Hendrickson at his place of business on the evening of November 15, 1921. Convicted but appealed. Full testimony in Case #9975, 1922. Minnesota Historical Society – State Archives.
In 1928, he was one of nine barrooms that were shut down. Injunction preventing business of any kind being conducted on the portion of the property used as a barroom. One of nine alleged nuisances to be padlocked after raid on Dec 29, 1927. Abatement proceedings were started by the state on Feb 7, 1928 to close up the places. Sheriff Andrew Johnson  made a complete inventory of all the personal property in the nine alleged nuisances, which will be sold upon the order of the court. Fixtures, goblets and glasses, tables and chairs, are included in the list of belongings which will be disposed of within a short time. (Feb 15, 1928)
Lake Shore Hotel and saloon, Pat Stapleton (1934-35)
Edgewater Hotel ? (1940 Census). Patrick Stapleton, owner/operator. Pat's Service Station, managed by Bernard Stapleton, was also at this address. One of the frequent visitors to the Hotel was Paddy the Pig, an old lumberjack who was well known in Bemidji.
In 1946, the Lake Shore Hotel was listed with Otto H. Stahl as proprietor, apartments only. The Uptown-Downtown Tavern was operated in connection with the hotel by the Stahls.
Patrick Stapleton died Dec 1, 1952 in Bemidji and is buried at Holy Cross Cemetery.
About 1948, Maurice and Ella Ross purchased the former Lake Shore Hotel building. The building had a colorful history, and supposedly the upstairs rooms were haunted. The business name, Morell's came from using parts of both names, Maurice and Ella.
Lobo, the wolf, was originally in the bar of the hotel while it was owned by Pat Stapleton. Many tourists took photographs of themselves and their families with the animated statue in front of the Trading Post in the 1950's. Lyle and Phyllis Wolter bought the business in the 1970's. It next belonged to Abe Mann. About 1981, Morell's Chippewa Trading Post moved to its present location on 3rd and Bemidji Avenue because of the renovation of the Midway Drive area.
---
205 Second St. NW
Ted Smith's Three Guardsmen/ Dahl's Cafe/ Snider's Cafe/ Clementine's
The building which has been used since last fall as a billiard hall and bath parlor, and owned by Ted Smith, is being refitted and made modern in every respect. Messrs. Conley, Moe and Smith constitute the firm, and they are all hustling, courteous and popular gentlemen, which will redound to the popularity of the new saloon. (See full description of the Three Guardsmen under Saloons category)
Andrew Dahl closed a deal whereby he comes into possession of the old Guardsman saloon on Second Street, which was recently operated by John Freeman. He will operate two saloons until license for the Street Building expires in June. (4/19/1907).
Although the building was owned by Andrew Dahl, the building no longer housed a saloon but it became Olson's Cafe owned by Iver B. Olson by 1920.
The I.B. Olson restaurant and rooming house on Second Street between Minnesota and Beltrami avenues has been improved by a new brick front, while the interior of the building downstairs has been greatly improved with the addition of new furniture. The rooms on the second floor are now being made over and the exterior of the building is still to receive further improvement.  ( no date)
I.B. Olson after a period of some six months has again taken over his building on Second street and has had it thoroughly remodeled and repainted inside and out. He expects to again go into the restaurant business and will open his place of business in about another week, according to present plans. Mr. Olson has gone to considerable expense to having the building fixed up and expects to make his venture a success as he proposes only to run a first-class café. He is a former restaurant man and needs little introduction to Bemidji business circles. Friends are glad to see him again in this line.  The basement of the building has been fixed up and will be used by the Holland Furnace Co. A carload of furnaces has arrived here and the place will be used as a distributing center. I. H. Mixer will  be in charge. He recently arrived here with his family from Saginaw, Mich., and will make his home in this city. The family is now living in a cottage on Grand Forks Bay. Mr. Mixer formerly lived near Baudette and is well acquainted in this section. (June 16, 1925)
Iver B. Olson owned Olson's Café at the time of his death in 1931.
Iver Dahl purchased this café business and it became Dahl's Café. Iver Dahl was a resident of Bemidji since 1906. Before owning Dahl's Café, he was the proprietor of the Great Northern Hotel located at 207 Minnesota Avenue.
Work began on an enlargement of Dahl's Café and rooming house adding 35 feet to the rear of the structure. (May 7, 1935)
Iver Dahl died in April 1948 at Jackson, Miss., while enroute home from a vacation trip, and Mrs. Ragnhild Dahl then ran the café. The café was under new management in December 1954 by Sophia Snider and a Mr. Rowles.
Mrs. Clifford (Sophia) Snider moved to Bemidji in 1922 where she worked as a cook for the Stapletons at the Lake Shore Hotel and also at Kaplan's Bemidji Hotel. She sold pastries and baked goods to area residents for eleven years until 1941. She worked at Munsingwear for several years as an inspector. In 1947 she started cooking at the Markham Hotel and was employed there for a few years. She was also a cook at the Third Street Café. In 1952, she bought and operated Sophia's Diner until 1953.
In 1954, Mrs. Snider purchased Dahl's Café and renamed it Snider's Café, which she operated successfully until her retirement in 1967. Allen Snider, Sophia's son, took it over at that time.
Louise Snider, daughter of Sophia Snider, worked at the café during her teen years. She married Clifford "Kip" Norden in 1956. She continued working at the restaurant while raising her family. When Kip died in 1975, she cooked at St. Philip's school cafeteria, eventually making the decision to purchase Snider's Café in 1976. She operated the café until her retirement in 1990.
Anna Blaufuss moved to Bemidji in 1944. She worked at Snider's Café for 35 years.
The café then became Clementine's in the 1990's. It is currently the site of the Cantabria Coffee House.
---
117 Twelfth St
This was the home of Cliff Morlan, the beloved Pioneer sports writer in Bemidji from the late 1930s to the 1970s. He played football for the Bemidji Normal School. Cliff entertained the community, sports and non-sports fans, with his Cliff's Column on the back page of each paper. Many of Cliff's items were about the high school basketball teams and Minnesota's winningest coach, Bun Fortier, who lived across the street.
Earlier residents included Henry Unruh and his family. (1910-1912) He was a bank cashier who came to Bemidji and then moved on to another banking job and community. Their daughter Vera Elizabeth was born on July 31, 1911 in Bemidji. Other residents before Cliff Morlan were Mrs. Young (1913), Mr. and Mrs. Harry Olin (1919), C. A. Phelps (1920-1921), Mr. and Mr. Roy Danielson (1922) and Mrs. Betsy Roe (1934-1935)
---