---
Judge Edward Achenbach and Mrs. Maldie Achenbach
Mrs. Achenbach, whose maiden name was Maldie M. Kincannan, was one of the earliest pioneers of Bemidji, having bought the first lot on the platted townsite. She built the third house in the town upon the lot later occupied by the Achenbach building on Third Street. Mrs. Achenbach was born on one of the islands near Cape Breton, Nova Scotia on Oct 19, 1865 and came to Wisconsin with her parents when only a few months old. She attended public school at Eagle Corners, Richland County, and then attended the high school at Muscoda. She began teaching school at the age of seventeen and graduated from the high school at Boscabell, Grant County, Wisconsin. From there she moved with her parents to North Dakota where she taught school for three years, after which she came to Minnesota and settled at Long Prairie. She taught school in Todd and Wadena counties for five years and was married to Edward Achenbach at West Superior, Wis. on April 13, 1893.
Mr. and Mrs. Achenbach came to Bemidji in May 1896 when there were only a few people living on the west side of the river and before the townsite was platted. They bought the first lot on the platted townsite and Mrs. Achenbach continued teaching school, having been engaged in that occupation for the first five years of her residence here.
Edward Achenbach was born in Michigan and obtained his education there. While still a mere boy he became a telegraph operator on a Pennsylvania railroad, which position he held for twelve years. After becoming afflicted with telegrapher's cramp, he became interested in a drug store in Iowa. He remained in this business another twelve years and at the end of this time he became traveling salesman for a big furniture house. In this capacity he served three of the largest furniture houses in the country and covered the United States from one end to the other.
After he and his wife Maldie came to Bemidji, he worked energetically to advance the town's interests. He became the county's first coroner. At the annual school meeting for the year ending July 31, 1897, he was elected to serve until July 31, 1900. He ran as the Republican candidate for the office of county coroner on Sept 16, 1902. He also held the position of street commissioner. He was appointed judge in  March of 1902.  As a judge he was just and impartial. Those who came to him for justice knew full well that they would receive it. His kind patience, good humor and ready wit won the lasting friendship of every chance acquaintance. In 1903, he built a fine residence in Bemidji at the corner of Sixth street and Minnesota avenue. Mr. Achenbach was a member of the Mason Lodge, Odd Fellows, Workmen and Foresters.
He became ill very suddenly in August 1903. Even on the operating table he could not refrain from passing a joke upon his condition. The trained nurse in attendance at the time, a woman of great experience in such matters, feelingly declared that he was the bravest, noblest man she had ever met. He died Aug 22, 1903. His wife Maldie died in 1904. Both are buried in Greenwood Cemetery.
---
Aslak O. Akre (1870 – 1955)
A.O. Akre, 85, a pioneer Bemidji business man, died Nov. 3, 1955 at Lutheran hospital. He had lived in Bemidji since 1903, when he purchased the Bemidji Bottling Works here. He sold it and later operated the Minnesota hotel in Bemidji and later still, a general store in Nymore, which he sold to Olson and Westness in 1926 to take over management of the Lutheran Hospital. Later he repurchased this store and operated it until he retired in 1941.
Born in Norway in 1870, Mr. Akre moved to Appleton, Minn. in 1896 and there married Anna Lund in 1903.
During his years in Bemidji, he built several homes and was also active in the Nymore Lutheran church, serving as superintendent of its Sunday school for 20 years. He was a director of the Lutheran Hospital for 30 years.
He was survived by his wife, Anna,  a son, Carl of Bemidji, a daughter, Mrs. Dennis Williams of Texarkana, Ark., and two foster daughters, Mrs. Rose Rittger of Pasadena, CA, and Mrs. John Dalton of Minneapolis.
---
Charles Edward Albrant
Charles Edward Albrant was born in Dundas, Ontario, in May 1869, the son of Ezra and Susannah (Johnston) Albrant. He came to Bemidji about 1899 and entered the laundry business. He was married to Milla Albrant and raised seven children in early Bemidji. The children were Reta, Lewis, and Vera, who were born in North Dakota;  and Gracie, James, Drummond and Myrtie who were born at Bemidji.  His daughter Reta graduated from 8th grade on May 29, 1908 along with Bertha Dicaire, Gladys Hazen and Hilda Galchutt.
Albrant Bros purchased the Bemidji Steam Laundry about 1900. As the Bemidji Pioneer reported on June 14, 1900,  "The steam laundry has recently been equipped with new and important machinery, making it in every particular a first-class establishment. The proprietors, Albrant Bros., bought this laundry of D. B. Thompson. It had changed hands several times  previous, but we believe it is now where it will stay. A good laundry is a necessity to a town's future. With their new machinery, it will give general satisfaction to their patrons."
On Jan 1, 1902,  Albrant Bros announced that they would no longer run the steam laundry In partnership. Charles E. Albrant assumed sole charge, although his brother assisted as before. The newspaper commented, "This laundry continues to do a big business, and the public would dislike to see either leave town."
Charles moved to Minneapolis about 1909 and became manager of the Profit Sharing Laundry.  Milla moved to Benton in Lake County, Illinois with the children and they divorced. By 1913, Charles moved to  St. Paul  and continued in the laundry business. By 1920, Charles was president of the Franklin Wet Wash Laundry in St. Paul. By 1927, he had moved to Minneapolis and was secretary of the Minneapolis Laundry Machine Co. In 1957, he was living in Owatonna.
---
Richard Albrant (1875-1907)
Richard J. Albrant was born at Winchester, Ontario on October 10, 1875. He moved to St. Thomas N. D., in 1893, then lived in Fargo, N.D. and moved to Bemidji in 1900 when he went into business with his brother Charles E.. Albrant and purchased the Bemidji Steam Laundry. Richard was a carpenter by trade. As the Bemidji Pioneer reported on June 14, 1900,  "The steam laundry has recently been equipped with new and important machinery, making it in every particular a first-class establishment. The proprietors, Albrant Bros., bought this laundry of D. B. Thompson. It had changed hands several times  previous, but we believe it is now where it will stay. A good laundry is a necessity to a town's future. With their new machinery, it will give general satisfaction to their patrons."
Mr. Albrant was married on Dec 11, 1901 to Rosetta Josephine Moon in Bemidji, and three children were born to them.
As of Jan 1, 1902, the Albrant brothers dissolved the partnership of the steam laundry. C. E. Albrant assumed sole charge. The laundry continued to do a big business, and the public would dislike to see either leave town.
In Feb 1905, R. J. Albrant was hospitalized at Blackduck with hemorrhage of the lungs and his Bemidji friends hoped for a rapid recovery. His brother, William C. Albrant, an architect by profession and only a few years older than Richard, died in Fargo in August 1905. About the same time, Mr. Albrant became an invalid, his health being so poor that he was practically unable to perform any duties of an arduous nature or engage in business. In September of 1906,  he visited Rochester, Minn., and consulted the Mayo brothers. They treated him, and were of the opinion that they could strengthen his heart, having found that he was afflicted with an enlargement of that organ. Mr. Albrant felt somewhat better after returning to Bemidji, but after he became afflicted with la grippe, the disease made rapid inroads on his weakened constitution and he died on Feb 3, 1907.
Sadly, his daughter Hazel contracted spinal meningitis and then pneumonia and died in December 1907. She was buried next to her father at Greenwood Cemetery.
Mrs. Josephine Albrant was married to Antone A. Licht on Jan 1, 1909 and moved to their claim at Bannock, near International Falls.
---
Marion Aldrich (1878 – 1972)
Marion A. Aldrich, a pioneer resident of Bemidji, was born in Barron County, Wis., Aug. 2, 1878 and his marriage to Glendolia Sprague took place at Lowden, Iowa, Aug. 5, 1903. They moved to Bemidji in 1904 where he lived the rest of his life.
Mr. Aldrich was the instigator of the Gordon Falls Memorial playground on Park Avenue and 12th Street and stayed actively in charge of it. He was also part of establishing several other playgrounds in various areas of Bemidji including 19th Street, Gemmell Avenue and in Nymore. He was a former city alderman and a carpenter by trade.
The Aldrichs celebrated their 60th wedding anniversary at their home on Mississippi Ave. (July 1963)
Toys for Youngsters.. Ike Chandler, M. A. Aldrich and Paul Mealio and others made toys during the several months preceding Christmas 1963 in the Aldrich workshop at 1115 Mississippi Avenue. The "young" workmen, members of the senior citizens council, turned out nearly 170 pieces for needy children in the area. They included 14 different articles which included doll cradles, rocking chairs, quoit games, hobby horses, benches, blackboards, boxes of blocks, wheel barrows, wagons, bookcases and other items. (Dec 15, 1963)
Mrs. Aldrich died Sept. 8, 1966 and a son, Ray, was killed in action during World War II in 1944. Mr. Aldrich died in 1972.
---
Francis S. Arnold (1867 – 1937)
Francis Spinner Arnold was born Mar 1, 1867 at Washington, DC and attended law school in Georgetown University in 1892. He was a member of the bar in the District of Columbia and was associated with the U. S. Court of Prior Land Claims for a period of years. He came to Bemidji in 1900 where he entered a law partnership with L. H. Bailey under the firm name of Bailey and Arnold. After several years he severed his connection with Mr. Bailey and entered the office of the Register of Deeds, where he, together with Matt Phibbs and Frank Snyder, formed the Beltrami County Abstract company. He was connected with the company for some time, until it changed ownership. In 1913, C. A. Huffman and J. O. Harris, the owners of the Beltrami Abstract Company sold their interests to A. P. White, C. M. Bacon and F. S. Arnold. Mr. Huffman retired from the business and Arnold became manager of the new company to be known as the Bemidji Abstract Company.
He and Elizabeth "Bess" Ridenour were married in Minneapolis on Jan 10, 1905 in the presence of a few friends. Miss Ridenour came to Bemidji in 1899. She was connected with the law firm of Bailey & McDonald and had a remarkable record as a stenographer. She was well known in the city's social circles and was a very popular young lady. Mr. and Mrs. Arnold returned to Bemidji a week after their wedding and engaged rooms at the residence of M. D. Stoner on Lake Boulevard.
The Arnolds later purchased a stately home on a corner lot at 802 Beltrami Avenue. This was their home until he died in 1937 and she died in 1952. Their daughter Hazel married Irvin Nordquist in 1944 and they lived in the home until it was destroyed by a fire in 1959.
Mr. Arnold was secretary of Bemidji's Metropolitan Club, which was considered the most influential social club in Bemidji. They banded together as a social group but with the purpose of securing industry and whatever could be done to improve and advance the interests of the city of Bemidji.
Mrs. Arnold was active in the Red Cross, was a charter member of the Women's Study club, formed in 1903, a former member of the Beltrami county welfare board, a member of the Presbyterian Church and the Beltrami County Historical Society.
---
Andrew Aubolee (1872 – 1934)
Andrew Aubolee was born in October 1872 in Norway. He was naturalized in 1892. He came to Bemidji about 1898. Acquired a patent for land in Beltrami County on Jan 23, 1901.  Election judge in Feb 1903 for city election. He was the senior member of the city boat firm of Aubolee & Kroken, aka the Viking Boat Company.
First Ads appear for Viking Boat Co., April 1900.  "Fishing and Boating on Lake Bemidji Will be Very Popular this Summer. Have a large number of Elegant Boats to rent by Week, Day or Hour. They keep Fishing Tackle to furnish their patrons and will give attention to the Packing and Shipment of the Fish you catch. Call on Flour and Feed." (April 26, 1900)
Thomas Tweed, returning from Eagle Bend this week, brought with him a handsome steamer, 24 feet long and 6-foot beam. The Viking Boat Co. has purchased and added it to their lake fleet. (May 10, 1900)
Geo. Reynolds has leased his row boat business to the Viking Boat company, and will give his attention to his two steamboats and sail boat. He expects his new gasoline launch about the first of May. (April 17, 1902)
Andrew Aubolee and A. A. Kroken, proprietors of this important industry, are to be classed among the pioneers of this city and county being located here about eleven years ago. They brought in the first boats used in this territory, employing teams to transport them. Since their advent in this field, they have realized such an increase in business that they now practically control the business of letting boats and launches. They also secure the bulk of the business of building boats, and just recently they have been compelled to add to their already spacious place of business. They procure, they have a patronage unlimited in cope, and their workman ship as builders of boats is known throughout the northwest. (March 1909)
TO BUILD $1700 BOAT HOUSE ON LAKE BEMIDJI
The Viking Boat Company Will Erect Building to Accommodate Twenty Seven Launches.
Bemidji is to have one of the finest if not the best, boat house in the north central Minnesota, according to a contract which was recently made between the Viking Boat company of this city and Thomas Johnson, a local contractor. The growing popularity of Bemidji as a summer resort and the constant demand of visitors at Grand Forks
Bay, Lavinia, Lakeside and Birchmont Beach on the shores of Lake Bemidji for a proper place to leave their launches while in the City and to store them in the winter has forced Messrs. Aubolee and Kroken, of the Viking Boat company to erect a large building in addition to the regular boat house. The proposed boat house will be fifty-eight feet wide by one hundred feet long and will be placed about twenty feet from the end of the present building. The new house will have stalls enough to accommodate twenty-seven launches and will cost about $1,700 when completed. Mr. Johnson furnished bonds yesterday in the sum of $1,600 for the faithful execution of the contract. This boat house will doubtless prove an added attraction to Bemidji as a popular summer resort and will do away with several small buildings along the lakeshore bordering on the city as many of the local people are desirous of using stalls in a large boathouse. Messrs. Aubolee and Kroken and the people of this city are to be congratulated on the increase of Bemidji's reputation as an excellent resort for summer tourists. (Jan 7, 1909)
Miss Mabelle Aubolee left yesterday for Moorhead, where she will visit for a week before leaving for the west. She will be joined in that city by Miss Ardythe Schroeder and Syd and Annie Paulson They will go to Tacoma, Wash San Francisco Los Angeles, and San Diego Cal where they will visit friends and relatives. (July 1, 1919)
PICNIC ENJOYED.
A number of young people of Bemidji enjoyed an outing at the outlet Sunday in honor of Harto Aubolee, who has just returned from oversea service and his sister, Miss Mabelle Aubolee, who will soon leave for the west. (July 1, 1919)
AUBOLEE BACK TO BEMIDJI.
Harto Aubolee, son of Mr and Mrs. A. O Aubolee, has returned from military service in France and Germany, having been in the latter place since last December. Harto was in the service for a year, and was in the army of occupation. He was the first youngest boy to enlist in Beltrami County. (July 1, 1919)
WILL GIVE LAWN PLAY TOMORROW AFTERNOON
A number of girls and boys, under the direction of Miss Beatrice Larson, have been spending much time and effort on a play entitled, "The Coming of the Flowers," and will present it on the lawn at the home of Miss Larson, 516 Bemidji Avenue, tomorrow afternoon at 2:30 o'clock. The cast of characters consists of eighteen members, each one representing a different flower. Pretty costumes have been planned and a very pretty fete is promised. Following are those taking part: Irene Hoganson, Curtiss Goodman, Dorothy Zeigler, Irene Rood, Dorothy Borgan, Ellis [Alice] Aubolee, Leon Larson, Pearl Aubolee, Lois Aubolee, Maxwell Aubolee, Donna Morse, Burton Bergman, Catherine McKee, Lillian McKee, Javia Gordhammer, Edith Gordhammer, Marie Nelson and Beatrice Larson. (June 11, 1920)
1920 Census: Andrew Aubolee, wife Anna (Nykriem). Children: Mabel, Harto (Nov 11, 1899), Maxine, Alice (Sept 2, 1907), Maxwell (May 6, 1910), Pearl (June 11, 1912), Lois (June 28, 1916).
The Aubolee family moved to Los Angeles about 1927; San Diego in 1929. He died April 10, 1934.
Anna Aubolee was born Apr 11, 1880 and died Aug 29, 1959.
---
Clyde M. Bacon (1869-1946)
Clyde Bacon was born in 1869 in Ridgeway, Orleans County, New York. He was married about 1896. He and Emma made their way to northern Minnesota and Bemidji and by 1900 he owned a saloon in Bemidji.  His father Marshall Bacon also lived with them. On March 22, 1909, the Bemidji Pioneer described Mr. Bacon in glowing words:
Mr. Bacon offers a striking example of what faith in a new country and American grit will accomplish. His holdings also torm a basis for mature deliberation on the pait of those seeking a profitable country in which to live. Coming here with but a mere pittance, so far as cash was concerned, Mr. Bacon got good and busy. He first conducted a hotel, and a few years later delved into real estate, and now Is a stockholder in the T. J. Welsh Land and Lumber Company, not to mention his individual possessions in local and farm realty. He is also interested in the Bemidji Brewery, is a stockholder in the Lumbermen's National Bank, he owns the most elegant brick block in the city, and while he has retired from business activity, he still barters in any legitimate proposition which comes his way.
It is futile to aver that Mr Bacon is classed among our most influential men. Having resided here for ten years, he has performed every duty incumbent upon him as a citizen, he has so comported himself that his reputation is unsullied, both as to civic and business intercourse, and The Pioneer can positively assert that it has been through the conscientious and progressive efforts of such men as Mr. Bacon that Bemidji has developed into the elegant and thriving city she is."
Mr. and Mrs. Bacon built a luxurious home at 625 Lake Boulevard early in the 1900's. In the fall of 1905, contractor Price was hired to elevate the home to street level as the streets had been built up in Bemidji, and many businesses and homes had to be elevated to that level. By 1910, C. M. Bacon was the secretary of the Bemidji Brewing Co. Emma, Mr. Bacon's first wife, died on Sept 4, 1911. The funeral was held at the residence, and she was buried at Greenwood. Clyde Bacon then married Caroline Hetland on May 14, 1912. The family lived in the home for several decades, and then it became St. Mary's Convent for the Benedictine nuns who were assigned to teach at St. Philip's School.
Mr. Bacon was known for his hunting expertise and was regarded as one of the crack shots among Bemidji sportsmen.
In the spring of 1913, the Bemidji Auto Club was in charge of fund raising to be used for the completion of the road around the head of the lake. They made plans for a minstrel show and for a big auto racing program at the fair grounds. Jack Herbert was in charge of the minstrel show. Clyde Bacon donated the use of the armory for the show and  Warfield Electric agreed to furnish the necessary lights.
Mr. Bacon died on Nov 24, 1946. Mrs. Bacon died in 1948. Both are buried in Greenwood Cemetery.
---
Judge Harrison W. Bailey (1836 – 1911)
A buckeye by birth, Harrison Bailey came west in 1851, settling in Cedar County, Iowa, where he remained until 1886, then he went to Faulk county, South Dakota, where he was clerk of the circuit court for a period of eight years. From there he came to Bemidji. He was a resident of Bemidji since 1898. He was village recorder of Bemidji for three years.
Catherine E. Bailey purchased Lots 9-10 of Block 4, Original Plat for $150 on Nov 1, 1899 from Bemidji Townsite Co. They built their home at 605 Minnesota Avenue. It was the family home for several decades and after the death of Judge and Mrs. Bailey, it passed to Thayer and Gertrude (Stone) Bailey who lived there in the 1940's.
Judge Bailey was a member of the famous Second Iowa Infantry and was with General Sherman during his march to the Sea. He participated in all the other bloody engagements in which that fighting regiment was involved, and in recognition of his services as a soldier he was unanimously elected as commander of the R. H. Carr Post, No. 174, at Bemidji.
Harrison Bailey was appointed by Governor Johnson as municipal judge of Bemidji upon the creation of this office, even though he was an acknowledged republican and the governor was a democrat. Judge Bailey suffered a stroke on March 20, 1910 and died on September 24, 1911.
He was married to Miss Catherine E. Thayer from Rochester, New York on Nov. 28, 1857. They had eight children – William F., Leslie H., Anne E., Sherman C., Omar E., Ida H., Delia A., and Thayer Bailey.
Mrs. Catherine Bailey was installed as president of the ladies of the G. A. R. on Jan 9, 1911.  She served as president ever since the organization of the post in 1900, and under her able leadership, the circle has been declared second to none in the state. The circle carried on much relief work, particularly among the old soldiers and those dependent upon them. She died on June 8, 1919.
Golden Wedding Anniversary, Nov 29, 1907
Mr. and Mrs. H. V. Bailey of this city celebrated their fiftieth wedding anniversary by having a golden wedding Friday, Nov. 29, 1907. The guests assembled at the residence of Mrs. L. H. Bailey at 8 p. m. As the strains of Mendelssohn's beautiful wedding march floated out upon the air, the bride and groom entered, preceeded by their son, Sherman C. Bailey, and their daughter, Mrs. Hansell, and followed by the remainder of the immediate members of the family. E. E. McDonald, on behalf of the guests, extended to them a cordial greeting and called upon the guests to bear witness to the renewal of the unbroken wedding vows given fifty years ago.
After the vows were renewed, Mr. McDonald, by virtue of his office of notary public, declared them newly wed. The bride and groom then received the best wishes and congratulations of all present. A brief but beautiful program followed. Mrs. Maud Smyth, accompanied by Mrs. W. B. Stewart, rendered, in a delightful and effective manner, "I've Grown so Used to You", and responded to an encore by singing "Coming Through the Rye." Mrs. W. R. Morrison recited, in her gifted and excellent way, the beautiful poem An Old Sweetheart of Mine." Partners for the march to the banquet were selected in a novel way, and the bride and groom, escorted by the guests, proceeded to the Bailey home, next door, where the spacious parlors and dining hall were set with the banquet tables. Place cards, in the appropriate form of wedding bells, seated the party. Suspended from the arch, over the largest table, was a large golden wedding bell, beneath which sat the bride and groom. The rooms were beautifully decorated with festoons of yellow and white, emblematic of the occasion. The tables presented a charming appearance, with their white damask cloths, cut glass candlesticks and artistic color arrangement. The center pieces consisted of magnificent bunches of yellow and white crysanthymums. The doorways, windows and open staircase were gracefully draped and decorated with streamers of the selected colors, while everywhere cupids, hearts and bells added to the effectness of the scene. Potted plants and cut flowers were in evidence in all parts of the brilliantly-lighted rooms. The color scheme was carried out in every detail, even to the sumptuous repast, which reflected great credit to the genial hostess.
The following menu was served in courses: Oyster Patties Saratoga Chips Lemon Sherbet Orange Jelly Pickles Sandwiches Salad Cheese Wafers Ice Cream, Assorted Cake Mint Coffee
After the good things provided for the inner man had been partaken of, the wedding guests were made merry by toasts and responses and a unique program followed. Omer E. Bailey, as toastmaster, was a striking success. Impromptu responses were made. Professor Stewart, in a most charming way, responded to the toast of "Weddings." Were all weddings of the character he described, the golden wedding would be an ordinary instead of such an extraordinary occurrence. The toastmaster announced that while wedded life was really a one-sided affair, yet a wedding without a groom would be rather too much of a one-sided affair, and called upon the Hon. P. J. Russell to respond to the toast; and he did so, to the amusement of the guests and the golden groom. The bride was next, and Judge Pendergast told, in his response, in his characteristic way, how, during the war, he acquired the habit of taking turkeys, chickens and anything he saw that he wanted; and when the war was over, how he still had the same habit of taking things, and he just took his bride from the other fellows. He had her with him and invited all to his golden wedding which is soon to be. "A delightful honeymoon" was given the bride and groom by Mr. Winter. His late contemplated experience enabled him to handle the subject in a master's way. After the honeymoon they found their ideal home in a home described by Professor Ritchie, in his response, and it was made clear by him that the true ideal home life made this golden wedding possible, and insured many pleasant future years of life to this vigorous bride and groom. In the response of F. E. Rathman to the toast, "Mother-in-law," that much-abused and very useful individual, he stated she should ever stand high in the esteem and regard of the world; but there is a suspicion abroad that his ideas of mother-in-law were formed solely from his acquaintance with the best mother-in-law that ever lived. 'The Dear Children and How to Raise Them" was the theme assigned to Mr. McDonald, and he demonstrated the truth of the old saying that those who have no children know best how to raise them.  He closed with a fitting tribute to the home and family life of the host and hostess. A poem, written by a niece, Mrs. Nellie Grewell of West Branch, Iowa was rendered by Mrs. Hansell, daughter of the bride and groom, her poetic tribute closing the festivities. The idea of a golden wedding was carried out in the presents. Many beautiful and appropriate gifts were received, and the guests viewed them until a late hour, when they sought their homes, each fully resolving to have a golden wedding.
LIST OF PRESENTS: Mr. and Mrs. E. E McDonald, gold rimmed spectacles and brooch, set with pearls; Mr. and Mrs. A. A. Carter, gold berry spoon; Mr. and Mrs. P. J. Russell, gold vase; Dr. and Mrs. W. G. Morrison, syterol vase and yellow chrysanthemums; Mr. and Mrs. L. G. Pendergast, gold-lined napkin rings; Mr, and Mrs. J. M. Phillippi, gold inkstand and jewel case; Mr. and Mrs. W. B. Stewart, gold salad fork; Mr. and Mrs. J. T.Tuomy, gold meatfork; Mr. and Mrs. J. J. Cameron, gold-lined napkin rings; Mr. and Mrs. F. S. Arnold, gold-trimmed comb and fountain pen; Mr. and Mrs. D. C. Smyth, gold-decorated vase; H. B. Southworth, E. H. Winter, H. A. Sharf and A. K. Southworth, gold thimble and cuff-links; Mrs. E. S. Walker, two hand-embroidered handkerchiefs; Miss Marie Walsmith, gold match holder; Fred Smyth, gold bowl berry spoon; Misses Cora and Martha Huntosh, gold jewel case; Friends from Faulkton, S. D., ten dollar gold piece; C. S. Neiman, Tipton, Iowa, gold bowl spoon; Mrs. Isabel McCoy, Minneapolis, gold-trimmed shell comb set with brilliants; Dr. J. I. Bailey and family, West Branch, Iowa, gold-handled cane and umbrella; Mr. and Mrs. Gideon Bailey, Tipton, Iowa, gold salad fork; Mrs. M. Bailey, Chanute, Kansas,, gold paper cutter; Mrs. Delia A. Doud, Portland, Ore., gold spoon; Mr. and Mrs. Bert Tracht and Mr. and Mrs. E. Bailey, Tipton, Iowa, solid gold spoon; Members of the family, gold-headed cane and two diamond rings.
Mr. Harrison W. Bailey was born in Columbiana county, Ohio, November, 27, 1836, and Mrs. Bailey was born in Pittsford, N. Y. in 1839. Her maiden name was Catherine Elizabeth Thayer. They were married in Rochester, Iowa, November, 29, 1857. Mr. Bailey entered the Union army in 1863 and served with Company C, 2nd Regiment, Iowa Infantry. He marched to the sea with Sherman, and served to the end of the war. There is only one other member of his company and three of his regiment now living. After the war closed Mr. Bailey lived on a farm in Cedar county, Iowa, and then moved to Tipton, Iowa, where he conducted a general store. He lived there until 1886, when he moved to Faulkton, S. D., where he took a homestead and held the office of clerk of the district court for eight years. He came to Bemidji in 1898, and held the office of city recorder for several years. Mr. Bailey has been commander of the Bemidji R. H. Carr Post G. A. R., during the last six years. He has also been deputy-commander of the Park Region Encampment. Mr. Bailey has never partaken of tobacco or liquor of any kind, played a game of cards. But few of those who served the army have been permitted to enjoy a golden wedding. Mrs. Bailey has been president of the Ladies' Circle of the G. A. R. since its organization. , This happy union has been blessed with eight children: W. F. Bailey, Tacoma; Leslie H. Bailey, now deceased; Anna M. Hansell, Peiley, "Minn.; Sherman C. Bailey, Bemidji; Homer E. Bailer, Spokane; Ida H. Bailey, Bemidji; Delia A. Rathman, Jamestown; Thayer C. Bailey, Bemidji; and they have fourteen grandchildren. The honest, fearless, simple lives of Mr. and Mrs. Bailey have earned for them the love, affection, esteem and regard of all who had the privilege of knowing them. (Bemidji Daily Pioneer, Dec 2, 1907)
---
Leslie H. Bailey (1860 – 1905)
Leslie Bailey was one of Bemidji's most prominent and progressive citizens. Bailey was born at Wilton, Iowa, Feb. 25, 1860, the son of Harrison and Catherine (Thayer) Bailey. His boyhood and early manhood were spent at Tipton, Iowa, later attending the Iowa State Normal School at Cedar Falls. He spent several years teaching school after his training at the normal school, after which he entered the law office of Judge Yates of Cedar Falls, where he studied law for some time but was subsequently compelled to give up his studies on account of poor health. He went to Faulkner, S.D., where he took up a claim and lived upon the land for two years, during which time he formed the Farmer's Mutual Insurance Company, of which he was secretary and treasurer.
Mr. Bailey entered politics in 1890 and was appointed register of the U. S. land office at Pierre by President Harrison. He was admitted to the bar at Pierre in 1892. At the election of President Cleveland, he gave up his position as register of the land office and accepted the clerkship of the invalid pension committee at Washington where he also acted as private secretary to Congressman Pickler of South Dakota. He resigned his position at Washington and came to Bemidji in 1898 to form a law partnership with J. L. Reynolds. This partnership was dissolved and Mr. Bailey formed another with F. S. Arnold under the firm name of Bailey & Arnold. Mr. Arnold entered the Beltrami county abstract office and Mr. Bailey formed another partnership with H. J. Loud and later with M. A. Spooner, who is now district judge. This partnership was also dissolved and E. E. McDonald, his present partner, became associated with Mr. Bailey.
Ida Ridenour was married to Leslie H. Bailey on April 5, 1883 at Marian, Iowa, where she was a teacher in the public schools. When they came to Bemidji, Mrs. Bailey taught in the public schools for two years, being the first teacher in the red brick school building known later as Central school. She was a charter member of the Women's Study Club and a member of the Macabee lodge as well as the Presbyterian Ladies Aid and other organizations.
Leslie Bailey died at St. Anthony's Hospital on March 15, 1905 and was buried at Greenwood Cemetery. He and his wife had two daughters, Maude and Nellie Bailey.
Mrs. Bailey resided in Bemidji about 12 years after her husband's death, then left to make her home alternately with her two daughters, Mrs. Scharf and Mrs. Maude Southworth of Evanston, Ill.
---
Earle A. Barker (1879 – 1949)
Earl Ames Barker, born in Iowa on Jan 27, 1879.
Mr. Barker came to Bemidji in August 1900 and engaged in the jewelry and watch making business. Being an expert jewelry man and watch-repairer, Mr. Barker at once became popular in his trade.
Earl A. Barker and Miss Mina E. Ross were married in July 1901.
At the M. E. church, by Rev. Swinnerton, at 8:30 last Tuesday evening, occurred one of the prettiest weddings that ever took place in Bemidji. Each of the contracting parties are well known and popular, and the consummation of the happy event has long been looked forward to by a number of their most intimate friends who were cognizant that an engagement really existed between them, but as the announcement cards were not issued until a few days ago their friends were scarcely prepared for the ceremony to take place quite so soon.
Mr. Barker came to the city about one year ago in the capacity of a jeweler in the employ of Misses Jones & Ross, and so well did he satisfy his employers that the junior member of the firm concluded to enter into a life partnership with him. Miss Ross is the daughter of Mr. and Mrs. W. M. Ross of St. Charles, Minn.
Earl A. Barker was a member of the Thirteenth Minnesota infantry during the war with Spain, and went with that regiment to the Philippines, where it made an enviable  record.
While the happy couple were spending the evening at the residence of Mr. and Mrs. Ed. Kaiser the Bemidji band serenaded them, and other friends took occasion to call upon them. Mr. and Mrs. Baker will be at home to their friends on and after the 15th inst. on the corner of Minnesota avenue and Eighth street, this city. (July 25, 1901)
On June 28, 1903, Mr. Barker purchased the Mayo drug store and immediately began building up a nice drug business in addition to his already large jewelry and watch repairing trade. From that date, E. A. Barker took front rank among the young businessmen.
Barker Block Nearing Completion.
The work on the new Barker block is progressing very nicely, under the supervision of G. E. Kreatz. This building will be one of the finest-appearing blocks in the city, and being located in the business center, will add to the solid appearance of the main street. The new block will be finished in white. The bricks being used are called sand lime, and they will be faced with white stone. The front will also contain very heavy plate glass, and there will be two of the finest show windows to be found in the northwest.
Contractor Kreatz expects to have the block ready for occupancy in time for Mr. Barker to make an elegant display of holiday goods in the spacious windows of his new location. (Nov 2, 1907)
In 1907, he erected a fine, commodious and elegantly appointed block for the exclusive housing of his business. This block is pronounced to be one of the best arranged drug and jewelry establishments in the entire northwest.
In June 1910, he and Fred LaFavar, on behalf of Barker's Drug, started a tour of northern Minnesota, so that they could meet their customers and get to know the territory. One of their first trips took them to Maltby and Becida. Driving his Velie auto, Earle Barker recommended other merchants to get out into the countryside and see what their neighbors were doing.
For Sale: Mr. Earl Barker's Kissell 6-48 7-passenger private car. Fitted up in most modern way Good as new. Looks like new. Electric lights, self-starter. Cost $2380.00. Mr. Barker has been called to the front, which may mean years, compels him to sacrifice this beautiful 6-cylinder oar for $1050.00. If you want a car or know of someone, please call their attention to this. You will confer a favor on both Mr. Barker and the man who takes advantage of this exceptional bargain. Car can be seen at our garage. C. W. Jewett Co., Inc. (May 26, 1917)
Lieutenant Barker headed Bemidji's Naval Militia, the first contingent of Bemidji men to leave for service on April 17, 1917. After his return, he aided in securing an armory for the city. He was a charter member of the Elks and held membership card #1 issued at the founding of the Bemidji Lodge in 1905, and served as Exalter Rler during the time when the Elks building was being constructed. In 1939, he was president of the Minnesota Jewelers Associated.
His daughter, Verna, died in January 1920 after an operation for appendicitis at St. Anthony Hospital. She was only a junior in high school when this tragedy hit the family. She had one brother, Walter.
Earle Barker sold Barker's Rexall Drug Store in 1940 to Leal Buchanan and H. Arthur Vanderby. He and his wife Mina lived at 109 Eighth Street for most of their married life.
Mr. Barker was known for his daily visits to the hospital near his home. As one of his last civic acts, he financed and arranged a dinner for a few of the earlier settlers, so that Beltrami County could take a much needed first step in the organization of a county historical society. Earle Barker died on Sept 2, 1949.
---
Bell, Thomas Woods (1852-1915)
Thomas Woods Bell was born in Mercer County, Pennsylvania in 1852. In 1872, he married Marguerite Brown at New Bedford, Pa. He came to Bemidji in 1899 and became a millwright. He had three daughters, Mary, Nannie, and and Florence, and one son Sulton, and a brother John W. Bell, also of Bemidji. They lived at 911 Minnesota Avenue.
Miss Nannie Bell and Mr. W. B. McLachlan were married by Rev. Thos. Broomfield, Wednesday, Sept. 17 at 9:00 p. m, at their present residence on Minnesota Avenue. Miss Bell is a young lady of striking personality who has made Bemidji her home for the past year and has been identified with the best society in the city. Wm. McLachlan is captain of the famous "Moose," and has been in Bemidji for the past three years, during which time he has made a host of friends and acquaintances. After the ceremony the Bemidji band, of which Mac is a good member, serenaded the couple, and refreshments and cigars followed. (Sept 18, 1902)
Mary Elma Bell was married to Charles Plummer on Nov 9, 1910 at the home of Mrs. Doehner, 339 Shelby avenue, St. Paul. Miss Bell is a daughter of Mr. and Mrs. T. W. Bell of this city and has been assistant to Dr. Gilmore for several years. The groom is bookkeeper for one of the wholesale houses in Duluth, where the young pair will make their future home. They were later divorced.
In 1904, Thomas Bell was foreman of the Swedback mill. He continued as foreman until he began to suffer from bronchitis and heart trouble about 1913. He died at St. Anthony's Hospital on Oct 20, 1915.
Mrs. Margaret Bell continued to live in Bemidji at the same address at 911 Minnesota Avenue for at least ten more years. She died in 1946. Florence died in 1947, and Mary Bell died in 1952.
---
Roy Bliler (1874- 1927)
Roy Kasson Bliler was born on December 8, 1874 in Minnesota.
Roy Bliler came to Bemidji in 1898 when he was 22 years of age. He worked for W. G. Schroeder who ran a grocery story. He drove tote team between Bemidji and Park Rapids. He was a surveyor by profession. He married Pearle Dehart on July 18, 1904 and went to work for Mark Stoner who was Beltrami County's first County Surveyor. In 1910, he became County Surveyor, a position he held until his death in 1927.
He built a house at 1109 Minnesota Avenue in Bemidji. His daughter Ardath was born there in 1910. That was before there was running water, sewer or sidewalks in the neighborhood.
In Mr. Bliler, Beltrami county has one of the best county engineers and surveyors in the state of Minnesota, and Beltrami county is most fortunate in having him, for his ability is not only recognized in the county but by the state department, for he is often called in consultation on matters of great importance. And everybody knows Beltrami county needs just such a man as Mr. Bliler to conserve their interests. He also was a unanimous choice of the voters. (Nov 09, 1918)
Mr. Bliler died Feb 8, 1927 in Bemidji.
Bliler, Harry Adelbert (1877 – 1921)
Harry Bliler was born at Carlton, in Carlton County, Minnesota in 1877.
Harry A. Bliler returned Saturday from his visit to Fair Haven, Minn., and resumed work for the Brainerd Lumber Co. (April 10, 1902) Harry Bliler was appointed at Bemidji as a clerk of the post office and was working for a salary of $1,000 a year as of July 1903.
Wednesday and Thursday E. H. Clark of Salt Lake, in charge of the Wasatch and Salt Lake National Forests, accompanied by H. A. Bliler and R. W. Pullman of Washington, D. C, visited the planting station and went over the forest, up Big Cottonwood canyon, and on to Brighton. Mr. Bliler is photographer in the publication office of the forest service. Mr. Pullman accompanies him for the purpose of writing a description of the country, and especially descriptive and explanatory of the views taken by Mr. Bliler. "On his trip Mr. Bliler took some very fine views, which when finished will show to advantage the grandeur of that portion of the Wasatch national forest. The making of photographic views and getting all the information possible on the national forests of the country has been going on for two or three years, the purpose being to give the public full information relating to the Government forest scheme. (July 17, 1907)
Harry Bliler married Calista Gray on Sept 27, 1907 in Hennepin County.
Harry Bliler, who has been connected with U. S. forest service during the past two years, today telegraphed his resignation to the officials at Washington, the resignation to take effect at once. Mr. Bliler states that his employment with the service is such that he can practically have no permanent home of his own that he is ordered here and there, and never knows how long a time he will be allowed to remain at one station.
Mr. Bliler received a telegram from Clyde Leavitt, chief of organization, ordering him to report to the Helena forest. Mr. Bliler's resignation followed the telegram from headquarters. Mr. Bliler will enter the employ of the Grand Forks Lumber company, and will make his home in Bemidji, all of which is pleasing to his many friends here. (Oct 17, 1907)
Moved to Santa Cruz, California before 1910. (1910 Census) In 1920, he was a patient at a sanatorium in Placer, California.
Harry Bliler, brother of Roy K. Bliler of this city, passed away in California Monday after an extended illness in 1921. The deceased was at one time a resident of this city, having left here about 12 years ago. Roy Bliler leaves today to attend the funeral which will be held at Fairhaven, Minn., Sunday. The deceased leaves a wife and daughter, his father of Columbus, Ohio, a sister, Mrs. Gilkinson, of Osakis, and a brother, Roy.
---
Euclid (Ernie) J. Bourgeois (1871-1960)
Euclid (Ernie) J. Bourgeois was a civil engineer who came to the Nebish area and worked as a surveyor in 1896. In 1898 he moved to Bemidji and worked for Marcus D. Stoner, Beltrami County Surveyor and Bemidji City Engineer. He worked as a civil engineer in Bemidji through the 1930s.
His notes and manuscript materials for his reminiscences were entitled "Thoughts While Strolling" which was published in Dr. Charles Vandersluis' book, Mainly Logging. The first half of the manuscript concerns his early years in Wisconsin. Next is an account of the two years he worked for Halvorson Richards on the Red Lake Transportation Company survey in the Nebish country from 1896 to 1898. Next he discussed his first two years in Bemidji from 1898 to 1890, during which time he became established in the surveying business with Marcus D. Stoner. The final section of the manuscript contains excerpts from an August 14, 1955, taped discussion of his manuscript with other Bemidji residents.
Ernie Bourgeois lived at 510 Beltrami Avenue and was greatly respected by those who knew him. He was a self-educated surveyor who served as city engineer of Bemidji and who assisted in the platting of most of its streets. In 1901 he had the distinction of making one of the first maps of Beltrami county.
Born the oldest of seven children in 1871 at Chippewa Falls, Wis., he was the son of a timber cruiser and logger. He was educated in Wheaton township near his farm home and later in Chippewa Falls. In 1884 his mother died, and Ernie, then 13, was boarded out with a farm family. He left school at the age of 14, less than a year after the death of his mother and attached himself to his father and accompanied him on his timber cruising trips into the wilderness. At first he worked without pay. It was Frederick Weyerhauser who gave him his first pay check.
After spending the winter of 1896 working in the surveying camp as a cook, Bourgeois joined the survey crew as an axeman and remained with the project until it reached Red Lake. He then made his way to Bemidji, arriving October 18, 1898. He wrote, "I got to Bemidji one evening about 8 p.m. and found that Bemidji had a water works system at that time, plank or wooden walks, but going into concrete walks."
After a week or so at odd jobs along the Mississippi river west of Lake Irving, he went to work in a logging camp at Lasalle Lake for the Brainerd Lumber Co and worked until the spring of 1899.
In the spring of 1899, he was commissioned to inspect a boom of logs that were tied on to Bear Island in Leech Lake and to make a report on the contents to the surveyor general's office at St. Paul. After that he came back to Bemidji . While working with the crew surveying a spur for the Brainerd & Northern Minnesota Railway Co, he became acquainted with M. D. Stoner, who taught Ernie how to use a transit and some of the finer points of surveying. He took Ernie in as a partner in 1899. He wrote, we took inventory of the line up to Bemidji, made a survey for log spur 75, which cleaned up the timber along Kabekona Creek valley."
In 1900, Bourgeois started the staking and platting of townsites, surveying township and county roads, cemeteries, organizing city and village maps, a county map in 1901, all of which required revising more or less up to the present time. Levels and grades for sidewalks required a lot of time, up to this and the future.
"In 1902," he wrote, "began the survey on the Mississippi for the flowage of the power dam below Lake Bemidji. The Crookston Lumber Co. came along in this year. In 1904, some county ditches were dug. In 1904-5 the Red Lake Railway got to Bemidji and joined us with Redby. In 1905, J. J. McCarty got flowing well No. 1 drilled. In 1906 Bemidji's sanitary sewer system was begun. Baudette was platted and it opened up the north part of Beltrami county. In 1909, J. J. McCarty drilled the No. 2 flowing well and the water tank and tower of 100,000 gallons capacity was constructed. In 1910 the Soo Line Railway came to Bemidji and the Third Street concrete pavent, between Minnesota – Bemidji avenues was placed, and our judicial ditches in the tcounter were started, also the city storm sewers were started. In 1911, the first (and only) half of our sewer system's septic tank was completed. In 1912, J. J. McCarty drilled the city's No. 3 flowing well. In 1913 Diamond Point Park got going . In 1914, the steel bridge at Lake BEmidji outlet was constructed. In 1916-17, the concrete bridge over the river between Irving and Lake Bemidji was constructed. In 1919, I got to be the city's engineer and superintendent of the water department. In 1921, the city's white way construction was accepted by its council and along in 1922 on May 23, I received my last City of Bemidji's pay check."
Working for Stoner, first as a chainman, then as a rodman and later as a qualified surveyor himself, Bourgeois played an important role in the platting of most of the townsites in the area including much of the city of Bemidji. His lifetime spanned the history of Bemidji from an infant lumber town to a modern city. Ernie Bourgeois died on Feb 14, 1960 at the Lutheran Hospital in Bemidji and is buried at Greenwood Cemetery.
For his historical account of the early days and for his care in preserving the valuable land survey records of the county, he was elected to an honorary membership in the Beltrami County Historical Society. These maps and survey reports, many of them carefully prepared in longhand, have become a part of the society's records.  (Bemidji Daily Pioneer, April 22, 1958; Feb 15, 1960; Vertical File, BCHS, Bemidji)
---
Nassau W. Brown
N.W. Brown is comfortably installed in the Ross building west of the Bazaar and "Brown's Restaurant" is now open to trade day and night. (Aug 3, 1904)
The Duluth Brewing and Malting company, which has purchased the Kincannon building
on Third street, today began the installation of a new saloon to be operated in the building. The restaurant formerly conducted in the building by N. W. Brown is being removed to the Tremont hotel building on Minnesota Avenue. (May 15, 1905)
N. W. Brown has sold the lease of the Tremont hotel to Albert Hill and will leave in a few days for Redby, the terminus of the M., K. L. & M. railway on the shore of Red lake, where Mr. Brown will conduct a store and hotel. He will also conduct the post office there, when the office is established. Application has been made to the authorities at Washington for the establishment of a post office at Redby, and it is expected that, the application will be granted in the near future. (Nov 30, 1906)
N.W. Brown, who recently sold his lease of the Tremont hotel and decided to go to Redby and start a hotel, has changed his mind and will remain in Bemidji. He has purchased the Olson building, on Minnesota avenue, which has been occupied by a barber shop, and will open a restaurant and lodging house. He will build an addition of twenty-four feet on the rear of the building. (Dec 4, 1906)
Mr. Brown is one of our expert chefs and caterers, operating the hotel and restaurant which has become so widely and popularly known during his management. Mr. Brown has been a professional chef and hotel man all his life. He conducts the hotel and lunch counter. (1909)
1910 Census: Nassau W. Brown, age 48, born about 1862 in Canada. Resident of the 4th Ward. Wife Mary, also born in Canada.
1910 City Directory: N.W. Brown, Restaurant, 207 Minnesota Avenue (1910)
Elected as alderman of the Fourth Ward in 1910.
I hereby announce myself as a candidate for re-election as alderman of the Fourth Ward at the election to be held February 20, 1912. I refer you to my service as alderman and solicit your votes at the polls election day. N. W. Brown
N.W. Brown was elected treasurer of the Bemidji Band (1915)
Not found on the 1920 Census.
He was a Notary Public in 1922 and was elected an officer of the Royal Arch Chapter of the Masons in 1922.
No longer in the city directory or Bemidji census.
---
Browne, Waldron (1867 – ?)
Waldron W. Browne was born in Georgia in Sept 1867. Married to Bertha Mehring on October 16, 1899 in Hennepin County. They lived in Bemidji in 1900. They purchased the property at 700 Minnesota Avenue and appear to have sold the original building in 1909 and built a new house.
For Sale:  A snap: Building 16×32, new sills siding and floors, $300. Cash if moved at once. Waldron W. Browne, 700 Minnesota Ave. (1909)
A new single family dwelling was built in 1910. Waldron Browne was a restaurant operator. They had twin girls, Verna and Vera on April 27, 1908 in Bemidji.
In 1910, he seized a business opportunity in Jamestown, North Dakota, only to suffer a fire the first night of his venture.
BROWNE BUYS SHOW BURNS
Bemidji Restaurant Man Loses New Property in Jamestown
W. W. Browne, proprietor of the Armstrong Cafe on Beltrami avenue in this city, went to Jamestown, N.D., a few days ago, to purchase the Orpheum Vaudeville Theatre in that city. Word now comes that be lost his newly gained property by fire. A special from Jamestown gives the following account of Mr. Browne's misfortune:
"While the place was nearly filled with spectators fire broke out Saturday evening in the Orpheum, the vaudeville theater in this city, about 9 o'clock in the evening. The presence of mind of a few saved the others from injury. The theater had just been purchased by W. W. Browne of Bemidji, Minn., and his manager, James Spaulding, gave his first performance here Thursday night!"
"Mr. and Mrs. Max Rose, former proprietors of the show house, have rooms in the second story and Mrs. Rose had a large number of trained birds in the basement which were rescued with considerable difficulty."
"The exact cause of the fire is unknown and no estimates of the loss can yet be made. The stage and all its scenery is totally destroyed and the smoke and water damaged the whole building that was not touched by the fire." (Dec 8, 1910)
The  Brownes advertised for help with housekeeping in 1910 and 1911. In 1912, they advertised for two good girls and one nurse girl. The family moved to Canada in 1912. "Mrs. W .W. Browne and little daughters, Verna and Verna, left on Tuesday afternoon for Stony Plains, Alberta, Canada, where they will join Mr. Browne and will make their future home." (June 20, 1912)
---
Henry Buenther (1861 – 1906)
Henry Buenther was born in Germany in 1861. He was married to Louisa Maack on Jan 18, 1900 in Salt Lake City, Utah. They moved to Bemidji about 1901 and established his taxidermist business. On March 1, 1902, Henry Buenther & Co., taxidermists and furriers, moved to Second Street, two doors west of the post office. He advertised, "Game heads, birds and animals mounted in life-like and decorative positions. Skins tanned. Rugs and robes made to order and for sale. Fur coats, caps and mittens made to order, repaired and remodeled. All work guaranteed moth proof and first-class in every respect. We are here to stay and solicit your patronage." ((Mar 6, 1902)
The firm seems to have done well, The Bemidji Pioneer wrote: "Henry Buenther, our taxidermist is a very busy man these days. The Pioneer man happening into his place Monday found him mounting a deer for Martin Knudson of Blackduck. He has just finished mounting three moose heads, which are about the finest specimens ever seen in this country. He has also two bucks and seven bob cats to mount as soon as he can find the time." (Feb. 19, 1903)
In 1904, he and his wife were residents of 204 Fifth Street, but appear to have moved to Beltrami Avenue before the 1905 census.
On October 19, 1906, Henry Buenther drowned while on a trip at Trout Lake near Tower, Minnesota. He was only 47 years old and left a wife Louisa and three daughters: Charlotte b, Oct 13, 1901; Grace, b. Feb 29, 1904; Alice, b. Feb 6, 1906. He was a member of the Modern Samaritan lodge. Buenther was considered one of the most skilled taxidermists in the western states, and he had done work for people residing in all parts of the United States. (Oct 1906)
Mrs. Henry Buenther decided to continue the business formerly conducted by her husband. She requested the Pioneer to state that she had hired competent men to do the work and that all unfinished work would be turned out as soon as possible. (Dec 3, 1906)
In 1907, Mayor Pogue organized the first Market Day. Among other things that were offered at the sale were a quantity of articles owned by Mrs. Henry Buenther, such as deer heads and other mounted specimens, which were manufactured by her husband, and which were considered to be among the best ever produced in the state. The auction was held at the corner of Third St. and America on August 17, 1907.
Mrs. Buenther advertised: "I am now prepared to do all kinds of work in the taxidermy line. Mr. John Moak, who has had fifteen years' experience in this work, will have charge of the work I may receive. Mrs. Henry Buenther, 809 Bemidji Ave." (Nov 14, 1908); and "The art of taxidermy will be taught by Mrs. Henry Buenther, 809 Bemidji Ave." (Aug 7, 1909).
Mrs. Buenther and her daughters moved back to Salt Lake City, Utah – probably in the latter months of 1910. She was working in Salt Lake City by 1912 and remarried in 1917.
Information gathered from the Bemidji Pioneer and Bemidji Daily Pioneer at http://chroniclingamerica.loc.gov/ 
---
Alexander Cameron (1862-1942)
Alexander Duncan Cameron was born in Ontario, Canada of Scottish parentage. He left home while still very young to follow work in the early logging camps, first as errand boy, then cookee, and finally camp cook. He eventually settled in Wisconsin where he became acquainted with Henriette Villemin, the daughter of an early French Canadian fur trading family in Prairie du Chien, Wisconsin. Her ancestry included Fox Indian blood, one of the Algonquin families. Her father, Constant Villemin, was a native of France. He, with other members of his family, migrated to the United States some time prior to 1860.
After their marriage in Wisconsin, Alex Cameron and his wife continued to live there for some time. He then began scouting for a new location and arrived in Bemidji where he fell in love with the lakes and woods. He persuaded his wife to move from Wisconsin to this wilderness territory. She agreed, but only after extracting a promise that she could take her books and organ. This was quite an undertaking, as trails had to be blazed through the dense forests while heading further and further north. A near tragedy occurred when the wagon hauling their belongings tipped over while fording a river, including  her precious organ. Packed in the crevices in the crate were all her best dishes. She was an excellent packer and they survived.
They were pioneers in Beltrami county before the railroad was built in the area. In fact, Mr. Cameron was one of the men who shingled the first house built in Bemidji, and also aided in the survey of the Great Northern railway.Cameron staked out a lot and cleared a small place for a cabin on what became Minnesota Avenue. Mrs. Cameron said the forests were so dense that there was just a small patch cleared outside her door where she could see the sky.
During the time it took to clear the lot, prepare the logs and erect the cabin, Mrs. Cameron boarded with the Carsons on the western shore of Lake Bemidji. When the cabin was completed, Mr. Cameron came for her and wanted to pay for her board and room. In no way would Mrs. Carson accept payment. Mrs. Cameron had not been idle, but she had made a lengthy rag carpet for the hallway and many other helpful projects for her hostess.
Cameron filed on a homestead near Northome but preferring Bemidji, he let the claim lapse and purchased land owned by the Great Northern Railroad in what became Grant Valley Township, about seven miles west of Bemidji along the Mississippi River. There they developed their farm of 220 acres and named it Meadow View Farm. They donated two acres of land for a school and the logs for the school came from the Meadow View Farm as well. The school was named Riverside School.
As the children grew older, it was necessary to move back into Bemidji so that they could go to high school. They also kept the farm, a practice which was shared with several other Bemidji pioneers as well. The Camerons lived for awhile on Mississippi Avenue and then moved to the NE corner of Fourth and Irvine.
Back of the house on Irvine Avenue, Cameron and his brother-in-law, Jack Falls, built a store about 1912. It was called the Falls & Cameron Feed Store. The sign read: Flour, Feed, Wood and Hay. They were dealers in all classes of feed necessary for poultry and live stock. They also sold coal and wood. Economic times were bad and the store extended credit to all farmers. Timber sales were down and the farmers could not pay their bills.
Once again, the family moved back to Grant Valley. After Alex Cameron's health failed, they moved back into town where he died  in 1942. Mrs. Cameron later moved to California to live with her youngest sister, Virginia Foran, until her death in 1963 at age 94.
Information for this article came from the recollections of Mrs. Archie (Cameron) Bowers, from the files of the Beltrami County History Center, supplemented by newspaper articles from the Bemidji Daily Pioneer, 1904-1922, and the Bemidji City Directories.
---
G. M. Carson (1840 – 1900)
G M. Carson, Judge of probate, was a resident of this locality since the spring of 1894, and a resident of the timbered country of northern Minnesota for twenty years. When he came here in 1894 there were only six white men in this vicinity. More came that season, however, and later in the year Mr. Carson built a log hotel on what is now known as the "south side" which was the first hotel seen here. It was called the Log Cabin House, and was for several years a popular stopping place with early hunters and travelers.
Judge Carson was born in Ohio in 1840, moved to Iowa in 1860, came to Minnesota in 1878, and settled on a farm in Becker County. For four years he was deputy sheriff of that county and held the office of justice of the peace most of the time while there.
He was always active in public affairs and a leader in the Republican party. He held several public offices and for two years was judge of the probate court of Beltrami county. In the 1900 election, he was re-elected by a handsome vote which testified to his popularity throughout the county.
He was married in 1862 to Annie Huntsingery at Decorah, Iowa. They had four children; four sons, G. E., M. E., and Egan Carson and one daughter, Mrs. Jessie Spain. His wife Susannah survived him and lived in Bemidji until 1926. She died in 1937 at the home of her son, Egan Carson.
G.M. Carson died on Dec 13, 1900. The Masonic Order had charge of the services and he was buried in Greenwood Cemetery.
---
Alva A. Carter
Familiarly known as A. A. Carter, one of the first mayors of Bemidji, and one of the city's early real estate dealers. He came to Bemidji about 1902 from Superior, Wisconsin, where he had lived for about twelve years. During his administration, through his activity, the cold storage plant and creamery were established here, and the resort area known as Grand Forks Bay with its twenty-five summer cottages, was established. Mr. Carter also established the Bemidji Axe Handle factory, one of the city's first industries outside of logging.
A. A. Carter and his wife Minnie and family lived at 1008 Mississippi Avenue in 1905. He was engaged in the real estate business. .
A.A. Carter has moved from 523 Eighth St. to 808 Irvine Ave (Jan 14, 1914). Lots 15 & 16 Sold by the Bji Townsite Co. to Minnie A. Carter on May 5, 1915 for $350. These lots were at 808 Irvine Avenue, but the deed was filed after they actually had moved there according to the Bemidji Pioneer.
The Spiritualist congregation will meet tomorrow evening at the home of A. A. Carter, 808 Irvine avenue, at 8 o'clock. Dr. Brooks will speak. (April 4, 1917)
Carter Garage, A. A. Carter Sept 1917
By 1920 they were living in Detroit, Michigan and then moved  to Los Angeles, California, where he was engaged in real estate and construction work.
---
Alfred L. Collard (1860 – 1937)
Alfred Collard was born in Arkwright, Ontario, Canada. He came to the United States in 1887, settling at Hillsboro, N.D.  Later he moved to Halstead, Minn., and then to Bemidji in 1899 and lived there the rest of his life. He was engaged in the harness business for 38 years.
He also tried his hand at the saloon business. He obtained a license on May 25, 1900 to run a saloon on front room, ground floor, of the one story frame building situated on part lot North 13, 14.15,16,17, block seventeen (17). When Sjur Tong, an old cruiser, died in his sleep in the rear of Collard's saloon in August 1900, it was under the management of "Sailor Pete." In May 1905, he advertised that the one story frame building known as the Viking Saloon on Minnesota avenue was available for rent. Apply A. L. Collard, 910 Minnesota Avenue. (May 1905)
A.L. Collard went to Farley in November 1904 and remained there during the winter as manager of the harness shop of Blakely & Farley.
A brother, Fred Collard, died on Feb 7, 1907. Fred Collard has lived in Bemidji for several years, having tended bar in different saloons of the city. He was well known to many of the residents of the city, and well liked.
Alf Collard was confined in the Samaritan hospital for several weeks with typhoid fever in February of 1913 under the care of Dr. Sanborn and Mrs. Smith. After convalescing, he was expected back at his usual place of business on March 10th. His shop had been locked up during his illness.
The Collard Harness Shop was at 406 Minnesota Avenue. Their home was at 910 Minnesota. Alf Collard died in Sept 1937. His wife Julia died a month later.
---
Sam Collard (1862 – 1912)
Sam Collard moved to Bemidji about 1903. He established a Harness Repair Shop in the rear of the city hall in 1905. "Mr. Collard has had 20 years' experience in the business and is prepared to render prompt service and give entire satisfaction to all."  (March 22, 1905)
Sam Collard died from a stroke of paralysis in 1912. He was fifty years old and had five children. Four daughters and one son. Mr. Collard had been carrying the mail the previous  year from the post office to the depot.
Mrs. Emma Collard continued to live in their home at 1018 America Avenue until her death about forty years later. She died in 1953.
---
Caroline "Lena" Crosby (1896 – 1996)
Caroline Margaret Schmitt was born in 1896 in Wahpeton, N.D., to John and Christine Schmitt.  In the spring of 1898 she came to Bemidji with her mother, traveling in a stagecoach.  She grew up in Grant Valley Township and attended country school.  She worked at the Bailey Boarding House in Bemidji.  On Oct. 6, 1920, she married Clinton J. "Red" Crosby in Bemidji.  She raised her family in Bemidji, where she lived until 1981 when she moved to California.  She died Feb. 7, 1996, at Carmichael, Calif.
---
Cutter, Samuel (1870 – 1958)
Samuel Cutter was born August 9, 1870 at St. Peter in Le Sueur County, Minnesota.  He married Minnie Walker in Hennepin County on Sept 5, 1893. By 1900, he was Assistant Postmaster at Buffalo Township in Wright County.
Samuel Cutter was a pioneer Bemidji postal worker. He was frequently mentioned in the newspaper as the genial and good-natured money order man at the Bemidji post office. He was a postal employee for 35 years, working for 31 of those years at Bemidji. Nancy Naylor wrote of her grandfather, "The very first post office was located on the Midway at the river. Later on the city wanted it relocated to a small building downtown. In 1902, Mr.Cutter was invited to move to Bemidji to work at the post office as a money order clerk. He was there until they built the new brick post office on Beltrami Avenue in 1917." The post office had a marble floor, and brass spittoons. Not fun to keep clean, but the building had wonderful atmosphere. Nancy wrote, "To this day the floor is very worn in front of the money order window. Sam Cutter was asked to be the postmaster twice, but he turned it down both times." He retired in 1936 . In 1922, the newspaper joked that he had been connected with the Bemidji post office so long that when the old-timers go there and fail to see him they wonder if they're still in the right town.
Sam was also a musician. The Bemidji Daily Pioneer reported, "Sam is an exponent of the good old square dance and the cast committees have overlooked a good bet if they have passed him up for this part of the pageant to be staged during the fair here in August 1922.  He will be remembered as having performed admirably at a recent carnival with Johnny McDonald as accompanist on the fiddle." Vera Cutter, their daughter, attended MacPhail School of Music. Vera married Harold Naylor in 1934, and continued a Bemidji music tradition.
Sam and Minnie Cutter lived at 1111 Beltrami Avenue for at least 25 years. They spent the summer months at their summer cottage at Waville across the lake.
After retirement, they lived at 915 Dewey Avenue, and after Mrs. Cutter's death in 1954, he lived at 1409 Bemidji Avenue with his son-in-law, daughter Vera and son-in-law Harold Naylor. Sam Cutter died on July 13, 1958 at the Lake Julia Rest Home where he spent his final weeks.
(information from the Bemidji Pioneer, and from Bermidji, A Snapshot of Bemidji 1940-1960, pg 9.)
---
Charles Dailey (1877 – 1946)
Charles Smith Dailey was born In Oakwood, Wabasha County, Minn., on July 13, 1877, and his childhood days were spent in Grafton, N.D. At 18, his family moved to Malesus, Tenn., and two years following he came north and settled in Bemidji. In July 1910, he married Augusta Oestreich of Menomonie, Wis., and to this union two sons were born, namely William and Frederick.
Mr. Dailey spent his first years in Bemidji conducting an employment service for the lumber camps. In January 1907, he and J. F. Essler applied for a license to operate as the Bemidji Employment Service. In March 1912, Chas. S. Dailey and Thos. W. Swinson formed a partnership known as the Dailey and Swinson Company. Their purpose was to do a general real estate and insurance business operating principally in the northern part of the state with headquarters in Bemidji. They also continued the employment business in which Mr. Bailey has been interested for the previous nine years. Thomas Swinson was a civil engineer and surveyor and had been connected with the county surveyor's office for some time. From about 1930 until his death in 1946, Charley Dailey and his wife Gussie owned and conducted the Bemidji Novelty company. This was later owned by their sons, Bill and Fred Dailey.
Mr. Dailey was elected a member of the Bemidji Fire department on July 24, 1906 and was fire chief for the 20 years and an officer in the Minnesota State Fireman's Association for 14 years. He was extremely interested in all their activities and always attended the state conventions and took an active part. He was a staunch Democrat and kept in close touch with all their activities and in his quiet way worked with the organization and with the county chairman. His genial manner and kindly way won for him many friends in and around Bemidji. He was also a member of the Bemidji Elks lodge.
---
Peter M. Dicaire (1851-1932)
Peter M. Dicaire was born Jan 29, 1851 in Ontario, Canada. Peter moved to Chippewa Falls, Wisconsin in 1867. His brother and he worked at Pound, Halbert & Co's mills until August 31, 1871, when he commenced learning the tinner's trade, working in a tin shop until he established himself in business.
On May 13, 1886, he married Alice Regina Friederich at Prairie Du Chien, Wisconsin. They moved to Michigan for a time and had five children, Christine (1886), Alice (1888), Bertha (1891), Clara (1893) and Marcus (1896).  Alice Dicaire spent her early years at Prairie du Chien. She was schooled at the Independent German School there and read, spoke and wrote German and English fluently.
Peter Dicaire came to Bemidji in 1899 and established a tin shop here with a partner Ira Ross. Their new shop was located on Beltrami Avenue between 3rd and 4th Streets and was advertised as the Dicaire & Ross Shop in September 7, 1899.  In 1900, he was one of the merchants who pledged to close his shops on Sundays starting in May.
Mr. Dicaire, of the firm of Dicaire & Ross, was superintendent on the work of roofing the new state school building in Walker in June 1900.  He was also responsible for some of the work at the new agency buildings  on the Leech Lake reservation across the lake from Walker in 1900.
In June 1901, Madam Roscoe, clairvoyant, gave readings in the rooms at Dicaire & Ross, upstairs, on Beltrami avenue between Fourth & Fifth Streets. Dicaire & Ross also provided the stoves and fixtures for the court house in 1901.  His partner, Ira Ross, also had a homestead at Bridgie. Mr. Dicaire was hired to do the tin work on the new schoolhouse at Tenstrike in 1902.
Peter Dicaire was elected to the office of Centurion for the Modern Samaritan Lodge in 1903. Public installation took place at the Masonic hall in January 1903. He was also a members of the Old Settlers Association.
In the spring of 1905, Mr. Dicaire purchased the building and stock of C. E. Hulett, who has conducted a small general store in the northwest part of the city. Mr. Dicaire took possession of the establishment on April 4, 1905 and started making a number of improvements to the property. He added a line of groceries, fruit and meat within weeks of the purchase. He also advertised confectionary and candies at his new store.
During his residence in Bemidji, he took an active interest in the affairs of the city and was well known to a large number of its residents as the proprietor of a grocery store at 1101 Irvine Avenue.
Mrs. P. M. Dicaire was surprised by about 40 members of the Catholic church at her home on Irvine avenue in May 1919.  The self-invited guests brought lunch and passed the afternoon in conversation, Mrs. Dicaire was presented with a purse in appreciation of the work she had done on the church altars in keeping the altars supplied with fresh linen. Mrs. Dicaire announced her intention of using the money given her for the church altar fund.
In 1921, the front page of the local newspaper reported a robbery at the P. M. Dicaire store.
Local authorities have as yet found no trace of the hold-up man who entered P. M. Dicaire's store on Irvine avenue about 10:25 Saturday night and robbed the till and the proprietor of about $25. The robbery was at once reported to the police but as yet no clues as to the identity of the robbers have been found, Chief of Police Bailey stated this forenoon.
Mr. Dicaire was marking goods at the time, and with a rush the two men threw open the door, entered the store and ordered Mr. Dicaire to throw up his hands. A chair happened to be close by and Mr. Dicaire grabbed it with the intention of throwing it at the intruders but in some way the chair struck an object as it was being hurled at the robbers, consequently missing its mark.
One of the robbers, who was dressed in a soldier's uniform with collar turned up and slouch hat drawn down over his eyes did the ordering. The other was a tall slim man with mackinaw who shielded his face with his elbow, and after the first man had pushed Mr. Dicaire down, his accomplice struck him over the head with a hard object thought to have been a gun, knocking him out.
One stood guard while the other relieved Mr. Dicaire of the cash in the till and also on his person, getting about $25 in all, and taking a valuable wallet and some French money at the same time.
There was thought to have been a third man outside, as Mr. Dicaire heard conversation between one of the men inside and one outside while the money was being extracted by the second man inside, who was being told by the others to hurry up. (Bemidji Daily Pioneer, Feb 8, 1921)
Christine Dicaire was born in 1886 in Michigan. Christina was born with normal health and enjoyed her childhood before being stricken with a seizure as a teenager which caused paralysis and poor health for the rest of her life. On Aug 9, 1904, the local paper reported that she had sustained a very painful although not serious injury the previous night. She started to come down stairs when her foot slipped and she fell head long down the entire flight. Her face and head were bruised in the fall and medical assistance was required.  She died in Bemidji in 1941.
Alice was born in 1888. She married Joseph Wolters on June 6, 1910 in Bemidji. Joseph Wolters was a grocery man in Blackduck. They moved to Blackduck and later to Crookston.
Clara Dicaire married Louis Murphy on Feb 3, 1915 in Bemidji. She grew up in Bemidji and then went to Grand Forks to accept a responsible position with the Red River Valley Power company. L. F. Murphy, the groom, was a member of one of the most prominent Grand Forks families, being a son of M. F. Murphy, for many years mayor of the North Dakota city and one of the state's most influential business men. The young man was in business with his father. Like many families from Grand Forks, the Murphy family had a summer cottage at Bemidji.
Bertha Dicaire was born in 1891 in Michigan. She spent her formative years in the Bemidji area. She enjoyed swimming, and spending time with friends as a young girl.  She also participated in local community theatre. She spent her young adulthood helping with her father's store at 1101 Irvine Avenue.  She married William Otto Grimm on September 23, 1917.  She was the mother of 3 children, 2 boys and one daughter. She died in 1982.
Marcus Dicaire was born in 1896 in Crawford County, Wisc. He grew up in Bemidji and was a veteran of the 341st Infantry, Co. "G" having served during WW I.  He married Arminda Lissock on Aug 31, 1935. He moved to Idaho in 1956 and died there in 1960.
---
James Doran (1843 – 1904)
James Doran was born in 1841 in Emily, Victoria, Ontario, Canada. Mr. Doran came to Bemidji with his family about 1898 and was formerly engaged in business here and was highly respected. He purchased the property at 213 Third Street in 1900 for $400. A daughter Mrs. Jennie (Doran) Plummer died at Bemidji in 1901.
James Doran and William Blocker filed with the County Auditor their intention to run for the nomination on the Republican ticket for County Commissioner in the first district in July 1902. Both were regarded as good men. In October, James Doran was the Republican candidate for Commissioner of the First District. He was paid  several times by county commissioners for  livery service for the county physician or for livery service to transport quarantined patients.
James Doran died on February 4,  1904. The funeral group left his house and proceeded to St. Philip's Catholic church under the auspices of the Catholic foresters.
His wife, Ellen, became one of Bemidji's most beloved old time residents. A resident of 607 Irvine Avenue, she entered St. Anthony hospital and died on April 23, 1920 after a confinement of several months. Surviving her were a daughter, Mrs. P. J. O'Leary of Bemidji, a son, Charles, Doran of Savannah, Illinois., a son-in-law, Charles Plummer Bemidji, a granddaughter, Mrs. Ethel Redmond of Minneapolis, and two grand sons, Arthur O'Leary and Myron Plummer of Bemidji.
---
Doran, John J. (1873 – 1950)
John J. Doran was born in Hallville, Ontario, Canada July 27, 1873 and moved to North Dakota in 1896. In 1898 he came to Bemidji where he was employed by Ludington and McCuaig.  Later, he and his brother Herbert Doran started the plumbing shop which continued for many years at 402 Minnesota Avenue.
Johnnie Doran Plays Detective (1902)
The storage room to the back of the Shamrock saloon was broken into Monday and four fur overcoats, one cloth overcoat and several sacks of other clothing were taken to the value of over $100. Johnnie Doran played detective and in company with Chief of Police Bailey rounded up one Pat Murphy, a newcomer with a putrid reputation. He was induced to squeal on himself, and the party went to the White Front saloon, where it was found that Murphy had sold two fur overcoats and other goods for $4.45. The other goods were left for safe keeping at other saloons, and Mr. Doran has recovered nearly all, so $25 will probably square him with the guests who have left the sacks in his charge. Murphy was given ninety days of shelter without overcoats by Judge Martin, The White Front is out $4.45 by the deal, which is hardly penalty enough for receiving stolen goods. Bemidji is indeed getting tough when it protects joints that make even Depravity Hill blush. (Bemidji Pioneer, Feb 13, 1902)
Mr. and Mrs.John Doran  lived at 702 Minnesota Ave in 1904.
Biggest Dog in State. J. Doran, of this city claims the distinction of owning the largest dog in the State of Minnesota. It is a St. Bernard raised by August Peterson. He weighs 190 pounds, measures six feet one and one eighth inches from the tip of his nose to the tip of his tail and stands three and one half feet high. Mr. Doran believes the dog one of the largest in the country. (Feb 1904)
Mr. Doran married Beatrix Hazen in Bemidji and to this union two children were born of whom still live in Bemidji. Mrs. Doran preceded him in death and in 1922 he married Mrs. Mable Young.
Surviving are his wife and one daughter, Ms. K. E. Kenfield, and one son, Allen Doran, all of Bemidji,
---
Frank Dudley
Frank E. Dudley is a prominent business man of Bemidji, a member of the board of county commissioners, and an all around hustler. He came to northern Minnesota from Ohio sixteen years ago, and for many years was a timber explorer and estimator. He has been all over this part of the state many times. (January 1900)
Frank Dudley married Nellie Hartley in 1889. They had two children, Nona Dudley, b. 1891  in Carlton County; and Nellie, b. Feb. 1900 at Bemidji. He was mayor of Bemidji in 1900.
F.E. Dudley bought the property at Lot 11, Blk 14, 209 Third St. for $1,000 on June 19, 1899 from J. B. Salisbury.
F.E. Dudley has purchased a meat market of Charles Lightfoot and will hereafter conduct a first-class market. (1899)
During the past summer, Mr. Dudley and his partner in the meat market business, John Graham, constructed a very handsome two-story brick building on Third Street, the first story of which is occupied by their market. The second story has been nicely fitted up and is used as a Masonic Hall. There is a good basement the full size of the building.  (January 1900)
Frank Dudley moved to Florence, South Carolina. He was visited by Mr. Markham of Bemidji in March 1904. Nora and Nellie made a visit back to Bemidji in 1920 to visit the family of Mr. and Mrs. Matt Phibbs, and Mrs. Frank Dudley came back several times to visit her parents near Fosston.
---
William H. Elletson (1863 – 1921)
William H. Elletson was born at Kingston, N.Y., June 7, 1863. He was 58 years and 24 days old at the time of his death, July 1. He was married to Miss Emma J. Howland January 1, 1881. To this union were born three sons, William H. Jr., George T., and Adam Delbert. For 19 years Mr. and Mrs. Elletson made their home at Adrian, Minn., before moving to Bemidji in 1901. When a young man, Mr. Elletson united with the Church of the Disciples of Christ.
He was a carpenter and a resident of 1110 Beltrami Avenue Ave. when he died of accidental drowning while bathing at Diamond Point Beach. He was buried at Bemidji on July 6, 1921.
During their residence in Bemidji he and his family were affiliated with the Baptist church. He was a member of the following fraternal orders: I. O. O. F., the Encampment of the I.O.O.F. and the United Workmen. His funeral was held at the Baptist church. The funeral was in charge of the Odd Fellows lodge and was attended by members of the Rebekah lodge and the Ancient Order of United Workmen. The Carpenters Union was also represented.
Mrs. Emma J. Elletson passed away on June 14, 1925 at the Bemidji Lutheran hospital Saturday after an illness of about two years. During the previous winter she failed rapidly. She had continued to live at 1110 Beltrami Avenue after her husband's death.
---
Anton R. Erickson (1862 – 1922)
ANTON ERICKSON TAKES CHARGE OF POSTOFFICE (1908)
New Postmaster Assumed Position Last Night. Will Make No Change in Present Corps of Employees. Office Is in Excellent Condition.
ANTON R. ERICKSON (Sept 30, 1862 – Sept 11, 1922)
Anton Erickson worked three years for W. T. Sampson, when he was appointed deputy sheriff, under Sheriff Paulsrud of Polk county. Mr. Erickson served three years as deputy sheriff and was very prominent in the workings of the republican party in Polk county.
Mr. Erickson owned several stores in Polk county, one being located at Mentor, another at Crookston and a third at Thief River Falls. He was president of the Knute Nelson club the first year that the present senator ran for governor.
Mr. Erickson moved to Bemidji in 1898. He served two years as deputy sheriff under Thomas Bailey, the sheriff of Beltrami county, and he also served as deputy auditor here under County Auditor David Sylvester.
In 1903 Mr. Erickson started a store at Rosby, five miles east of Bemidji, which was one-fourth mile over the Beltrami county line in Hubbard county. Mr. Erickson remained at Rosby until 1906, when he returned to Bemidji and has made his home in this city ever since.
Mr. Erickson has always been an active republican, and wherever he has lived has been prominently identified with the counsels of the party. (April 1, 1908)
**************************************
Anton Erickson was killed Monday night when the car in which he was riding with three others left the pavement this side of Nymore and went over a steep embankment. Dislocation or fracture of the neck was given as the cause of Mr. Erickson's death. The accident occurred at 10:30 and it was several minutes or more before the car could be lifted from the victims.
Funeral services were held Sunday at the First Lutheran church, Rev. L. J. Jerdee officiating. Interment made at Greenwood cemetery. The funeral was delayed until Sunday to allow Mrs. Arthur Jorgenson of San Francisco, a daughter, to attend. The Bemidji lodge of Elks attended the service in a body.
---
John Essler (1870-1944)
John F. Essler was born in St. Peter, Minnesota on May 13, 1870. He had been in the clothing business for many years before coming to Bemidji in February, 1899, where he was employed in the Barney Berton clothing store. He later was employed by the Minneapolis Brewing company and in the later years he became a sign painter for the highway department. He was married on December 19, 1902 to Edna Dunham of St. Peter. He was a resident of Bemidji for many years and passed away on June 25, 1944 at his home, 419 Minnesota Avenue.
---
Henry Fallon (1864-1934)
Henry Fallon (1864- 1934)
James H. "Henry" Fallon was born in Reedsville, Mass. He came to Bemidji about 1904 to work as a scaler in the lumber camps, and later to work as claim agent for the M & I railroad. He was married in Bemidji on Nov 11, 1907 to Miss Louise Hetland, a sister of Mrs. C. M. Bacon of Bemidji. He was a resident of this city since young manhood. He was a member of the Elks and Masonic lodges. He died Mar 15, 1934 at 315 7th St. Rev. L. P. Warford officiated at the ceremony at the Presbyterian church.
Mrs. Louise (Hetland) Fallon passed away after several weeks of illness at her home at 315 Seventh Street on Nov 19, 1936.  She has been a resident of Bemidji the past 35 years, having operated a hat shop for many years, later opening a hat and dress shop on Third Street which she was operating to the last few weeks before her death.
Missed Bank Burglars By Only a Few Minutes (1906) — Henry Fallon of Bemidji Passed Akeley Bank Shortly Before Blowing of Safe. Henry Fallon, scaler for the Red River Lumber company, came very close to bumping into the bank burglars who made their get-away with $8,000 in Akeley Wednesday morning. He arrived in Akeley on a train at about 1:30 a. m, and walked uptown, passing the bank building at 1:40 or 1:45. The explosion took place at just 1:55, so the men must have been working in the bank when he passed. Neither he nor the man who was with him heard any noise nor suspected anything, however. The safe door was blown clear through a partition in the bank, through the side of the bank building and part way through the wall of a building across the alley in which F. G. Farren was sleeping, the man who started to come out of the building and was ordered back in by a man with a revolver. Mr. Fallon says there did not seem to be a great deal of excitement in the town over the burglary. (Sept 13, 1906)
---
Tom Fenson (1887-1965)
Tom Fenson was born in China Sept. 24, 1887.  Mr. Fenson came to America in 1914 to San Francisco, Calif., moved to Moorhead and later lived in Kelliher 1 1/2 years. In 1918 he came to Bemidji and started the Kelliher Hotel and Cafe which he operated for 30 years. In 1948 he opened the Western Auto Associate Store in which he continued working until his death. He was married in Bemidji to Ella Goerke on Oct 19, 1922. From 1947 until the corporation as dissolved in 1988, Ella Fenson was president and bookkeeper for the Fenson and Olson Corp. After the corporation ceased to exist, she worked at Western Auto until 1992. Tom died in 1965. She died in 1995. Both are buried in Greenwood Cemetery.
---
John Edward Flatley (1873 – 1945)
John E. Flatley was born at Holland, Brown County, Wisconsin on January 16, 1873. On March 15, 1895, he was appointed U.S. post master at Hannaford in Itasca County, but declined the position. He was in Bemidji by 1900. He married Clara "Carrie" Adams in Wadena County on October 28, 1901. He was a successful and practical farmer, living on 1200 12th Street in 1905. Wife Clara; daughter Doris, age 2.
He spent the summer of 1905 looking after his real estate interests at the new town of Puposky, near Mud Lake. In the fall, he accepted a position at the C. M. Bacon refreshment parlors. [saloon].
On June 22, 1906, Mrs. Flatley's father was seriously injured when a chain broke and struck Mr. Adams in the stomach. W. J. Adams, a farmer living at Northern, was injured while pulling stumps on the J. E. Flatley farm a mile northwest of the city. He was struck in the stomach by the sweep, which was released under high pressure by the snapping of a chain. The injuries were thought at first to be serious and he was removed to the home of his daughter, Mrs. J. E Flatley, in this city, where he was attended by a physician. Reports this morning, however, are very favorable. Mr. Adams is 60 years old.
In May 1907, Flatley was one of the team owners within Bemidji who posted a notice that they had to raise their rates. He is listed along with Tom Smart, John Marin, John Streeter, and others.
In Nov 1907, E. J. Gealds purchased the saloon which has been conducted by C. M. Bacon for several years. The Bacon place was one of the most popular refreshment parlors in the city, and Mr. Bacon had always enjoyed a very liberal patronage. Mr. Gearlds retained J. E. Flatley to assist in supplying the wants of the patrons of the place, and he and Mr. Gearlds were expected to make a strong team.
The family suffered the loss of their little son, Meredith Flatley, on August 8, 1908; he is buried in Greenwood Cemetery. About 1908, he purchased the meat market previously owned by Schmidt & Hazen, an old reliable establishment located at 306 Third St. He was put forward by the Pioneer Souvenir edition as one of Bemidji's leading businessmen. He disposed of his business, the City Meat Market, by selling it to F. Pierce in March of 1909.
A baby daughter was born to the Flatleys at Bemidji — Lucile May on Feb. 5, 1909.
In 1912, he owned a saloon at 215 Third Street. On January 12, 1912, he advertised: "On  Saturday of this week a roast pig will be 'on tap' at J. E. Flatley's on Third street. A young, juicy corn fed animal has been prepared for patrons on that day."
On Oct 26, 1912, he posted an ad in the Pioneer.  For Sale: Seven room modern house on Dewey avenue, with two lots. Bargain if taken at once. Apply J. E. Flatley.
In November 1917, he was paid for service as a patrolman by the city.
In 1920, he was foreman of a mining company and a resident of Gilbert, Itasca County, Minnesota.
In 1922, he moved back to Bemidji. Mr. and Mrs. J. E. Flatley and family arrived in Bemidji Sunday evening from Gilbert, Minn., having made the trip by auto. They are guests of her sister, Mrs. Fred Fradet and family of 1223 Dewey Avenue, for a few days but will reside here and they expect to move to their residence at 519 Irvine avenue soon. (May 2, 1922)
He moved to Hibbing about 1926. At the time of the 1930 census, he was living in Itasca County with wife Clara, Edwin, Lloyd, Russell, Marianne, Margaret, and mother-in-law Marie Adams.
Clara Flatley died in 1931. John Flatley died on July 6, 1945.
---
William P. Foley (1877 – 1964)
Wm. P. Foley, Pioneer Bemidji Businessman, Died at Age 88.
Mr. Foley came to Bemidji in the early lumbering days. He was born in Underhill Center, VT., in the family of the famous Civil War General Phillip Sheridan. He was named for the general, who was a favorite uncle.
An adventurous youth, Bill Foley traveled from Vermont throughout the United States in the days of the covered wagon, the river boats and the narrow gauge railway. His early life was filled with the color of the opening frontier. He came to Princeton, Mn., from the East and learned the brickmaker's trade. He was a millwright and a cruiser. In the latter capacity, he settled in Bemidji when there were bears in the street, 50 saloons, a boardwalk and very few churches.
Bill Foley was fascinated with the folk lore about Paul Bunyan, and with William Laughead was successful in having some of these legends set down in print. Throughout his entire life, he had a great interest in Paul Bunyan and was a charter member and an officer in the Paul Bunyan Assn., that staged the first Paul Bunyan Winter Carnival on Lake Bemidji.
Foley owned a livery stable with Claude McIver, whom he later bought out. Foley owned the first automobile in Bemidji. At first he couldn't drive it — he sent a man to school for that, but with many pioneers in the area, he became a force behind the Minnesota highway system. He planned the road around Lake Bemidji, and the first road was constructed with volunteer help. He owned the first gasoline pump in the Northwest, having obtained a Standard Oil franchise from the Rockefeller family.
Bill Foley also operated the first bus line in the city — two White buses that operated between downtown and the mill district. He also improvised exhaust heaters in the buses and operated them between Bemidji and Minneapolis. This was the first intra-state automobile bus line in Minnesota and he operated it until 1919. (A full account is continued in the Bemidji Sentinel, Feb. 21, 1964)
---
Paul Foucault (1875- 1938)
Paul Foucault was born in 1875 in Canada. He was a resident of Duluth in 1900, but moved to Bemidji on April 2, 1902. He was married to Anna Peterson, born in Denmark. He was a barber, by occupation. In 1904, he was slightly injured:
"Paul Foucault, the barber who runs a shop in the basement under the First National bank,
sustained a slight injury this morning. He went to the head of the lake in a boat to visit with
friends and was taking his gun out of the boat when it went off, taking effect in his left arm. The wound was dressed by Dr. Ward and he is getting along nicely." (Bemidji Daily Pioneer, Aug 16, 1904)
They first lived at 609 Twelfth Street. In 1905, Mrs. Foucault made an interesting announcement.
"Mrs. Paul L. Foucault has decided to open a Children's Home in Bemidji and is now prepared to receive children of all ages from infants up. She has secured a competent and experienced nurse and will devote her entire time to the work. The Home is already open and several children have been received. Anyone wishing further information can call phone number 232 call 3 or call at 609 12th St."  (Bemidji Daily Pioneer, June 21, 1905)
They moved to 614 Fourth Street by 1910 and lived there for decades. He and Anna were living at this address at the time of the WW I Registration in 1918. He was a barber in partnership with Sam Baney at 220 Minnesota in 1931.
Paul Foucault served on the Bemidji city council for six years, and was a charter member of both the Knights of Columbus and Moose Lodges, and a member of the Catholic parish. Foucault went to Duluth for a visit with his son Clarence and was stricken suddenly. He died Aug 20, 1938, age 64.
Mrs. Foucault continued to make her home  at 614 Fourth St. until her death at the Bemidji Lutheran hospital on Dec 25, 1953.  She was born in Denmark Nov. 3, 1870, the daughter of Christ Peterson. She was survived by a son, Clarence Foucault of Duluth, and five grandchildren.
---
Axel Frick (1869-1938)
Many immigrants came to this country in search of a better life. Some of our pioneers found it; others worked hard but never found the satisfaction and success that was part of their dream. Whether one became a prominent citizen,  a  lumberjack, or a tradesman, if they came here in our infant years, they were all pioneers of Bemidji.
Axel Frick, woodsman, worked in lumber industry. He never married. Single. Died by hanging with suicidal intent. Buried at Poor farm on Feb 9, 1938. Signed off by Charles Vandesluis, County Coroner.
Axel Frick Hangs Self on Home-Made Gallows
Longtime Resident of Bemidji Leaves Note Saying He did Not Want to Live Longer
Leaving a note saying, "I don't want to live any longer," Axel Frick, 68-year-old long-time resident of Bemidji, looped a piece of clothesline around his neck and hanged himself from the rafters of his home on Bachelors' Hill, west of the city, sometime early Monday.
Neighbors found the body about 10 a.m. Monday. Frick had used a piece of cordwood for a beam of his homemade gallows, fitted the noose about his neck and stepped off a chair. Dr. Charles Vandersluis, Beltrami county coroner called to the scene, cut the body down and called an undertaker.
Outside of the note, there was no evidence of a motive for the suicide other than Frick's explanation that he was tired of living. There will be no formal investigation.
The note, written in Swedish, said "I don't want to live any longer. Alex Swanstrom should have my house and land." Swanstrom is a friend living in the Bachelor Hill district.
Frick apparently was not in need. His house was tidy and well-kept and there was enough food to keep him for some time, besides adequate clothing. He received aid through the county old age assistance department. Several friends came to his home Sunday night to talk and listen to the radio.
Born in Sweden on April 11, 1869, he came to the United States 46 years ago. He had lived in the Bemidji region during most of that time earning a living as a lumberjack in the camps here until the big lumbering interests moved west.
He had not married and it is not known whether he had any living relatives in this country or not. The body was removed to the McGrath and Pickett Funeral chapel until arrangements can be made for the funeral. (Bemidji Daily Pioneer, Feb 7, 1938)
No relatives were located. The funeral was held with a few friends present. He had come to Bemidji in 1898.
---
Earl Geil
Earl Geil was Beltrami County treasurer for 34 years. Born at Pine Island, north of Rochester, Feb. 28, 1871, Mr. Geil moved to Bemidji in 1895. He built a home at the southwest corner of where the high school building stood at 15th and Beltrami Ave, and the foundation of the original site was incorporated into the high school foundation, forming the southwest corner. He later lived at 1301 Bemidji Avenue. Mr. Geil was chief of police for a year and Bemidji city treasurer for six years starting with  the organization of the city in 1896. He owned the Hotel Remore from 1898 to 1910.
He was treasurer of the Bemidji Fire Department for many years; honorary member of IOOF; charter member of B.P.O Elks; 50-year member of Bemidji Lodge No. 233 A.F. & AM.; and a member of the First Presbyterian Church.
A graduate of Milbank, S.D. high school, Mr. Geil attended the Adventist College near Lincoln, Neb., for a year where he was prominent in athletics. He died at Van Nuys, California died at Van Nuys, Calif., Nov. 28, 1966 where he had lived about 10 years.
His recollections of life in early Bemidji are on file at the Beltrami County History Center in Bemidji.
The Bemidji Pioneer featured him in a special issue of the newspaper on March 27, 1909:
"As proprietor of the Remore Hotel, Mr. Geil constitutes one of the many other mediums of strength which go to make up Bemidji. Mr. Geil, in addition to his vocation as hotel keeper, is chief of the local fire department, a distinction which has been conferred upon him for nine years past. He is also the treasurer of the city, now serving his third year, and is reckoned among our most powerful business men, as well as a potent figure in politics.
To indicate the worth of Mr. Geil, it is but necessary to state that he wears a gold medal in recognition of his proficiency as a fire chief, that he was elected by vote of the fire chiefs of the state of Minnesota to the International convention of fire chiefs held at Columbus, Ohio, in the year 1898, that he is a sterling business man and one who continually "boosts" Bemidji. As a hotel man he has won a record, legion friends and a reputation as a host and caterer. No further comment is necessary, only to state that Mr. Geil is  classed among the popular and busy men who have the Interests of the city at heart, and acts accordingly."
---
Earl Geil (1871-1966)
Born at Pine Island, north of Rochester, Feb. 28, 1871, Mr. Geil moved to Bemidji in 1895. A graduate of Milbank, S.D. high school, Mr. Geil attended the Adventist College near Lincoln, Neb., for a year where he was prominent in athletics. He married Etta Grimboldby in Oct 27, 1898 at Bemidji. They had three children at Bemidji: Melvin (1901); Flavian (1903) and Lillian (1903). Mrs. Etta Geil was very active in the Daughters of Rebecca. Lillian died Sept 18, 1907. Earl and Etta were divorced in 1916, and she moved to Minneapolis. In 1918, he married Beryl Burton Preble. They had two sons: Earl and Elton, and a daughter Barbara.
He built a home at 1509 Beltrami, the southwest corner of where the high school building stood from 1922 to 2008, and the foundation of the original site was incorporated into the high school foundation, forming the southwest corner. In 1920, he and Beryl lived on 4th Street while he was county treasurer. From about 1922 to 1942, he lived at 1307 Beltrami Avenue. Beryl died in 1930. He later lived at 1301 Bemidji Avenue in 1956.
Mr. Geil was chief of police for a year; Bemidji city treasurer for six years, from the first organization of the city in 1896 and owned the Hotel Remore from 1898 to 1910. He was treasurer of the Bemidji Fire Department for many years; honorary member of IOOF; charter member of BPO Elks; 50-year member of Bemidji Lodge No. 233 A.F. & AM.; member of the First Presbyterian Church.
Earl Geil, 95, Beltrami County treasurer for 34 years, died at Van Nuys, Calif., Nov. 28, 1966  where he had lived about 10 years. Funeral services were held at Sylmar, Calif., with interment in Greenwood cemetery, Bemidji.
---
Harry Clayton Geil (1850-1922)
Harry Geil was born April 14, 1850 at Clayton, Iowa. The Geil family came to Bemidji May 31, 1895 and were active in affairs here since those early days. Mr. Geil is classed as one of the pioneer settlers here.
Harry C. Geil, 72 years of age passed away on Aug 3, 1922 at his home on Fourth Street after an illness of over six months. He left a wife Ida M. and eight children.
His death was mourned by an exceptionally large circle of friends and acquaintances besides his wife and children, Mrs. John Marin, Guthrie; Mrs. H. L. Finke, Berthold, N. D.; Mrs. F. B. Kibbe, Milbank, S D.; Harry Geil, Spokane, Wash.; Erton C. Geil, Virginia; and Mrs. F. A. Hansen, Earl Geil and Miss Inez Geil of Bemidji.
---
Ole Gennes (1869 – 1943)
 803 Bemidji Avenue
In 1901, a builder completed the big white house at the corner of Bemidji and 8th Street. Ole Gennes was the owner of the Svea Hotel as well as a boathouse business and had the first pasteurization plan in Bemidji. In 1903, Ole bought the house for $500 when he became engaged to Mathilda. Ole and Mathilda raised their seven children there: Saverna, Edward, Ragna, Bertine, Harold and Katherine. Ole died in 1943, and Mathilda kept the house and took in B.S.U. students as roomers. Mathilda died in 1974. Saverna Gennes, 91, was the last family member to live in the house. She moved out of the house in 2002.
Ole Gennes bought Lot 2, Block 18 of the original townsite for $750 on June 28, 1900.
Born Sept 11, 1869. Died Nov 8, 1943. Ole Gennes, well known resident of Bemidji, passed away suddenly Monday morning about 9:30. Mr. Gennes had been in poor health for the past year and a half. He was born in Tronjheim, Norway and had lived in Bemidji since the time the family came to America. He had been engaged in the restaurant and creamery business before his retirement some years ago. Mr. Gennes was a member of the First Lutheran church. Survivors include his wife, Mrs. Mathilda Gennes of Bemidji; five daughters, and one son, Sgt. Harold Gennes of Camp White, Ore., three grandchildren and several relatives in Norway.
Mathilda Gennes – B. Aug 15, 1879. Died June 18, 1974.
---
May MacGregor Given (1889 – 1980)
May McGregor came to the Bemidji area about 1908.  On June 4, 1918 she was sent overseas to care for American soldiers fighting in World War I. "She left as a Red Cross nurse and returned as a second lieutenant in the army," said Given's daughter, Rosemary Given Amble.
Mrs. James Given, Bemidji nurse and educator, was honored with inclusion in the 1964 Who's Who in America. Her selection came in recognition of many years of active service to her community and nation, beginning with her first teaching position in 1907.
May Olive McGregor was born near Grafton, N.D on May 4, 1889. She completed her education at Grafton. She began her teaching career at Brocket, N.D. in March 1907 and continued at McVill, N.D. before coming to the Bemidji area where she taught at Solway, Island Lake, Nebish, Ferris and Rosby from 1908-1913.
She graduated from St. Mary's School of Nursing at Rochester in 1916 as a registered nurse and served at hospitals at Rochester, and did private nursing at Fort Worth, Tex., before joining the U.S. Army Medical Corps and serving with the American Expeditionary forces in Europe for 13 months.
Ten nurses and eight doctors from Rochester were assigned to Mobile Hospital No. 1, a surgical unit which moved along the front caring for the seriously wounded during the offensive at Chateau Thiery, Belleau Woods, the Marne, St. Mehiel, Argonne Forest and finally at Dead Man's Hill where the unit was stationed ahead of the heavy artillery.
Following the end of the war, Mrs. Given turned to public health nursing until her marriage to James Keatley Given on March 31, 1920 at Bemidji. The Givens had four children. She returned to nursing in 1955 as supervisor at the Fairview Nursing Home and later worked for four years as a home nurse in the Bemidji area. She served as a house mother at Bemidji State College since July 1946.
Mrs. Given was honored as Bemidji's Mother of the Year in 1953. She was a member of First Presbyterian Church and served as its Women's association president in 1932.
Mrs. Given died in 1980 and is buried in Greenwood Cemetery.
A more detailed account of her life was published in the Bemidji Sentinel on Nov. 8, 1963.  Additional information is in the vertical files of the Beltrami County Historical Society. An interesting manuscript entitled "Please Nurse!" covers her life as a nurse in WWI, 1918.
---
John Goodman (1873 – 1950)
Mr. Goodman was born in Ireland on April 17, 1873 and came to the United States in 1878. He settled in Bemidji in 1898 and as a contractor had a part in building most of the sidewalks in Bemidji. He was in the cement contracting business for many years with the Nels Loitved. Mr. Goodman also owned and operated the Bemidji Brickyards for many years and in later years operated a garage and cement block manufacturing business on the Bemidji- Park Rapids highway.
In 1907 he was married to Ethel May McTaggart. They had one son, Curtis, who was born December 17, 1910. They lived at 503 Bemidji Avenue until 1923, when he sold it to the Masonic Lodge 233 for $1.00. They then moved to 611 Bemidji Avenue, and later to 1203 Lake Boulevard.
Before becoming a leading contractor in Bemidji, Goodman was a partner in the first drug store to be built in the city, A. Gilmour & Co., founded about 1899. After that he was a partner in the E. N. French drug store and the George T. Baker jewelry store which was operated in conjunction with French's.
About 1918, Mr. Goodman turned to contracting, forming a partnership with Nels Loitved. The contracting company built some of Bemidji's first sidewalks and roads in the vicinity. I remember playing hopscotch on sidewalks branded with the names Goodman & Loitved.
Mr. Goodman was a volunteer member of the first fire department here and worked with the fire department most of his life in Bemidji.
Mrs. Goodman was born in Canada, the daughter of George McTaggart. She died in 1974.
---
Charles T. Gould (1889 – 1968)
Charles Theodore Gould was born Oct 16, 1889 in Litchfield, Minnesota, the son of Edmund and Anna Gould.  He moved to Bemidji with his parents about 1900.  He attended and played football for the Bemidji High School team. He was elected captain of the football team for 1909.
He was bookkeeper for Shavitch Bros of Bemidji at the time of WWI registration in 1918. Charles Gould served in World War I and was in France in 1918. He worked for Schneider Bros of St. Paul in 1920. He was a bookkeeper for Schneider Bros in 1922 in Bemidji.
Charles T. Gould and Larry Phelps, clerks in the Palace Meat and Grocery store, purchased the interests of B. F. Anderson and took over management on Feb. 1, 1945. Gould had worked for the Palace as bookkeeper for the previous 23 years.
Charles T. Gould married Margaret Catherine "Kathleen" Gannon in Beltrami County on Oct 2, 1945. Kathleen Gannon was a school teacher in Bemidji. Charles T. Gould died Feb 25, 1968 at Chula Vista, California, the home of his sister Mrs. Beatrice McCormick, and is buried at Pine Grove Cemetery in Cass Lake. His wife, the former Kathleen Gannon, preceded him in death in 1955.
---
Dana Gould (1892 – 1965)
Dana Silverius Gould was born in Litchfield, Minnesota on June 20, 1891. He moved with his parents to Bemidji about 1900. He attended the Bemidji high school and was a star end on the BHS football team.
Dana Gould was a member of the Bemidji Fire Department running team in 1911 at the annual tournament of the Northern Minnesota Firemen's Tournament association which was held at Ada on on July 3, 4 and 5, 1911. He continued to be a regular member of the Bemidji Volunteer Fire Department.
He was married to Hattie Hamerik in 1912 in Bemidji. He worked for Gamble Robinson in 1917 at the time of the World War I registration.
He went into business with his father, E. J. Gould & Son, but the business ended in bankruptcy in 1913.
Dana S Gould  accepted a position as solicitor for D. Moore, insurance agent in October 1916.
In July 1917, Dana S. Gould  purchased the  E. L. Woods grocery store at Ninth street and America Avenue and  began business under the new name of Gould's Grocery. They owned a grocery store and home at 906 Irvine Avenue in 1920. They owned a home at 312 Tenth St., Bemidji in the 1930's.
After his wife's death in 1939, he lived briefly with his brother Charles at the Gould family home at 717 America Avenue. He then moved to Chula Vista, California. He died at San Diego, California on Jan 11, 1965.
---
William Henry Halladay (1857-1936)
William Henry Halladay was born June 22, 1857 in Pennsylvania to Joseph G. Halladay and Mary Martha Strong.
He first came to Bemidji in 1893 or 1894 and filed on a homestead, building his claim shanty on the ground which is now contained in the Bemidji Teachers College campus. A year later, Mr. Halladay sold his homestead rights and returned to Fosston because of the illness of a son. He returned to Bemidji in 1898 and remained in Bemidji until 1927 when he moved to Oregon. Although a carpenter and wagon maker by trade, Mr. Halladay had some ability as a violinist and played for the first Fourth of July dance ever held in Bemidji at Carson's trading post. (Northland Times, Apr 24, 1936)
William and his wife Hattie and three children at Fosston in 1895. Occupation: Carpenter
1900 Census: William H. Halladay, age 43. Resident of Bemidji. Married in 1880 to Hattie Halladay. Children: Lily, Ellen, and James, age 12. He owned his own home, free of mortgage. Carpenter.
Housed Smallpox Patients:— The city health authorities and the family of W. H. Halladay clashed yesterday over a point of law in connection with the care of contagious diseases. Two cases of smallpox were developed in the Halladay family and both were allowed to remain in the tent in the yard. The matter was reported to the health authorities, with the result that the patients and the entire family were compelled to take to the house under strict quarantine regulations. July 8, 1904.
Martin Everson and Miss Lillie Halladay were the principals in a very pretty wedding Tuesday at the home of the bride's parents on Irving avenue. Rev. Thomas Broomfield performed the ceremony. (July 5, 1906)
Wm Halladay was a Justice for Northern Township in 1906 along with M. D. Titus.
James Halladay was a member of Company K in 1908.
Rev. H. R. McKee, pastor of the Baptist church ot this city, officiated at the marriage yesterday noon, of Theodore Lee and Miss Ellen Hallady. The ceremony was performed at the home of the bride's parents, six miles north of Bemidji, and an elegant dinner was served in the open air, there being about thirty guests present. Mr. and Mrs. Halladay left today for their future home at Benson, Minn. (June 23, 1909)
Mrs. Mary Halladay of Hewitt, Minnesota, is the guest of her son, William Halladay and family of this city. She expects to remain a month. (Feb. 24, 1914)
Leslie Halladay married Lizzie Larson on Oct 5, 1914 in Beltrami County, Mn.
Mrs. William Halladay of Ranier, Minn., arrived in the city Thursday evening to make an extended visit with her daughter, Mrs. Martin Everson. (Aug 28, 1920)
William H. Halladay died on March 23, 1936 at his home in Oregon. Burial in Oregon, along with wife, and son James and his wife Dorothy.
---
Alvin B. Hazen (1852-1931)
A.B.  Hazen was born in Prairie Du Chien, Wisconsin, April 4, 1852. During the Civil War, he was left to help his mother as the head of the family while his father was fighting in defense of the Union.
Later years saw him in various capacities in the west. In 1875 he was steward on the old river steamer Selkirk, which plied between Moorhead and Winnipeg, before the advent of the Northern Pacific or Great Northern railroads across the Red River. In 1877, he went to the Black Hills and was for several years engaged as freighter and stage driver for the old Northwestern Transportation company between Bismarck and Deadwood.
Until  his removal to Bemidji, Mr. Hazen was farming at Parkers Prairie, Otter Tail county. During his long residence in Bemidji, he was actively engaged in politics and took a keen interest in every election. He was a staunch, life-long Republican and besides always supporting the straight ticket, was a liberal contributor to the Republican campaign fund.
He was a resident of Beltrami county for about 35 years, first being engaged as a logger and later going into business in Bemidji. He came to Bemidji in 1893. In Jan 1900, he leased the Merchants Hotel and moved in. Mr. Hazen was an old hotel man and was greeted warmly as the proprietor of the hotel. The hotel burned in 1907. He was elected sheriff in 1908 and 1910 for two-year terms. He lived on an excellent farm on the shores of Lake Plantagnet south of the city until 1927 when he moved to Mill Park.  He died in 1931 and is buried in Greenwood Cemetery.
---
Callie Arnold Hazen (1889-1981)
Callie Hazen was born Aug. 18, 1889, in Columbus, Kan., the daughter of Calvin and Mathilda Arnold. She came to the Bemidji area while young and attended school here. She was a piano student of Miss Dickinson in 1906 and 1907 and was part of several music programs rendered by a group of about ten young ladies including Etta Gould, Ruby Henrionette, and Lottie McDonald. She graduated from the 8th Grade on May 28, 1907. She and Olive Cunningham played a piano duet for the graduation program.  She married Earl Hazen on Aug 24, 1907 in a double wedding performed for the Hazen couple as well as for Everett Bishop and Etta Plummer on a Saturday evening at Bemidji. She played piano for silent movies at theaters in Bemidji and lived most of her life here. She lived in St. Paul from 1962 and 1980, when she moved to Longville to live with her son. She returned to Bemidji in 1982. She died in September 1985 at Bemidji.
---
William Hillgrove (1852 – 1911)
After having advanced well on the road to recovery from injuries received from a fall on cedar poles July 31 at Turtle River when four ribs were broken and his collar bone fractured, William Hillgrove fell a victim to pneumonia Thursday and died yesterday. At the time of the injury, Mr. Hillgrove was assisting the D. K. Deal Lumber company in loading cedar poles. He was a mason by trade and was doing work at Turtle River but yielded to a request to aid in handling the poles, and while on top of a car which was being loaded was hit on the head with a pole, throwing him to the ground. While being brought to Bemidji he caught a severe cold which developed into pneumonia. Mr. Hillgrove appeared to be recovering rapidly, and yesterday afternoon while talking to his wife told her he soon expected to be taken home. An hour later he was dead, his heart having given out under the strain of the disease, although double pneumonia is given as the real cause of his death. He is survived by his wife Elizabeth and step-children. Florence Huck, Allen, Clarence, Susan and Severn Huck. The funeral will be held Tuesday morning at 8:30 from St. Phillip's Catholic Church. He was 52 years old. (Aug 12, 1911)
Mr. Hillgrove was born in June 1872 in Maine. He moved with his mother and siblings to Minnesota about the time of the Civil War. He was in Rice County in 1870, and at Black River near Red Lake Falls in Polk County in 1895 and 1900, a single man.
Elizabeth Hillgrove, a pioneer resident also, passed away on January 12, 1945 at the home of Mrs. Ernestine Tharaldson, 723 Irvine avenue, following a short illness. Mrs. Hillgrove was born April 17, 1864 at Wellesley, Ontario, Canada, and came to Bemidji in 1904, where she was married to William Hillgrove and resided at 707 Irvine avenue for many years. Se is survived by one daughter. Burial will be held at New Hamburg, Ontario, Canada, her childhood home. The body will be taken there by Miss Huck, accompanied by Mrs. Tharaldson. (Bemidji Daily Pioneer, Jan 13, 1945)
---
Nicholas Hirt (1873-1965)
Nicholas Hirt was born in Minneapolis in 1873. He spent his younger years working at the harvests in North Dakota. He married Orissa Arnold at Hudson, Wisconsin in 1896 and they lived in Minneapolis until the next summer when they moved to North Dakota. In the winter of 1897, they moved to Bemidji, living in a slab shack on First Street where the old Nash Finch building is now located. Mr. Hirt was engaged in logging and reported many visits with Chief Bemidji, who lived to well over 100.
In the summer of 1898 they went by covered wagon to Crookston to file on a homestead in Rockwood township and lived there until his death in 1965.
Mr. Hirt worked for the Crookston Lumber Co. in the early 1900s as a millwright, did blacksmithing for neighbors while clearing land to get started farming. He served several years on the town board also on the school board. In later years he was engaged in dairy farming and timber cutting.
---
Anton Hoganson (1878-1965)
Anton O. Hoganson was born in Spring Valley, Wis. on June 4, 1878. He grew to manhood there. He and his brother, John, established the Model Dry Cleaning House at 106 Second Street in Bemidji in April 1909 which he continued to operate until his retirement in 1949. He was married to Hilda Hanson in Minneapolis in 1912 and she preceded him in death in 1960. Mr. Hoganson was a long-time member of First Lutheran Church, a member of Civic and Commerce for many years; served on the Bemidji Hospital Board during much of its development period. During World War II, Mr. Hoganson spent a great deal of time promoting War Bond sales and was an avid sports enthusiast his entire life. Toward the end of his life he lived at Lake Plantagenet. He died at the Bemidji Hospital on Feb. 9, 1965, following a brief illness. He had been a resident of Bemidji for over 60 years. Anton and his wife Hilda had two sons, Harold and Donald, and one daughter Mona. Harold and Mona both moved away from Bemidji.
Dr. Donald E. Hoganson was born Sept 5, 1917 at Bemidji. He graduated from BSU and U of M School of Medicine. He served as an Army physician in both WWII and Korea. He and Grace Hardy were married on June 17, 1944 in Minneapolis. He was in private practice in Bemidji for 25 years before joining the staff of the VA Medical Center in Tomah in 1972. He retired in 1984. He served as a team physician to numerous high school and college teams as well as supervising medical coverage of the Minnesota Viking training camps in Bemidji from 1961-1965. He was a fellow emeritus in the American College of Sports Medicine. He retired from the Army Reserves as a colonel.
---
John O. Hoganson (1878-1938)
John O. Hoganson was born in Spring Valley, Wisconsin in 1877. He went into the dry cleaning business at Bemidji with his brother Anton Hoganson under the name of the Model Dry Cleaners in the spring of 1909. He married Otelia Knutson on May 25, 1910 in Bemidji. They lived briefly at 909 Bemidji Avenue, then at 805 Minnesota Avenue and then built a new home in 1912 at 1302 Bemidji Avenue. He died in March 1938 and was survived by his widow, Otelia, two sons, Lester and Wayne, and a daughter, Irene. Otelia continued to live in their home until she died on June 20, 1964.
Lester Hoganson, their son, graduated from BHS in 1932. He attended Bemidji State Teachers College for three years. He later worked at the First National Bank in Bemidji as a teller. He married Marion Olson Sept 1, 1944 at Bemidji. He served in WWII as a flight instructor and then overseas in the Philippines. After the war, he returned to work at the First National Bank. He retired from the bank as president in 1979 after 44 years of service. He and his wife traveled extensively after retirement until her death in 1988.
---
Oscar J. Houske (1873 – 1905)
Oscar Houske, one of the pioneer residents of Bemidji, died yesterday afternoon at his home at 504 Minnesota avenue. The cause of death was tuberculosis, from which he has suffered during the past winter. The remains were prepared for burial and shipped to his old home at Halstad for interment, the Bemidji fire department of which he was a member, escorting them to the Great Northern depot.
Mr. Houske came to Bemidji seven years ago and has lived in the city with his family ever since. He is survived by his wife and two children who live in Bemidji and by his father, four brothers and one sister, who make their home in Halstad. (Pioneer, June 1, 1905)
Matilda "Tilla" Gilbertson was born in 1868 in Fillmore County, Mn. She married Oscar Julius Houske in Polk County on April 8, 1898, and then they moved to Bemidji. After her husband's death, the family moved to North Dakota.
---
Florence Huck (1883 – 1975)
Florence Lorraine Huck, 92, of 707 Irvine Ave. died June 4, 1975. She had been a resident of her home on Irvine Avenue since 1904 when she lived with her mother and stepfather Elizabeth and William Hillgrove and several younger brothers and sisters.
Miss  Huck was born March 13, 1883, at Wellesley, Ontario, and attended school in New Hamburg, also in Ontario. She came to Bemidji in 1904 and made her home here since. For a time she taught in the Nebish School and later worked at the W. G. Schroeder General Store for a few years. In 1920 she joined the establishment of Given Hardware as a bookkeper in Bemidji and was employed there until they sold in 1952.
---
Margret Hultgren (1851 – 1930)
Margaret Hultgren was born in Vadstena, Sweden on April 22, 1851. She emigrated to the United States in 1874. By 1895, she was a nurse living in St. Paul, Minnesota. One can only wonder how a single woman, a nurse, found herself in Bemidji by 1910. She lived near Lake Irving in a little house at 214 America Avenue SW and then at 512 Oak St, if not all, of the time she was in Bemidji. It was a lovely neighborhood. The baseball field was close by and there was plenty of fishing and swimming by the youngsters in Lake Irving. She also lived near the Bemidji Brewery which was a booming concern until all saloons and breweries were closed on Nov. 30, 1914 in Bemidji.
She was very active in the Swedish Mission, and she repeatedly hosted meetings and lectures at her home, when pastors came to town to preach for the Swedish Lutheran Church. The photo is from 1914.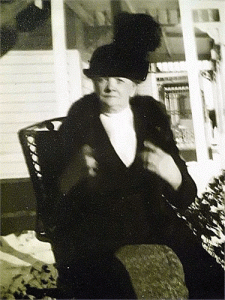 She worked as a nurse in Bemidji until she suffered a nervous breakdown in the fall of 1918 and spent time at St. Anthony's hospital. She recovered sufficiently to leave the hospital and return to her home. She continued to host some of the meetings of the Swedish Mission until October 1919.
A neighbor boy, Clinton Ditty, remembered Miss Hultgren, the elderly lady who lived to the south of the Clinton's, who used to prepare and sell roasted peanuts.  Everyone helped her out, including Clinton who helped her separate the skins from the peanuts and help sell them.  They sold for 10 cents a bag, which was expensive for a few peanuts in a bag. Clinton Ditty figured people bought them to be charitable, but she also lived close to the depot of the Red Lake railroad. Clinton, himself, sold peanuts and newspapers at the Red Lake line depot. There were mostly Indians and lumberjacks riding this train, but in its early years, passenger revenues accounted for about 25 per cent of the operating receipts of the railroad. Railroad-sponsored pleasure trips to Red Lake added to passenger traffic. During August and September, 1906, the railroad ran special excursions each Sunday between Bemidji and Redby at a round-trip fare of one dollar. In 1938 when the Red Lake line went out of business, it was sad to see the little railroad fail because there were no more logs to haul. The old depot has been remodeled and is now a private residence.
In 1927, Margaret Hultgren left Bemidji and went to Chicago. One can only speculate why she left. Perhaps she had family in Chicago. She died there at the age of 78 on Jan 27, 1930. She is buried in Oakdale Cemetery in Chicago.
Her little house at 214 America Ave SW no longer exists. Neither does the house at Oak Street.
---
Omund S. Huset (1867 – 1943)
Omund S. Huset, one of Bemidji's early days rural mail carriers and a pioneer farmer of Frohn township, died at his home on August 21, 1943, at the age of 76 years.
Mr. Huset was born in Norway at Satersdahlen on March 13, 1867, and homesteaded in Frohn township 49 years ago, building on his farm to be one of the best improved in that community. It was on this farm that he resided until death.
In 1890, Mr. Huset took as his bride, Miss Agnes Moi, at McIntosh, Minn.
For about 27 years, Mr. Huset carried a rural mail route out of Bemidji. He knew the hardships of the pioneer rural carriers, being forced to make winter deliveries on foot, by horseback and by sleigh. It was often necessary for him to make his route as far as his home and there change horses for the remainder, due to heavy snows or spring mud. In later years he switched to an automobile and up to a few days prior to his death the sight of him serenely driving along the highway and Bemidji streets in an early dated Model "T" Ford was common. (Northland Times, Aug 27, 1943)
---
Irwin, John W. (1861 – ?)
John W. Irwin was a Scotsman, born in New Brunswick, Canada. [or Maine] He became known throughout northern Minnesota as a partner in the Irwin & O'Brien Lumbering operation, and Irvine Avenue in Bemidji is named for him.
In 1905, the family was boarding at Markham Hotel – Occupation: Lumbering, Wife Hattie, born May 1964 in Missouri.  Son, age 6, Walker Irwin, born May 1896 in Minnesota.
In 1905, he and family lived at 700 Minnesota Avenue. Two sons, Walker and Kenneth. Occupation: Lumbering.
Charter Member of Bemidji Elks Lodge 1052 for in 1906.
J.W. Irwin's Great Little Pacing Mare Has Been Showing Great Form This Season. The friends of J. W. Irwin, who has made his home in this city for the last ten years, are congratulating him on the fine showing which is being made by his fast little pacing mare, "Isinetta." "Isinetta" was bought by Irwin from W. J. Phelps in this city in 1906, and considerable local interest is taken in the horse since she became the property of Mr. Irwin. The little mare was carefully trained by Mr. Phelps and has at all times exhibited a world of speed. (1908)
Fast Horse Owned By J. W. Irwin in State Fair Feature Race.
Bemidji horsemen and other local sportsmen who are lovers of horse racing were greatly interested in the outcome of the free-for-all pacing race, which was the feature event of the speed program at the state fair Monday afternoon. This interest was occasioned by the fact that the owner of Isineta, one of the speediest entries in the race, is owned by J. W. Irwin, for many years a resident of Bemidji and known all over Beltrami county as a member of the big logging firm of Irwin & O'Brien. Mr. Irvin purchased Isineta from "Dad" Phelps, the veteran driver of Minneapolis, five years ago, when "Dad" was participating in the races which were being held on the fairground tracks in Bemidji. (1910)
Along with Walter J. Markham, he purchased the St. Louis Hotel in Duluth on Dec 4, 1911, and he planned to be an active manager of the hotel.
---
Edward Jerrard (1870 – )
Edward Jerrard was born about 1870 in Wisconsin. He came to Bemidji from St. Cloud in August, 1899, being one of the first to arrive here and take up his abode in the frontier town of the northern woods. "Ned" Jerrard soon took a prominent place among Bemidji's early hustlers. Jerrard conducted the first plumbing business in Bemidji, and he built much of the early lines of piping about the city.
E. H. Jerrard and F. J. Kennedy have each built a fine ice boat to use on Lake Bemidji. (Jan 1, 1900)
In 1905, J. C. Covington, who had come to the city the previous year, joined forces with Mr. Jerrard and the two gentlemen engaged more extensively in the plumbing and heating business, with much success.
In the fall of 1907, Messrs. Jerrard & Covington decided to engage in the hardware business, as well as the plumbing and heating business, and they immediately put in a splendid stock of hardware of all kinds.
The success of the firm, since putting in the hardware stock, has been even more pronounced than when they were engaged exclusively in plumbing and heating. Jerrard & Covington dissolved their partnership in March 1909. Jerrard continued to work in the hardware business and also advertised that he would fix ay problems with boats.
Jerrard & Covington had a large boat house, on Lake Bemidji, where there are slips for rent to any persons desiring the same.
Edward Jerrard was still living in Bemidji in 1930.
---
Alfred Hunt Jester (1867-1935)
Prior to coming to Bemidji, Al Jester had been sales manager for the Cudahy Packing company of Sioux City, Ia., and later traveled on the road for the Greene-De Laittre company of Minneapolis. He  married Caroline Halbritter in Minneapolis on July 5, 1901. She died in Bemidji in March 1905. Mrs. Jester was 24 years of age and had lived with her husband at Lake Plantagnet for several years past. In June 1905, he was a widower, residing in Bemidji along with his young daughter Constance Gladys Jester and his mother Alma Jester. While he was in Bemidji, he was the manager of the Rex Hotel and later deputy United States Marshall. His first love was for his farm at Lake Plantagnet.
In July 1907, Billy's Hunt's "Purple Book" contained the following write up of  Jester's farm on Lake Plantagnet, which was liberally sprinkled with good-natured jollying of the local bunch of Elks.
"Did you ask 'How do I like farming?' I don't think I can stand it any longer than a lifetime. It's simply awful on a hot day to lie on the beach and let the minnows tickle the bottoms of our feet. Stand it? Say, I went to Bemidji last week for the first time in a month, and they had to put a blanket over my head to get me up to a train. They are building a crate to take me to Stillwater with the Bemidji boosters in August."
Elks from all over northwestern Minnesota are flocking in on Bro. Jester's summer cottage farm, and returning, speak in the highest terms of him and his lovely wife as host and hostess. Crookston frequently sends bunches of Elks down there, and Al simply can't do the "chores" about the farm while he sees antlers browsing about. He outfits them with fishing tackle, rows their boats, shows them where the fish delight to haunt, and assists them in every way to have a good time. And when they do not catch any fish, which is almost invariably the case, be slips a nice string to them and frames up a tale which they are to repeat when they reach home. He did this for Wiley Phillips of Crookston, in June and went so far as to furnish Wiley with a supply of mosquito bites just to make it realistic.
The Bemidji Elks' quartet was over at Al's place this month. This famous musical organization, consisting of Bro. Chas. Decker, Al Jester, Fred Jordon and Bill Wilson, got into a boat in the moonlight, and the beautiful strains of melody floated over the waters until the very frogs hushed their croakings and bent their emerald heads in rapt attention.
Say, Old Bill Elk, if you want to know what good warm, kindly hearts there are in the world you want to get mixed up with this Crookston- Bemidji bunch. If there is a dead hair on your head, it will instantly drop out at sight of these noble fellows. (Aug 1, 1907)
He was extremely popular with his fellow Elks while in Bemidji, who referred to him as "the prince of Jesters." Members insisted that he preside over their social session in May 1909.  On Feb 4, 1910, at an Elks meeting the crowd insisted that Al Jester tell his "telephone story," which he did with even greater ability than he has displayed on previous occasions, causing screams of laughter.
It was thought that he had an excellent chance for the Republican nomination for the state senate, but he withdrew his nomination in 1910 and said he did not wish to pursue the nomination any further. He preferred to be a farmer.
On Aug 23,1911, Kathryn Marie Jester was born at Bemidji to Al and his wife Marie (Daley) Jester.
A. H. Jester took charge of the Bemidji Brewing company as of July 9, 1912, and made a number of changes in this institution which were expected to materially increase the output of the plant and enlarge the scope of its labors. He installed new offices, placed a traveling salesman in the field and increased the capacity of the bottling department.
He took a job as a traveling representative for Stone-Ordean-Wells Co. wholesale grocers in 1918, but kept his home base at Bemidji. In December 1919, he announced that he would soon leave for Great Falls, Montana, where he assumed management of the branch headquarters there. As of Jan 1, 1920, when he took the job in Great Falls, he already had thirty-one years experience in traveling. His daughter Constance Gladys Jester was married in Great Falls, Montana in 1922. Al died at Duluth in 1935 about five months after his transfer from Great Falls, Montana. He was sales manager for Stone-Ordean-Wells at both locations.
After Al's death in 1935, his wife Marie continued to live in Bemidji and worked as the head waitress at the Hotel Markham. They had often lived in the Markham Apartments during the winter and returned to their farm at Lake Plantagnet for the summers.
Al and Marie are buried at Greenwood Cemetery.
---
Lafayette Johnson (1852 – 1940)
Lafayette Johnson was born in Marion, Ohio in 1852 and came to Princeton, Minnesota in his early manhood and came to Bemidji in 1902. He was employed as a cruiser, surveyor and forest ranger. L. F. Johnson was an easy winner for the position of alderman, first ward in 1908 under the mayorship of J. P. Pogue. He served on the city council in 1912 and was a straw vote candidate for mayor along with William McCuaig, George Kreatz, and F. M. Malzahn. He was president of the city council for two years and represented the first ward as alderman for two years before he ran for mayor in 1919.  He ran for re-election in 1920. "Your vote cast for L. F. Johnson for Mayor of Bemidji, means the endorsement of a loyal, patriotic American citizen."
He was an early member of the Bemidji Elks Lodge 1052.  He was a member of St. Philips Catholic Church when it was built in 1908. He and his family lived at 1014 Bemidji Avenue from at least 1910-1940
His wife, Lenora Johnson, passed away at their home on March 9, 1926, following an illness of about two years. Lafayette Johnson died on July 5, 1940. They were the parents of four sons, Clyde, Ralph, Ed, and Harry Johnson.
---
Thomas Johnson (1872-1921)
Thomas Johnson was born in Norway. He was an architect and contractor in Bemidji. He was an early resident. He was married on Oct 6, 1900 to Bertha Hagen, who had arrived in Bemidji about 1897. In 1905, the family was living at 1001 Minnesota Avenue. His wife Bertha died suddenly on Nov 22, 1907. The funeral was conducted at the Norwegian Lutheran church. Rev. Stromme spoke in the Scandinavian language and Rev. White gave an address in English. The members of the Norwegian Lutheran Ladies Aid Society attended service in a body and acted as escort to the cemetery. The members of the Scandinavian Sick Benefit Society also attended the service. Both societies gave handsome floral tributes, which were placed upon the casket. Thomas was left with five motherless children.  By 1910, he was living with his three daughters, Myrtle, Elizabeth and Otelie in the house at 1001 Minnesota Avenue.
According to a note in the souvenir edition of the Bemidji Pioneer on March 27, 1909: "Mr. Johnson  never subordinates skill to cost. He does not pose as a bidder for third-rate work, and his reputation throughout this section of Minnesota conveys an idea as to how highly he is rated in his craft. He constructed the Charles Nangle building, the Northland Cold Storage Plant, and of residences he has built as many as would count to hundreds in number, the same costing from $1,000 to $6,000."
In August 1909, Mr. Johnson was awarded the contract for the new Carnegie Library. The site which was provided by the city was at the corner of Fifth street and Lake Boulevard, within the limits of the city park — an ideal location for a library building. The newspaper touted: "The new building will be imposing in appearance and will add greatly to the pretentious-blocks of the city. It will be one story high, with full basement, the latter to be faced with Bedford stone, the upper structure to be built entirely of Twin City pressed brick. The building will be of colonial design, the front to be beautified with two large columns of Bedford stone, with ornamental caps, and an ornamental gable piece. Over the lobby, a dome will be built, resting on four large ornamental columns, which will lend solidity to the whole scheme of the building. The woodwork on the interior will be finished in red oak."
In 1912, Thomas Johnson was the contractor for the new Kelliher Hotel owned by George Gunderson. "The new Hotel Kelliher will be formally opened to the public tomorrow evening. The event of the evening is to be a dinner followed by a ball in the spacious dining room. The Blackduck orchestra of eight pieces has been engaged to furnish the music during the evening. The hotel is located one block from the Minnesota and International depot and is situated in the heart of the Kelliher business district." (Bemidji Daily Pioneer, Feb 21, 1912)
In 1917, Thomas Johnson was the architect for the remodeling and alterations in Bemidji's Central School Building.
In 1919, Thomas Johnson returned from Washington, D. C. where he had been in the government service during the war period. Mr. Johnson was engaged in the contracting and architect business before leaving for Washington. (Nov 6, 1919)
Thomas Johnson died in December 1921 and was buried in Greenwood Cemetery.
---
George Knight, Veteran Soo Line Freight Agent (1890 – 1987)
George Knight retired as Soo Line freight agent on October 18, 1960. He came to Bemidji when it was a thriving lumbering center in 1915 just a few years after the Soo Line had completed its Moose Lake-Plummer extension.
Knight was born and raised in Edgerton, Ohio, where he spent his youth. At the age of 18, he made his first journey into the North Country, working for the Duluth Mesabi and Northern railroad out of Duluth as operator and cashier. He received his Bemidji assignment with the Soo Line in July 1915.
George S. Knight married Mary Lynch in Mille Lacs county on July 4, 1915. During the 1920's, they lived at 1111 Lake Boulevard Ave, then rented a house at 1304 Beltrami Avenue, and by 1935, they lived at 1122 Bemidji Avenue. They raised two sons, Jim and George, and a daughter Patricia. Mrs. Mary Knight died in 1956.
Knight recalled that across from the Soo Line depot was a frog pond covered with water two feet deep. The Bemidji Hotel occupied the spot in the 1960s. Much of the town in the early days was located south of the tracks between the depot and Lake Irving.
George Knight was part of a class of potential members of the Bemidji lodge of Elks in  May 1917. Other members the class were: Chief of Police Frank Ripple, Albert Halverson. Walter Marcum, F. A. Shavitch, A Palmer. V. A. Stewart, Lester Geer, L. J. Stundlund, W. A. Rice, Greg Malone,  Henry Miller, and Al Harris.
Mr. Knight married Helen Thunder in 1959. Mrs. Helen Knight was honored by her fellow employees at the telephone office when she retired after 45 years of service on June 18, 1960.
George Knight died in Bemidji in 1987 and is buried in Greenwood Cemetery. Mrs. Helen Knight died in 1990.
---
Ariston Lord, 1857 – 1932
Ariston Lord wasa pioneer resident of Bemidji and a veteran employee of the Shevlin Carpenter Co. with which he was connected since he first went to Minneapolis as a young man.
Mr. Lord was born in Readfield, Maine in June 1857 but moved with his parents while still an infant to Livermore Falls where the family lived until he was seven years old. At that time they moved to Muskegon, Mich., where Mr. Lord first entered the employ of the Hamilton Lumber Company when he was only 11 years old. At the age of 16 he was a band sawyer for the Hall and Ducey Lumber Co. When he was 22 years old, he moved to Minneapolis and in subsequent years he worked in northern Minnesota, still in the employ of the same company. From Minneapolis Mr. Lord went to Grand Rapids for seven years and came to Bemidji about 1903. This company  became the Shevlin-Carpenter Co. and Mr. Lord stayed connected with the organization holding various positions as a timber estimator and in charge of camps. Although he retired from active work in 1917 because of failing health and the company closed its operations in this section, he was kept on the payroll until the time of his death.
He was married in 1894 to Mary E. Shannon in Minneapolis. They had four children: Elbridge, Hovey, Cora and Margaret.
The large corner home at 903 Beltrami was the Lord family's home from the early 1900s to the early 1950s when it was remodeled to apartments.
Mr. Lord was a member of the Masonic lodge and an active participant in the affairs of the Presbyterian church serving in various official capacities. Mr. Lord had a host of friends in Bemidji and vicinity. His business connections brought him in contact with many of the pioneer timber workers of this section and his social and religious activities in the city made him well known in all circles. Both Mr. and Mrs. Lord were exceptionally active in all forms of charitable work and had many close friends.
* * * * * * * * * * *
Mrs. Mary Ellen Lord was born July 5, 1859 in South Molunkus, Maine. She was one of 11 children of William ad Margaret Shannon. She was united in marriage to Ariston Lord June 23, 1894 in Minneapolis. In 1897 they moved to Grand Rapids and made their home there for seven years. In 1904, they left Grand Rapids and came to Bemidji, and Mrs. Lord made her home in Bemidji until her death.
Mrs. Lord was active here in the interest of Bemidji for many years. She was the first president of the American Legion Auxiliary and acted as the head of the Relief department of the Associated Charities during her first years in Bemidji. She later was a conscientious worker in the American Red Cross. She was a long and faithful member of the local Presbyterian church and served as president of the Ladies Aid of this church at different times. She was also a trustee of the local Chapter of the Order of Eastern Star. Mrs. Lord's vital and active life had a wide influence in the development of Bemidji and of her church.
Mrs. Lord died on Feb 4, 1946. At the close of her funeral service, the officers of the Order of Eastern Star which attended in a body read their committal service around the casket of the church.
* * * * * * * * * * * * * * * * * * *
Margaret Lord was raised and educated in the Bemidji area and graduated from Bemidji High School in 1923. She attended French's Business College after high school. She married Harry O. Peterson in 1951 in Bemidji. She worked most of her life as a clerk at J.C. Penney in Bemidji.
---
John A. Ludington
John A. Ludington had one of the best known hardware stores in Beltrami County. He conducted a hardware store known as the Builders Hardware and sold shelf and heavy hardware, stoves and ranges, light and heavy iron, wagon stock, wire fencing and rubber goods, ammunition, guns and other sportsmen's necessaries. The hardware also housed a repair shop, did corrugated iron and tin work of every description, and was equipped to meet all needs connected with this line of business.
John A. Ludington was born in Dallas Co., Iowa in September 1866.  He was married to Alice Wallace on May 29, 1890 at Green Mountain, Marshall Co., Iowa. They lived in Minnesota when their two sons were born – Kenneth in Aug 10, 1894 and Ardis Michael, born May 6, 1899. They moved to Bemidji.
By 1900, he was in business as McCuaig and Ludington in The Big Store. In May 1900, he was one of the firms that agreed to stay closed on Sundays during the summer of 1900. On January 15, 1903, one of the boldest robberies that ever took place in Bemidji was perpetrated when Herman Kieser, a farmer living in the town Eckles, took from the warehouse of McCuaig & Ludington a large amount of stuff consisting of 100 pounds of flour, two boxes of soap, 200 pounds of sugar and two sacks of feed. He drove up to the rear of the warehouse just after noon, loaded the stuff into his sleigh and drove away. Robt. Clark, one of the employees of the store, noticed him loading up and supposed that the goods had been purchased, but upon going into the store learned that no such sale had been made. A search was immediately begun and the fellow was found on the street and arrested. A search of the sleigh revealed the fact that he had also called at E. H. Winter & Co.'s warehouse and taken from there two tubs of creamery butter, two sacks of oats and four sacks of feed.
By April 1904, J. A. Ludington was no longer associated with The Big Store, but he had his own business.
J. A. Ludington was elected as a member of the School Board. He was elected mayor for four terms in 1902, 1903, 1904, and 1905, but resigned after only a month of his fourth term.
"At the meeting of the city council last night, a decided surprise was sprung the members in the resignation of Mayor J. A. Ludington, who has served only a month of his fourth term as the city's chief executive. Mr. Ludington's resignation was not acted upon last night, but a meeting of the council will be held tomorrow afternoon at 2 o'clock, at which time it will be decided whether or not it will be accepted.
Mayor Ludington was interviewed this morning and he gave several reasons why he wished to retire from the city's service. He said that of late his hearing, which has been impaired for some time past, has been growing steadily worse and that it would be necessary for him to leave Bemidji for treatment in the near future. Another reason, he said, was that his business took up all of his time and that he could not properly take care of the numerous duties that fall to the lot of the chief executive. He also stated that, in spite of the fact that he had done everything possible to administer the affairs of the city to the best of his ability, unjust criticisms had been heard regarding his official acts and that the pay connected with the office was not enough to compensate him for the work he had done." (April 4, 1905)
Mr. Ludington sold out his business in June 1909 to A. B. Palmer, one of the pioneer residents of Beltrami county who for many years had engaged in the livery business at Solway. Mr. Palmer had disposed of his livery business at Solway in the fall of 1908 and moved to Bemidji.  Mr. Ludington then went to various states in the west to look for better conditions for his health. He returned to Bemidji in July 1909, but decided later that year to move to Idaho.
---
Thomas Maloy (1835-1914)
Thomas Maloy, 79 years of age, one of Bemidji's oldest and most respected citizens, died at his home on Beltrami avenue April 3, 1914 following a week's illness caused by pneumonia. His condition was regarded as serious last Saturday and Sunday, but Monday he was believed to be improving. He gradually grew worse, death resulting today. For four terms he was city clerk of Bemidji, previous to which time he was in the mercantile business in southern Iowa.
In the death of Thomas Maloy, which occurred at his home on Beltrami avenue yesterday afternoon, Bemidji loses one of its most admired and respected citizens. He was one of the city's pioneer residents, moving here twelve years ago from Iowa.
When they came to Bemidji from Iowa, they first made their home with their son, Teddy Maloy at 916 Beltrami Avenue. (Oct 31, 1901)
Mr. Maloy was born in Kilkenny, Ireland, in September 1835, and when yet a small boy he immigrated to this country with his parents. He was a college graduate, receiving his education at Mobile, Alabama. Later he moved to southwestern Iowa, where at Sidney he engaged in the general mercantile business. Here he married Anna Clune. Eleven children were born to them, and nine are still living, six boys and three girls.
While still a young man, being less than thirty years of age, Mr. Maloy was elected to the Iowa state legislature from Fremont county. Upon coming to Bemidji in October 1902, he has served four terms as city clerk, and was always more or less interested an politics and just a month previous to his death was active in the city campaign. He was always regarded as an efficient and capable officer and his business methods were such that those who knew him, held him in high esteem.
Mrs. Maloy died Dec 3, 1912. The nine children to survive Mr Maloy are Mrs. C. S. Royce of  Malven, Iowa, who with her husband is here for the funeral, Mrs. C. R. Astrop of the same city, Anna Maloy of Los Angeles, Ed. Maloy of Portland, Oregon, Thomas Maloy of Scots Mills, Oregon, Richard Maloy of Chicago, Joseph and Justin Maloy of Bemidji and John Maloy of Thief River Falls.
---
Fred M. Malzahn (1865 – 1951)
Fred M. Malzahn came to Bemidji from Niagara, N.D. in 1895 and his shrewd business insight was such that he saw a bright future for Bemidji. He returned home and made arrangements to move to Bemidji, and the following year he came to stay and built his fine block, which then seemed to be ahead of the requirements of the village. He rented the property to other parties for some time, but opened a general store in the corner half of the block in 1898 and has done a prosperous business. He carries a very large stock, consisting of clothing, hats, caps, boots, shoes, dry goods, groceries, hardware, crockery, farm implements, flour, feed, and farm produce. He also deals in farm machinery and hay. The first year he was here he was president of the village board of trustees, and was afterwards treasurer, and is now a member of the above named board. (Jan 1900)
Bemidji was incorporated as a village May 20, 1896. The first meeting of the village council, of record, was held Aug 24, 1896, at which date Fred N. Malzahn was president of the village council.
Fred and Flora Malzahn had a large farm at Wolf Lake where he made from 150 to 250 tons of good hay each season. In 1905, they were farming in Frohn Township. Two children Bernice, age 7, and Claud, age 4.
Stocking a Sheep Ranch
Fred Malzahn is Putting in a Fine Stock Farm Near Bemidji.
P. M. Malzahn yesterday returned from Buena Vista where he added extensively to his recent heavy purchases of sheep for his sheep ranch at Wolf Lake about ten miles east of Bemidji. Mr. Malzahn has 500 acres at Wolf Lake and he intends to devote the entire farm to a stock ranch and the raising of fine sheep will be his principal venture. Mr. Malzahn's intention to go into the project on an extensive scale and he will devote his entire time and a good share of his capital to the enterprise. His results thus far have been very good and the farm will in time become one of the finest stock ranches in the northwest. (April 20, 1905)
Paquain, who has been a partner with Fred M. Malzahn in the conducting of the new bowling alleys on Minnesota Avenue near the City Hall, has sold his interest to his partner, F. M. Malzahn. Mr. Paquain was the younger member of the firm and added much life and interest to the welfare of the business. Mr. Malzahn will continue to conduct the alleys as at present and no doubt will enjoy a rushing business during the winter months. (Jan 11, 1910)
He ran on the Socialist ticket and was elected Mayor of Bemidji  on Feb 20, 1912.
On April 21, 1917, he placed three classified notices and advertised a seven-room house for sale three blocks north of city hall with a 50×140 ft lot on Irvine Avenue. He also advertised a store building on Minnesota Avenue for sale at a reasonable price, as well as a 5-acre tract east of Bemidji all cleared and ready for a crop.  The contact point was F. M. Malzahn at 405 Minnesota Avenue.
Fred M. Malzahn, who has the agency for Oakland and Reo automobiles, Reo trucks, Monarch, Bates Steel Mule and the Beeman tractors, is constructing a modern garage and show room at 405 Minnesota avenue. The garage is being built in the rear of the present show room and will be 25 by 100 feet, making a total depth of 130 feet for the entire building. The structure will be one story only, and will be completed about September 15, according to the plans of the contractors, Louis Lauritzen and David Simons, both local workmen. This building will furnish ample space for a show room in front, storage space in rear of this and a repair service station in the rear, with access from the alley. Repair service will be done on all makes of cars and tractors but more especially on the makes sold by Mr. Malzahn. A wash room will be constructed in the rear part as well as another room for parts and accessories. These will be directly in rear of the present show room. A complete line of accessories, tires and parts for the cars handled by the agency will be carried at all times and Mr. Mahlzahn assures his patrons of first class service. (Aug 5, 1920)
In 1920, he owned a home at 407 Minnesota Avenue, and was a real estate agent. Claude was an electrical mechanic for automobiles at 405 Minnesota Avenue, and Ardis was a student, age 13, still at home.
In 1927, he was a salesman for automobiles at 409 Minnesota Avenue. He still lived on the farm six miles east of Bemidji.
He moved to McAllen, Texas about 1929 and died there on June 15, 1951. Flora had died earlier. His daughter, Ardis, signed the death certificate.
---
Sam Marin (1866-1913)
Sam Marin was born on Jun 16, 1866 in Michigan. Sam Marin, a prominent saloon keeper, was shot and fatally wounded on Feb 1, 1913 in downtown Bemidji. He was a brother to Sam and Henry Marin of Bemidji.
Mrs. Sam [Esther] Marin was born at Kingston, Ontario on July 4, 1867 and moved from there with her parents when at the age of four years to Euclid. Some years later she went to Crookston to live and it was there in 1894 that she was married to Sam Marin. Three years later they moved to Bemidji. Mrs. Sam Marin died of an attack of pneumonia at her home, 520 First street, on January 4, 1916. She had been ill but a short time, having contracted a cold while visiting at Hibbing before Christmas. She leaves a large number of relatives to mourn her death.
She was survived by a large number of relatives. Those who lived in Bemidji were her sister, Mrs. John Decoster; her father and mother, Mr. and Mrs. Robert Schultz; a brother, William Schultz, and six children, Mrs. Clarence Wintersteen, Elmer, Hazel, Luella, Stella and Margaret Marin, all of Bemidji.
---
George Markham (1885 – 1908)
George Markham was born at Holyoke, Mass., Nov. 9, 1885, and came to Bemidji at the age of 15 with his brother J. L. Markham, who was connected with the Beltrami County News. The brothers made their home with J. M. Markham, their uncle, who, until his death in 1905, operated the Markham hotel.
After leaving the hotel,  George became timekeeper and later held a more responsible position in the office of the Crookston Lumber Company. His first venture in business was a partnership with Wm. Schisel under the name Markham Schisel Company conducting a general lumber and fuel business, which continued until his removal to Hibbing in the fall of 1906 to assume the management of the Hotel Miles, and in which he was part owner, being associated with C. H. Miles of this city. This business he carried on successfully until the property, which was the largest hotel in Northern Minnesota was destroyed by fire in November 1907.
After the fire, in which he suffered a heavy loss he attempted to organize a stock company to rebuild the house, but on the account of money stringency was unsuccessful, and in the summer of 1908 went to Culbertson, Montana where he secured a lease on a hotel and was to have taken charge August 1. During the interval he went to Kalispell to visit with the family of Geo. McCrea, who formerly lived here, and was stricken with the disease that claimed his life. Not being of a robust physique, he could not stand the ravages of pneumonia and after partly convalescing suffered a relapse.
The first news of his critical condition was a message to his brother, who left that night but failed to arrive before George Markham died on Aug 28, 1908. He brought the body back to Bemidji for services and burial. .
During his brief career, he took time from business affairs to officiate as secretary of the Bemidji Commercial club, and held same position at Hibbing. At the age of 20 he was
honored by being elected delegate to the republican state convention at Duluth, being 21 years old the day the convention met. (Bemidji Daily Pioneer, Sept 1, 1908)
---
Joseph M. Markham (1858 – 1905)
Joseph M. Markham was born at Chester, Mass., Jan. 24,1858. He came to Minnesota in 1877 and worked on a farm, subsequently going to the woods for employment. He worked as a woodsman for a number of years, but in 1882 he was elected sheriff of Aitkin county. He served in this capacity for 10 years and was afterwards elected to the state legislature, serving two years as a member of that body. At the conclusion of his term of office, Mr. Markham built the Foley hotel at Aitkin, but at the end of two years he disposed of the establishment and went to St. Hilaire, where he erected the Markham hotel.
On Sept. 15, 1898, he came to Bemidji and established the Hotel Markham in this city. He was married to his present wife in Aitkin in 1883, her maiden name being Miss Belle Brandon of Barron, Wis.
Joseph M. Markham died at Hot Springs, Ark., Saturday, Sept. 23, 1905. Funeral services were held from the city hall. The services were quite simple, but impressive.
Shortly before 2 o'clock the remains were taken from the Hotel Markham, where they had been held since their arrival in Bemidji, to the city hall, and placed at the front end of the hall. The services began immediately with a funeral sermon delivered by Rev. Thomas Broomfield of the First Baptist church. This was followed with a hymn sung by the Bemidji quartette, after which Hon. W. S. McClenahan of Brainerd made a short address. In his speech Judge McClenahan told of the friendship that had existed between himself and the deceased, and expressed deep sorrow at the untimely death of a man who had for years been so prominently identified with the growth and development of northern Minnesota. Another hymn by the quartette and a short prayer by Rev. Broomfield concluded the services. The floral decorations were excellent, and the casket was literally strewn with beautiful and costly flowers.
After those in attendance had been given an opportunity to take a farewell glance at the features of Mr. Markham, the remains were taken to the hearse by the pallbearers, who were: J. W. Irwin, W. A. Gould, J. F. Gibbons, Judge M. A. Spooner, C. M. Bacon and Thos. Bailey, Sr.
The funeral was one of the most largely attended ever held in Bemidji. Long before the services had commenced every seat in the city hall had been taken and before they had ended standing room was at a premium and a large number of people could not gain admittance to the hall.
The funeral procession to Greenwood cemetery was headed by the Bemidji band and hundreds of people in carriages escorted the remains to their last resting place. A short service at the grave concluded the exercises, and the remains were consigned to the tomb. (Bemidji Daily Pioneer, Oct 2, 1905)
MRS. MARKHAM DEAD
Mrs. Bell Markham, of Virginia, for many years a resident of Bemidji, died at Duluth on August 26, 1914, following an operation for gallstone. Mrs. Markham had been ill for several weeks, but not until last Sunday, when she was taken, from her home to Duluth, did her condition become serious. Mrs. Markham was born in Barron, Wisconsin, October 31, 1860.
Services were conducted at the Presbyterian church for Mrs. Belle Markham. Interment was made in Greenwood cemetery, beside the body of Joseph Markham, her husband.
The pall bearers were P. J. Russell, William McCuaig, Emil Schneider, Clyde Bacon, Al. H. Jester  and Senator A. J. Swedback, all friends of Mrs. Markham during her residence in Bemidji. (Bemidji Daily Pioneer, Aug 27, 1914).
---
Christ Markusen (1869 – 1951)
Christ Markusen was born in Goodhue County, Minnesota on May 19, 1869. He grew up in the area and married Marie Bergum on June 6, 1901. They settled in Bemidji by 1905.
Markusen formed a partnership with Knute Roe and opened their grocery establishment at 207 Fourth Street on Nov 1, 1905. The business named Roe & Markusen grew solidly and were written up in 1909 in the Bemidji Pioneer Souvenir edition. Their business was reputed to be the largest single-line grocery in Beltrami County in 1909.
Christ Markusen passed the 39th mile stone of his earthly career in 1908. A number of his friends became cognizant of the fact that Tuesday was the anniversary of his birthday and planned a surprise for "Christ." Tuesday evening a crowd of the friends of Mr. and Mrs. Markusen visited the Markusen home, where, after rapping on the door and being greeted by the host of the house they literally took possession of the place and proceeded to have a right royal good time. On behalf of the assembled guests, Christ Heieren presented Mr. Markusen with a handsome willow rocker as a token of the esteem in which he is held by those present. Mr. Markusen responded feelingly. The evening was spent with playing games and refreshments were served. (Bemidji Pioneer, May 21, 1908)
Markusen and Knute Roe sold the business to Scott Stewart, their chief clerk, on Nov 30, 1914. Markusen then went to work in the new grocery department of the Troppman department store. The business was conducted on a strictly cash basis. He resigned his position with the Troppman department store in September 1917. They sold their home at 1111 Bemidji Avenue to J. P. Lahr the same month. He and his wife planned to spend the winter in California. However, Mrs. Markusen died in Denver, Colorado on Dec 11, 1917. Her husband took her west in the fall in the hopes of helping her health. Her body was returned to Kenyon, her old home, for burial.
Christ Markusen then moved to California and married Beulah Blaine in 1920. He died at Riverside, California on January 5, 1951.
---
William A. McDonald
William McDonald was born in Canada about 1881. He married Margaret, born in Canada about 1880. By 1904, they were operating an ice cream parlor at 115 Third Street in Bemidji. He was engaged in the wholesale manufacture of ice cream, candy and high class bakery goods. A popular product was "The Model Ice Cream". He secured the most modern machinery to produce the highest grade ice cream. He also was the manufacturer of the "Dee-li-cious" candies, for both wholesale and retail trade, and also wholesale taffies, fruit balls, chocolates, dipped goods, and other specialties which became famous.
By 1910, he also was the proprietor of the Model Bakery on Minnesota Avenue. He was featured in the Pioneer's Souvenir Edition in March 1909 for his expertise as a skilled baker and business men.  "As to the cakes, pies, pastry and other sweetmeats emanating from Mr. McDonald's place of business, little need be said. Especially is this true of "Snow Flake" bread, which has won such a large sale."  In 1909, his two bakeries were operating at 115 Third Street and at 417 Minnesota Ave.
He and his wife lived at 517 Fourth St. with their three children Blanch, Helen and Gordon in 1910, neighbors of the Charles Knox and John Pogue families.
By 1920, the family had moved to Missoula, Montana, where he established a restaurant.
---
Ignatius McKinnon (1874 – 1942)
"Naish" McKinnon, Colorful Bemidji Resident Dies at His Home Here.
Ignatius (Naish) McKinnon, retired pioneer, who has watched the steady growth of Bemidji since the turn of the century, died at his home on Woodland avenue on May 7, 1942. He was 68.
A man who pioneered in this community 42 years ago when the Lumberjack was king, Mr. McKinnon through his prominence in civic affairs and through his sincere interest in the welfare of the community, has seen many improvements made in this vicinity.
Not only was he able to note the improvements as they came, but he was able to take an active part in the construction through the knowledge, experience and ability as a road contractor.
In the early years, he was often mentioned in the newspaper because of his ownership of one of Bemidji's saloons, the 209 Saloon on Minnesota Avenue.
A native of northern Minnesota, he was born in Detroit Lakes, Jan 22, 1874. He came to this territory when 26 years old and after working here for over 30 years, he retired. He had been in ill health for nearly two years before his death. Son of Duncan and Margaret McKinnon, both born in Canada. Brother to Alexander, Benjamin, Daniel, William R., and Archer McKinnon.
He was a member of the BPOE #1052. of Bemidji.
Left to mourn his death are his widow, Mrs. Bertha McKinnon, two daughters, Catherine Dilworth of Holler and Mrs. Mabel Olson of Duluth, 16 grandchildren, six great grandchildren, two brothers, Benjamin of Bemidji and Archie of Detroit, Michigan, and many other relatives and friends. (Bemidji Daily Pioneer, May 7, 1942)
Married to Bertha Durand in 1910.
---
C. H. Miles (1873 –
Charles Miles was born about 1873 in Winston County, Mississippi. He came to Bemidji and purchased the Great Northern Saloon. He built the Golden Club on the corner of Third and Beltrami, which was later converted to the Northern National Bank. Charles Miles moved to Minneapolis about 1908.  In 1910, Charles and his wife Belle were living in Minneapolis where he was proprietor of a theater. He spent his last years in Las Vegas, Nevada. He died there sometime after 1940.
Walter Brooks, an officer of the Northern National Bank,  recalled Charley Miles' zestful personality, "Charley Miles had this beautiful saloon, the Great Northern, on the first floor and he also had the first automobile in Bemidji. It was a two-door Ford painted brilliant red. It was quite a car, but the trouble was that when one wanted to start it, the sand on Beltrami Avenue was so deep that the wheels spun, and it needed a push. The sand was so full of fleas that it was awful to push it. We had most of the fleas on us before we got the car started. Charles Miles was a nice appearing fellow, a very good dresser and courteous man. He could sign only his own name and that is all he knew but he made quite a success of his business here. He had all kinds of roulette machines, slot machines and poker tables, all wide open, and he couldn't help but make money."
C. H. Miles has a large sign in front of his brick block which reads as follows: "200 turkeys given away to the poor the day before Xmas. Call yourself or send your children." Comment is unnecessary. It is enough to say that Mr. Miles' kind and generous act is a blessing to the poor, who in turn will bless him with all their heart. (Dec 11, 1902)
C.H. Miles Hears From Relative Whom He Has Not Seen for 30 Years — Search for Father Extending Over Many Years Finally Successful.
A message received yesterday afternoon by C. H. Miles from his father, Pettis Miles, who is  now at Ackerman, Mississippi's the result of an extended search conducted by Mr. Miles for his parents, who he has not seen since he left home 30 years ago at the age of nine. Mr. Miles immediately prepared for a journey to Mississippi and left for Ackerman last night on the midnight train.
The meeting of father and son after a separation of a score and ten years will probably be one of the most happy reunions that ever occurred. Mr. Miles' parents were poor and lived in an eastern town. At the age of nine years Mr. Miles left home to go out into the world and shift for himself. He went to Chicago, where he spent several years as a news boy and bootblack, afterwards engaging in business when he was still in his 'teens. He was very successful and at the age of 21 he sold out his interests in the Windy City for $113,000 and left for the west.
He located at Galveston, Texas where he conducted a saloon business for several years but owing to adverse conditions Mr. Miles was forced to sell out at a sacrifice. He afterwards tried several other western cities and towns, but hard times during the panic of 1890 to 1895 left him with but a small portion of his fortune. He traveled extensively, however, and finally came to Bemidji where he first bought the Great Northern saloon and afterwards erected the brick block at the coroner of Beltrami avenue and Third street. His history from that time on is well known to the people of the city.
Mr. Miles expects to remain at Ackerman about three weeks and will probably bring his father with him on his return to Bemidji. (1905)
Long Lost Relative
C. H. Miles Returns With Father Whom He Had Not Seen for Many Years.
Father and Son Enjoying Bemidji Sights Together
Aged Parent Will Remain in the City About Two Weeks Before Returning Home
C. H. Miles returned last night from Ackerman, Mississippi, in company with his father, Peter Miles, whom he had not seen for nearly 30 years. Although 60 years of age and the father of 18 children, the elder Miles presents an excellent appearance. Healthy vigorous and active, the aged gentleman looks younger than many men of 40.
The home of Mr. Miles is in Winston county, Mississippi, and the nearest railway station is Ackerman, 25 miles distant. When Charles who left Bemidji a week ago to find his father, from whom he had received word, arrived at the home of his parents, he rapped on the door, which was opened by Mr. Miles. He allowed his identity to remain unknown for a few minutes, but when he made known his name the elder gentleman was dumbfounded. After greetings had been exchanged they entered the house which the younger Miles left at the age of nine, where a general family reunion took place.
Charles Miles left home at the age of nine years, shortly after the death of his mother. His struggle in life up to the age of 21 was one of the hardest that ever fell to the lot of a human being, but after many ups and downs he was finally successful. His success lasted for a short time only, however, and a few years before coming to Bemidji the large fortune that he amassed while in Chicago was reduced to a small pittance. He became successful again however, and when he came to Bemidji he had several thousands of dollars, which was immediately invested.
His success from that time on has been wonderful, and at the present time he is one of the most sound men financially in northern Minnesota, owning large property interest in Bemidji and other points throughout the state. The elder Miles has been married twice and is the father of 18 children, 15 of whom are now living. Charles Miles has nine brothers, seven of whom are half-brothers, and six sisters, five of whom were born after the death of his mother. The oldest member of the family is a son 38 years of age and the youngest another son three years.
The aged gentleman will remain in Bemidji about two weeks taking in the sights before leaving for his home in Mississippi. (May 2, 1905)
Information from the vertical files of the Beltrami County History Center, Bemidji, and from the Bemidji Sentinel and Bemidji Daily Pioneer.
---
Delbert G. Miller (1844 – 1919)
D. G. Miller was listed as a blacksmith on the June 1, 1900 census. He owned the D. G. Miller Blacksmith & General Repair Shop in the early years of Bemidji at 313 Second Street. He died on Nov. 12, 1919.
PIONEER CITIZEN DIES AFTER USEFUL LIFE
Delbert F. Miller, a resident of Bemidji for the past nineteen years, passed away on Wednesday at the home of his son, R. E. Miller.
Mr. Miller was born in Genisee county, New York, and had reached the age of 75 years. He had been ailing for the past four or five months and confined to the house for the past four weeks. Mr. Miller came to Bemidji May 3, 1900, and has conducted: a repair shop on Second street since that time.
His only surviving relatives are his son and his wife.
The funeral services will be conducted at the Baptist church Friday afternoon at 2 o'clock. Interment at Greenwood cemetery.
---
Morrie Miller (1872 – 1910)
"White Plague" Snuffs Out the Life of Popular Young Man. Untimely Demise. Age 33. Wagon Maker. Chronic heart disease and tuberculosis.
Morey Miller, son of Mr. and Mrs. D. G. Miller of this city, aged 38 years, died at the home of his parents, in this city, at 4:30 o'clock on the morning of March 26, 1910, death resulting from tuberculosis. Death came while Morey slept, and his passing away was as peaceful and painless as the demise of an infant.
The announcement of the death came as a shock, although it was known that Morey had been failing very rapidly of late and was visibly growing weaker.
Morey Miller, up to a year and a half ago, was one of the most robust and healthy young men in this community. He was of generous proportions, and tipped the scales close to the 200 mark.
During the month of February, 1909, Mory contracted a bad cold, which developed into a serious case of lagrippe, with complications, keeping him in his bed for some time.
He apparently rallied from the attack of la grippe, but was never again in good health. He gradually failed, and it was apparent that the "white plague" had fastened itself upon him. Being of a naturally cheerful disposition, Morey never conceded that he was really failing fast and even as late three days ago, was planning with his father as to what he would do "when he got well." The disease fastened itself firmly upon Morey and two days ago he was compelled to again take to his bed. He grew weaker rapidly. During last night, he slept a great deal and at 4 o'clock this morning, with no apparent belief that he was nearing the end of his mortal career, he sank into a deep sleep, from which he never awoke again in this world. His death was calm and peaceful and he was attended by his father and mother.
The arrangements for the funeral have not yet been made. A telegram has been sent to R. E. Miller, brother of Morey, who is at Winnipeg, and until an answer is received from him, the date of the obsequies and internment will not be definitely settled.
Morey Miller was an honored member of the M. W. A. and the Bemidji fire department. Always of a genial and even-tempered disposition, he was popular with all who knew him and genuine, sincere regret is expressed on all sides, at his untimely demise. (Mar 26, 1910)
---
Reuben Miller (1868 – 1941)
Reuben Miller was born Jan 15, 1868. He came to Bemidji in 1900 with his parents, D. G. and Anna Miller, and operated a gunsmith and locksmith shop with his father Delbert Miller until the latter's death in 1919.
From 1919 onward, Reuben Miller operated the shop alone. He died on April 10, 1941. Up until his death, he was a member of the fire department, having entered the department in 1911. Representatives of the Bemidji fire department of which he had been a member for 30 years, attended the funeral in a body in uniform.
At the time of the 1900 census on June 1, Reuben Miller was the head of the household, with his wife May Jane and daughter Lottie, as well as his father and mother, and brother Morrie whose occupation was listed as assistant gunsmith. They were neighbors of the Fentons on one side and the McKinnons on the other – all pioneer families in Bemidji.
Mrs. R.E. Miller won first prize at a masquerade ball in March 1904. Not sure where they lived at that time. (March 8, 1904)
Reuben Miller has closed a deal for the purchase of the interest of C. H. Miles in the repair shop conducted by him on Beltrami avenue. (May 29, 1905)
The Millers moved to Winnipeg for a few years but were back in Bemidji in 1911.
Mr. and Mrs. R. E. Miller and daughter, Lottie, are in the city from Winnipeg, having come down here for the purpose of attending the funeral of the late Morriey Miller, brother of R. E. Miller. "Rube" is now in business at the Canadian metropolis and is doing very well, which fact pleases his many friends in this city. He will return to Winnipeg, probably, tomorrow and Mrs. Miller and Lottie will remain for several days visiting with friends before returning to the "Peg." (March 29, 1910)
Reuben Miller was a charter member of the Moose Club of Bemidji. He held the office of Sergeant-at-Arms. (Dec 3, 1913)
Reuben and Mary Jane Miller lived at 413 Irvine Avenue in from at least 1918 until 1922. His mother Anna lived with them. Anyone having a knitting machine for sale, please call the R. E. Miller Repair Shop (Nov 9, 1922)
They lived at 413 America Avenue in 1930, and in Nymore in 1940.
Mrs. Mary Jane (Smith) Miller died on Dec 27, 1942. They had one daughter, Lottie, of Bemidji.
---
Arnech D. Moe (1866-1949)
Pioneer Tailor
A. D. Moe, 1900 Census for Bemidji. Tailor. Born in Norway March 1866. Wife Martha, b. May 1874. He immigrated from Norway in 1889; she in 1892.
A surprise party was given last night by the members of the congregation of the Norwegian Lutheran church to Mrs. A. D. Moe at her residence, 1119 Beltrami. About 50 persons were present. The evening was spent in singing and social chat, after which light refreshments were served. Mrs. Moe was presented with a handsome sideboard by the congregation. (Oct 4, 1905)
Prom the time Bemidji was in her "swaddling clothes," so to speak, Bemidjians have been accustomed to speak of A. D. Moe as THE merchant tailor of the town, and "Go and see Moe he will fix you out," has been the answer given to anxious inquiries as to where one could have a fine suit made to order on short notice and in a neat, work manlike manner.
And Mr. Moe has never given occasion for any person to regret the confidence placed in his ability or reliability. It makes no difference whether it is a broadcloth suit for a groom, or a natty business suit for the every-day hustler, "Go and see Moe, he will fix you out fine."
Coming to this city from Fargo, N. D., nine years ago, Mr. Moe has, by his universally square dealing and genial disposition, become a great favorite with the citizens of Bemidji who appreciate good-fitting clothes made in the latest fashion from the best fabrics.
Mr. Moe has always been a loyal "booster" for Bemidji, and he is thoroughly imbued with that spirit of progressiveness which pervades the bosom of every resident of this "Hub City of the North." Mr. Moe makes a specialty of cutting and fitting, and also cleaning and pressing. (March 1909)
Arnech D. Moe was married to Martha Halaas. Three children were born in Bemidji: Ernest (1901), Edna (1903) and Lawrence (1908)
The family moved to Oregon and then to California.
---
Dr. W. R. Morrison (1876-1948)
Dr. W. R.Morrison graduated from the University of Michigan Ann Arbor, then served a year at the Northern Pacific hospital at Brainerd. He came to Bemidji in 1900. Bemidji organized a fraternal order of the Modern Samaritans and Dr. Morrison held the position of Physician for the order on Feb 14, 1901. W. R. Morrison and Deda Swan were married on May 22, 1901 at Bemidji. Dr. Morrison was appointed as head of the Board of Health at a special meeting of the city council in June 1901. He first advertised his practice as surgeon and physician in the Bemidji Pioneer in August of 1901. They settled on Lake Boulevard.
The doctor received a degree in the Chicago Eye, Ear, Nose and Throat post graduate school in 1904. He was appointed the city physician at a salary of $25 per month in January 1906. Dr. W. R. Morrison was appointed as medical examiner for the Travelers Life & Accident Insurance company for this district in August 1906. Dr. W. R. Morrison was appointed special physician for the Northern Pacific Railway company at Billings, Montana in 1909 and moved his family to that location. He died in 1948 in Billings. Mrs. Morrison died in 1970.
*******************************************************
In the case of Dr. W. R. Morrison versus Charles Gould, the jury found in favor of Dr. Morrison for $47. Dr. Morrison also secured a verdict of $250 against Ole Dybvig for medical attention. (Mar 26, 1903)
Mr. and Mrs. W. R. Morrison left this morning for an extensive visit to Ann Arbor, Mich., and Sarnia, Canada, where Mr. Morrison's parents reside Prom Ann Arbor they will go to Chicago, where Mr. Morrison will complete a course in the study of the ear, nose and throat. They will be absent from the city about four months. (Aug 9, 1904)
Dr. W. R. Morrison will return to Bemidji to resume his practice October l, Dr. Morrison has been spending several months in Chicago taking postgraduate courses along special lines, his specialty being the nose and throat. Dr. Morrison has also specialized on the eye and ear and it will be a distinct advantage to the people of Bemidji and Beltrami county to have a resident physician who is a specialist along these lines. (Sept 13, 1904)
Successful Bemidji Man.  Dr. W. R. Morrison Will Employ Assistant as Result of Increasing Practice. Since Dr. Morrison returned from Chicago, where he spent the summer in post graduate work, his practice has increased to such an extent that the addition of an assistant will be necessary. The doctor's selection of Bemidji as a suitable point in this line was well warranted, as the train service is such as to make this city accessible to a large territory. The hearty support he has already received from the public, together with the endorsement by the local doctors, has served to increase his practice much. The doctor is one of the best qualified specialists in northern Minnesota. He is a graduate of the University of Michigan at Ann Arbor and spent a year at the Northern Pacific hospital at Brainerd, which, together with his extensive experience in general practice, especially fits him as a specialist. The doctor received a degree in the Chicago Eye, Ear, Nose and Throat post graduate school and has since that time been enjoying an increasing patronage until now he has one of the largest practices in this special line of any in Minnesota. (Dec 23, 1904)
Dr. W. R. Morrison, accompanied by Mrs. Morrison and daughter, left this morning for the south and east. Mrs. Morrison will visit her parents during the doctor's absence while the latter, accompanied by Mr. E. A. Schneider will leave Chicago Wednesday for Florida, whence the trip to New York will be made by water. Dr. Morrison will spend six weeks in New York city taking post graduate work on the eye, ear, nose and throat, subjects in which he has specialized and in which he secured a special degree at Chicago last year. It is probable that he will be gone about three months. Dr. Fowler of Blackduck will have charge of his office and his practice during Dr. Morrison's absence. Dr. Morrison's practice along these special lines has been growing very rapidly and he feels that it is but due to his clients that he should put himself in touch with the best that modern medical science has to offer. Not only will he make a specialty of the diseases of these organs but he will specialize particularly as to the eye, and as an occulist, will be prepared to fit glasses, etc. One remarkable feature in modern practice is the cure of certain diseased organs without the use of the knife. A recent patient of Dr. Morrison's is a good example. The patient was a child of well known Bemidji people; she was cross-eyed, and the usual remedy in such cases is an operation. Under special treatment however the little one's eyes are now entirely straight and that absolutely without the use of any surgical instrument. Dr. Morrison has two remarkable photographs, taken before and after treatment, which show how thoroughly the work was accomplished. This is simply an instance of what is being done by modern methods in medical science with numerous other diseases of these special organs. (Feb 6, 1905)
Dr. and Mrs. W. R. Morrison returned last night from the east and south, where they have spent the past month.  Dr. and Mrs. Morrison visited many cities and points of interest on the Atlantic coast and spent some time at Jacksonville, Florida.  B A. Schneider, who accompanied Dr. and Mrs. Morrison, is expected to return home tonight. (Mar 4, 1905)
The city board of health is today taking action to prevent contagion in the Bemidji public schools, and all the rooms, furniture and books at the school house are being fumigated, the work being in charge of Dr. W. R. Morrison. The fumigation of the schools at the present time is a precautionary measure and is done at the present time so that the schools will be ready for occupancy when they are opened Jan. 8 after the Christmas and New Years vacation. (Dec 29, 1905)
The health committee in its report last night recommended the acceptance of a contract with Dr. W. R. Morrison by the terms of which he will act as city physician at a salary of $25 per month, he to give medical and surgical treatment to all paupers resident in the city, the city to furnish all medicines. The report was adopted and the city attorney was instructed to prepare a contract. The health committee was instructed to make a report at the next meeting, the report to include some recommendation as to the regulation of the city dump grounds. (Jan 16, 1906)
Dr. W. R. Morrison has recently added to his equipment a Pynchon ear pump, a new device used in the treatment of diseases of the ear. The machine is a late invention, comparatively, but has been thoroughly tested and is now in use in nearly all the leading hospitals throughout the country. The instrument is for the purpose of messenging the eardrum and small bones of the ear, and is very effective. Judging from the number of patrons which the doctor receives, both from Bemidji and from other towns in this section, he is keeping up to the times in having the best possible instruments at hand for the treatment of diseases attended to by members of his profession. (Feb 2, 1906)
Health Officer W. R. Morrison is today posting notices throughout the city directing the residents to clean up all refuse, etc., as soon as possible. Unless the notice is complied with the health board will take charge of the matter and the cost of cleaning up will be assessed against the property owners. Feb 23, 1906)
The city of Bemidji will be one of the cleanest and most sanitary cities in Minnesota next summer if the plans of the city health board is carried out, and it is claimed by Dr. W. R. Morrison, the city health officer, that the ordinance relating to the cleaning up of streets, alleys and lots will be rigidly enforced. In fact Dr. Morrison has already started a crusade against filth by ordering the cleaning up of certain alleys and although objection has been made to this order by some of the residents the health officer has ordered the work done by the city scavenger and the cost will be assessed to the owners of property abutting the alleys ordered to be cleaned up. The Bemidji Townsite and Improvement company was yesterday ordered by Dr. Morrison to fill in the swamp in the block between Second and Third streets and Beltrami and Bemidji avenues, and a number of other similar places will be filled in this spring. Dr. Morrison states that he will soon accomplish the cleaning up of all rubbish in the city and that he will prosecute all persons who violate the city ordinance relating to the sanitation of the city. (Feb. 28, 1906)
Dr. W. R. Morrison, city health officer, has received a letter from the state board of health advising him of action taken by that body at its meeting Jan. 9, 1906 recommending that persons suffering with tuberculosis be not employed as teachers in the schools. Dr. Morrison states that he will enforce the recommendation. (Mar 3, 1906)
To Harness Mississippi Twelve Miles Up Stream.  The Dam Will Develop Horsepower of Between 2,500 and 3.500. Congress has granted permission to William R. Morrison and H. W. Haines to build a dam across the Mississippi river in the southwestern part of Beltrami county, about twelve miles up stream from Bemidji. The dam will develop a horse-power of between 2,500 and 3,500. The Congressional Record of May 21 contains the following., etc. (May 26, 1906)
Dr. W. R. Morrison has been appointed as medical examiner for the Travelers Life & Accident Insurance company for this district, the position having been tendered him through W. E. Neal, district agent. (Aug 3, 1906)
Mrs. W. R. Morrison active in committee work for the Beltrami Couty Fair, 1908.
Dr. W. R. Morrison of this city has been appointed special physician for the Northern Pacific Railway company at Billings, Mont., and will go to that place in the near future. Dr. Morrison went to Brainerd this morning to consult with Dr. Courtney, who has charge of the N. P. hospital at that place. From there Mr. Morrison will go to Chicago the latter part of the week and take a post graduate course of study before going to Billings to assume his new duties. Dr. Morrison will leave his family in this city until next summer. Dr. Morrison came to Bemidji nine years ago from Brainerd and built up a practice which, in leaving the city, he turns over to Dr. Sanborn of Faribault in the southern part of the state. Dr. Sanborn comes to the city well recommended and is well fitted to take a place among the leading physicians of this city. (Mar 15, 1909)
Mrs. Dr. W. R. Morrison arrived here yesterday from Billings, Montana, for a several weeks visit with different friends in the city. Mrs. Morrison is a former resident of Bemidji. She will stay until about September first. Dr. Morrison will come from Billings about the first of August and will spend the month with his old friends here. (July 19, 1910)
W.R. Morrison, Billings, Montana. (1918)
Dr. W. R. Morrison and family of Billings, Mont., formerly resident of Bemidji, will arrive in the city July 10 to enjoy a brief outing. Dr. Morrison is to remain in Bemidji but several days, while his wife and daughter will probably stay several weeks. (July 1919)
---
Porter Nye (1837-1905)
Porter Nye, one of the earliest pioneers of Bemidji, died at his home, corner Eighth street and Beltrami avenue on Nov 8, 1905. Porter Nye was born in Thompson, Ohio in 1837. He was married to his wife Sabra at Cleveland, Ohio in 1854. They lived in Ohio for some time, after which they removed to Wisconsin and later to Iowa in which state they made their home for a number of years. They came to Minnesota in 1878 and settled near Fergus Falls in Ottertail county, where they remained until 1893 when they removed to Bemidji. Porter and his son Willis were among the first settlers which included Civil War veterans Freeman Doud and Thomas Joy.
In the spring of 1894, Porter and Sabra took up a homestead and built a home on the south side of Bemidji where the Crookston Lumber Mill was located and in the village of Nymore.  They lived there for a number of years, afterwards removing to their residence at Eighth street and Beltrami Avenue. From this union, three children were born, two girls and one son, Fritz Willis Nye.
Fritz Willis Nye was born in Iowa, April 20, 1862 and in 1894 he homesteaded near the brickyards south of Bemidji and served in the capacity of clerk in the Minnesota and International roundhouse until 1928. He and Mary Elizabeth Walden were married in 1883. They had five children including Inez (Jan 1885),  Henry (Jan 1887), George (Mar 1889), and Willis Irving (Aug 1895).
Nymore Couple Fritz Willis Nye and Mrs. Mary Bordwell were united in marriage in the Congregational church on March 30, 1911. The ceremony was conducted by Elder T. J. Martin. Willis Nye died in 1940 at Bemidji.
Mrs. Sabra Nye was married to Thomas J. Martin in 1907. She died on June 30, 1913. The Nye family is buried in Greenwood Cemetery.
---
Philip J. O'Leary (1867 – 1929)
Philip O'Leary was born about 1867 in Canada and was one of the leading businessmen of the town for several decades. O'Leary came to Bemidji in 1898 and opened a general store together with W. N. Bowser. The two gentlemen retired in 1909 although their store continued in a new brick block under the corporation name of O'Leary-Bowser Corp. This block still bears a cement "banner" with the dates 1909 at 202 Third Street. About 20 years later, it was known as the Suman Block.
P.J. O'Leary married Nellie Doran at Bemidji on Jan 10, 1900. Nellie Doran was the daughter of James Doran, also one of the pioneers of Bemidji.
Excavation has begun for two new elegant residences on the corner of Minnesota avenue and Eighth Street. The firm of O'Leary & Bowser will each construct one there. (Aug 22, 1901)
The O'Leary residence was at 716 Minnesota Avenue. The lots [lots 21 & 22 of Block 2] were purchased by Nellie O'Leary from the Bemidji Townsite Co. on April 7, 1902. The O'Leary family lived in this house until his death in 1929 in California. Mrs. O'Leary and her son Arthur, a county engineer, moved to 722 Minnesota Avenue after Mr. O'Leary's death. Mrs. O'Leary died Dec 20, 1946.
---
Iver B. Olson (1867 – 1931)
Iver B. Olson was born in 1866 in Blooming Prairie, Minnesota to Norwegian parents. He was married about 1896 to his wife Inga. They were Bemidji pioneers moving to Bemidji from North Dakota before 1900.
Iver B. Olson was the owner of a confectionary in Bemidji on the 1900 census. Wife Inga; two children: Alvin and Kern. According to the 1900 census, Iver's birth date was May 27, 1867. Inga's birth date was listed as June 1873. Son Alvin, b. Oct 1896 and son Kern, b. in 1899, were both born in North Dakota.
I.B. Olson was in the Twin Cities last week on business.(April 25, 1901)
I.B. Olson will open up a store of confectionery, fruits, cigars, tobacco, and has in connection a modern ice cream parlor in the Sather building on Beltrami avenue. Mr. Olson is well known to many of our people as an upright, honest, industrious young man worthy of liberal patronage. (April 25, 1901)
The New Ice Cream Parlor. I wish to announce that I have secured the agency from two of the largest ice cream manufacturers in the Twin Cities, the Crescent Ice Cream Co. of Minneapolis and the Milton Ice Cream Co. of St. Paul. Both of these firms make their ice cream from the pure cream and best flavors, and such as gelatin or other adulterations is not used. I will have my first shipment in the last of this week. Bemidji, I. B. Olson. (April 25, 1901)
Wm. P. Murphy of the United States court of bankruptcy was here yesterday taking an invoice of the I. B. Olson stock. The same will be sold at auction Nov. 18. (Nov 7, 1901)
The I. B. Olson stock of confectionery and fixtures were sold Monday to E. A. Sather, who held a mortgage on same. (Nov 21, 1901)
His business seems to have lasted about six months, as E. A. Sather advertised the sale of Christmas items and other merchandise in December 1901. "I will place on sale in a few days a complete and up-to-date line of toys and fancy goods at the confectionery store lately owned by I. B. Olson. E. A. Sather." (Dec 12, 1901)
The Woodmen initiated a class of six at their last meeting, one of them being I. B. Olson. (Feb 1902)
It is currently reported that I.B. Olson will be a candidate for auditor this fall on the republican ticket. Mr. Olson is a pioneer of Bemidji, and has friends all over the county who will shout for him, if he is a candidate. (April 24, 1902)
Iver B. Olson was the Republic candidate for the office of Auditor in the election Sept 16, 1902.
He appears to have opened at another location in 1902, as he advertised in Dec 1902: Go to I. B. Olson confectionery store for your holiday goods. The largest stock in the city of candy, nuts and Christmas tree trimmings, etc. (Dec 18, 1902)
1905 Census – Merchant – Resident of 805 Minnesota Avenue, Bemidji
The Vortnyehjen Publishing Company has been organized for the purpose of conducting a publishing and printing business in Bemidji. The capital of the new venture, which is an incorporated company, is $5000 and has been largely paid in already. The subscribers and stockholders are all prominent Scandinavian business men of Bemidji and vicinity. The following are the officers of the new company President, I. B. Olson of Bemidji, Vice President, Anton Erickson of Rosby, Secretary, E. L. Oberg of Blackduck, Treasurer, Dr. W. R. Morrison. (Sept 21, 1905)
1910 Census: Iver B. Olson was Salesman for a retail store, residence at 921 Bemidji Avenue. Wife Inga, children, Alvin, Kern, Ernest, Mildred, Theodore, and George.
He ran for political office to be Register of Deeds in 1918.
1920 Census: Iver B. Olson resided at 921 Park Avenue. Wife Inga, children, Alvin, Kern, Ernest, Mildred, Theodore, George, and Gladys.
Café at 205 Second St., Bemidji: I.B. Olson  (1920-1921)
I. B. Olson and son, Kern, have purchased the hotel property at 205 Second street where Mr. Olson has operated a rooming house and employment agency for some time. I. B. Olson will have charge of the building and a large amount of repairing is planned in the spring. (Feb 1, 1921)
Olson's Café at 205 Second St., Bemidji  (1927-28) (1931)
Iver B. Olson owned Olson's Café at the time of his death on Aug 17, 1931.
Due to the change in the name of the street, Mrs. Olson's address is listed first at Doud and then Birchmont Drive. Inga Olson, widow of  Iver, residing at 1307 Doud Avenue in 1937. Residing at 1307 Birchmont in 1939. Inga Olson died July 20, 1958 in Hennepin County.
Obituary for Iver B. Olson
Funeral services for Iver B. Olson, a resident of Bemidji since 1900 who passed away at the Bemidji Lutheran Hospital Monday forenoon following an extended illness from cancer, are to be held at the First Lutheran Church Wednesday. Rev. A. E. Hanson will officiate and interment will be in Greenwood cemetery.
Mr. Olson, who came to Bemidji from Grafton, N.D. in 1900 and was engaged in the bakery business for a time, later operating an employment agency and more recently a restaurant on Second street, was born May 12, 1866 at Blooming Prairie, Minn. Last Feb 1, he was taken to a Minneapolis hospital where he was operated on, returning to Bemidji March 15 and entering the Bemidji Lutheran Hospital where he was confined until his death. Although suffering great pain, the past few weeks, he remained conscious to the end.
Mr. Olson was active in the Lutheran Hospital Association for a number of years and had served at different times on the board of directors of that institution. He also was a member of the Beltrami county board at one time.
Surviving Mr. Olson are his widow, five sons and two daughters. The sons are Alvin of Chicago, who returned home from a visit here shortly before his father's death, Kern of Thief River Falls, Ernest of Seattle, Theodore of Paris, Illinois and George of Bemidji. The daughters are Mrs. Edgar Angvall and Miss Gladys Olson, both of Bemidji. Four brothers and one sister also survive.(Bemidji Daily Pioneer, Aug 18, 1931)
---
Dr. James P. Omich (1846 – 1919)
Mr. Omich was born in Oakland County, Michigan in 1846, and was married to Miss Rhoda Beebe, October 9, 1870. He was a graduate of Ann Arbor, Michigan, School of Medicine and practiced medicine for 25 years. He moved from Michigan to Wisconsin in 1880, from Wisconsin to North Dakota in 1886 and to Bemidji in 1896. He operated Bemidji's first drug store. An 1896 ad listed Dr. J. P. Omich as proprietor of the Bemidji Drug Store, located in the Pioneer Block. Mrs. Omich advertised that she could accept a few more day boarders in May 1896. Dr. Omich was appointed to the health board in 1897.
Dr. James P. Omich and family lived in the Carson Addition at 109 Irvine Avenue SW, on the northwest corner of Oak St. and Irvine Ave. It was a very large house and according to the Sanford fire maps was one a few houses on Irvine Avenue S. from 1909 to at least 1928.  The Omich family was one of the wealthier families in Bemidji and the house must have been a grand one.
Dr. and Mrs. Omich had three daughters, Cora, Grace, and Gertrude.  Cora Omich and George Earl Carson, one of the pioneer Carson Bros, were married in Becker County on May 18, 1896. The Carsons first took up residence within the city on Sept 4, 1901 and lived in the two-story Carson building at 200 Third St., but by 1904, G. E. Carson and Cora had moved to 223 Irvine Ave. S., a beautiful location that overlooked Lake Irving.
Gertrude Carson married W. E. Rogers in Becker County on Feb 22, 1896. In 1910, she was teaching in Colorado, and J. P. Omich and Rhoda were sharing a home with her at Denver.
Grace Omich married Harry M. Young at Bemidji on Nov 30, 1904. In 1909, J. P. Omich was a partner with his son-in-law, H. M. Young in the cement business of Omich & Young in 1909. They were extensive sidewalk contractors, but also estimated on and executed contracts for every work known to cement. In addition to their contracting interests, they manufactured hollow concrete blocks, cement posts and steps, etc., making a specialty of hollow concrete blocks. The firm was skilled in the craft of cement mixing.
Rev. Allen Clark has recently moved into the J. P. Omich house on the lake front near Grand Forks Bay. Rev. Clark is in the missionary work for the Congregational society and has charge of the Northern Minnesota field. (Nov 13, 1902)
Dr. Omich purchased the news and confectionery business of J. T. Wheelock in March 1902 and stated that he would conduct it personally.  Wheelock retained the employment business and planned to  conduct his office in the same place at 218 Beltrami Avenue.
When the creation of a new baseball park at the foot of America Avenue came up in the spring of 1906, Mr. Omich, along with John Wallin and A C. McClean, strongly objected. They considered the proposed location a great injury to their property. "I, for one, shall fight the playing of baseball there on Sunday to the full extent of my ability," declared Mr. Omich.  They objected to the potential noise that would be created by horns, megaphones, etc. Once the field was built, a fence was added to reduce the amount of noise to the neighborhood.
In 1913, J. P. Omich had a Curio Shop at 301 Beltrami Ave.
Dr. James Polk Omich died at his home on May 30, 1919, following an illness of several months. He leaves his wife and three daughters, Mrs. W. N. Weber and Mrs. G. E. Carson, both of Bemidji, and Mrs. Grace Young of Portland, Ore. The funeral was held at the Presbyterian church, Rev. L. P. Warford officiating.
Mrs. J. P. Omich died at her home after an illness of about three months on Dec 10, 1922. Funeral services were held at the Presbyterian church.
---
Maj. Adam Otto (1876-1944)
Major Adam E. Otto was born Jan 1, 1876 at Milwaukee, Wis. He joined the army when he was 22 years old, going with the Third United States Artillery to the Philippines where he took part in 13 battles. After the Spanish-American war, he took part in the Boxer Rising at Peking, China.
He was stationed on the West Coast, after leaving the Philippines in 1900 until 1902 when he went to Duluth as a recruiting officer. He came to Bemidji as a recruiting officer in 1905.
As an employee of the local post office he started the original Company K as part of the state militia and he was captain of that company.
During World War I, he entered as a captain and retired as a major, a title he used up till the time of his death.
He was married to Hilda Evans in Bemidji, September 17, 1922, and had two daughters, and one son, Lt. Frank C. Otto. A daughter, Ruth, preceded him in death, in 1922.
He was automobile license registrar up until the time of his death in 1944. Prior to that he was interested in the Bemidji Realty Company and before that he was postal inspector until his retirement from government service in 1933. While U. S. postal inspector he took charge of communications when President Coolidge made a trip to the Black Hills.
Major Otto was active in every civic enterprise in Bemidji and was especially interested in the veteran's welfare. He was service officer for the Ralph Gracie Post of the American Legion for a number of years and in that capacity he helped veterans take care of their claims from the U. S. government. He was also active in the Veterans of Foreign Wars, Spanish American War Veterans, member of the Fair board, vice-president of the cemetery association, a charter member of Rotary, and a member of the Masonic lodge.
He passed away from a heart attack on October 5, 1944. Funeral services were held from the Presbyterian church, with the Rev. L. P. Warford officiating. Active pallbearers were: J. D. Stout, Ray Kaliher, Gordon Goldsmith, Roy Opsahl, Nels Hakkerup, Clarence R. Smith, Dr. Dannenberg and Otto Thelander.
Honorary pallbearers were: A. J. Naylor, Sr., W. L. Brooks, Martin Dunn, E. A. Barker, Ed Singer, Albert Worth, Sam Cutter and Frank Markus. (Extracted from the Bemidji Daily Pioneer, Oct 6, 1944)
---
John C. Parker (1859 – 1936)
John Parker was born in Stillwater in 1859. He was first engaged in logging and ditch contracting work throughout Northern Minnesota. He moved to Solway where he was superintendent of the Clearwater Logging company in 1900. In 1906 the family moved to Bemidji where he was a resident, actively engaged in civic work, being twice mayor, once in 1910 and re-elected for a second one year term in 1911. He was elected by the surprisingly large majority of 165 votes. He was also city treasurer for his fifth one-year term at the time of his death in 1936.
The Bemidji Pioneer featured this tale about his fishing adventure on the front page in June 25, 1907.
JOHN G. PARKER IS A FISHERMAN OF NOTE
Went Fishing, May 1st, on Clearwater River, Says E. H. Reff. Had Delightful Experience.
John C. Parker, vice president of the Donald Land & Lumber company, is not much of a fisherman, but we have it from the best authority that he makes it a practice to go fishing on the first day of May in each year (the opening of the hook and line season), whether that day be hot, a cold day, or a Sunday.
Ever since the latter part of last winter Mr. Parker has been on the Clearwater river, over in Itasca county, and at Plummer, over on the Soo, where Charlie Latta runs a newspaper.
We haven't heard much concerning what J. C. has been doing over there, but E. H. Reff of Bagley, clerk of court of Clearwater county, says of J. C. and his fishing.
"The first day of last May, Parker, equipped with provisions and a fur coat, sallied forth to the banks of the Clearwater river, secured a flat boat and put out upon the turbulent waters. Placing his coat on the back seat, he immediately commenced operations, casting his spoon this way and that as the boat drifted with the current down the stream. Colonel Parker is not much of a fisherman, from a scientific stand point, but he can cast a spoon fairly well, and he knows how to place an angleworm on a bullhead hook, right side up. The boat was a trifle rickety, which made it difficult for its occupant to maintain his equilibrium, and once or twice he in consequence sat down unexpectedly. It was not, however, until he had hooked a monster of the deep that he sat down on the outside instead of the inside of the boat, and it happened this way His line snapped in two."
"Parker plunged about in the stream in an endeavor to catch the boat, but the little craft dodged him and kept on its course towards the deep blue sea. Being a poor swimmer, Col. Parker could not reach the bank and had just commenced to say his prayers when a friendly log came bobbing past. He grasped the log and by a mighty effort succeeded in getting astride, and as together they went sailing forth he finished offering up his prayers. Down stream they went at a rapid pace until they struck an eddy, where the log commenced a series of gyrations, which would have made a whirling dervish turn pea green with envy. Around and around went the river horse, increasing the speed until Col. Parker became as dizzy as a fellow who had been drinking 'boot-leg.' He managed, however, to retain his seat until assistance came, and at that time he had been on the merry-go-round two hours and twenty minutes."
"Two farmers on the hilltop who were working in the fields observed a peculiar object spinning in the water and hurried to the river bank. Grasping the situation, they secured a long pole and thrust it out to the dilapidated fisherman and he was speedily pulled ashore. So weak was he from the immersion that his legs did not sufficiently limber up to enable him to walk for nearly an hour after his rescue."
"Should any one find a flatboat containing a fur coat, between here and the Gulf of Mexico they will please express the coat to Col. J. C. Parker, Bemidji, and retain the boat as a reward for their honesty." (June 1910)
Late on Friday afternoon, August 26, 1910, Mayor Parker barely escaped being killed at his logging camp near Kelliher when a crazed lumberjack attacked a fellow lumberjack while Mayor Parker was standing less than 20 feet away.  (Bemidji Pioneer, Aug 27, 1910)
Early today an automobile party composed of Mayor Parker and wife and two daughters with Miss Lucy Gilder of St. Paul and Miss Alice Hunter of Grand Forks as their guests, T. J. .Burke, and daughter and two brothers and Dr. Gilmore and wife, left for Itasca Park. Despite the rain the day was spent in merrymaking. (Aug 27, 1910)
John C. Parker Co. was incorporated on Jan 25, 1915 for the purpose of doing retail business in Bemidji. The three were J. C. Parker, S. F. Parker, and E. F. Parker.
Parker was the mayor at the time of a festival in 1911 which included a "calithumpian" parade for the 4th of July, motor boat races, sack races, greased pig races, etc.
He died at his home at 207 Seventh Street on Oct 13, 1936 following an extended illness of many years. He was survived by his widow, formerly Miss Sylvia Perro, two daughters, Mrs. Arthur J. Voshage of Minneapolis and Miss Ella Parker of the Parker Book and Stationery store in Bemidji.
He was past exalted ruler, secretary and trustee for the Bemidji Lodge no. 1052 B.P.O.E. for a number of years. The Bemidji Elks attended his funeral in a body at Stillwater. Burial took place at Stillwater.
Mrs. Sylvania Parker, a resident of Bemidji since 1906 passed away at the Bemidji Lutheran Hospital where she had been confined for several weeks. Mrs. Parker came here in 1906 with her husband. She died March 15, 1944.
Ella Frances Parker was born in Stillwater of John and Sylvia Parker. She taught in city schools at Bemidji from 1911-1918. She held the position of assistant cashier at Security Bank from 1918-1925; and assistant Beltrami County Superintendent from 1925-1931. From 1931, she was treasurer & general manager of books and stationery store. During World War I, she was active in the American Red Cross. She was a collector of old masters and had over 200 paintings in her collection. She lived at 207 Seventh Street until about 1945. She then moved to 421 Bemidji Avenue.
---
Matt Phibbs (1862 – 1945)
When it comes to old timers, Matt Phibbs' name must be included as one of the first settlers.
Matthew Phibbs was born to Irish parents in Canada. He married Mary Alice Dudley who was born in Shandon, Ohio.  About 1894, she came to Minnesota and taught near Fosston for three years. On December 14, 1896, she was married in Duluth to Matthew Phibbs and they homesteaded near Blackduck until June, 1897, when they moved to Bemidji. Mr. Phibbs was in the real estate business for many years and was appointed register of deeds when the county was organized, holding that position for a number of years.
Mrs. Phibbs was a charter member of the Methodist Church and Matt Phibbs was a Trustee. They continued as active members. Mrs. Phibbs was the first president of the Ladies Aid, first superintendent of the Primary department in the Sunday school and of the Cradle Roll, and conducted the first teachers training class of the church.
Matt Phibbs was Register of Deeds through 1904. In the 1900 election, the editor of the Pioneer wrote: Matt Phibbs will be re-elected to the office of register of deeds. It is all right to cry, "turn the rascals out," but Mr. Phibbs has proven not a rascal. While sticking faithfully to business in the court house he has made hosts of friends who will stick to him in the hour of trial by ballots. He has that rare ability of making friends without making enemies. He treats all men fairly, and a fairly-treated man remembers his friends on election day. Anton Erickson, his opponent, will show up with a large vote, no doubt, but we believe Mr. Erickson would really feel more disappointed than happy to see his friend Matt defeated. (Oct 25, 1900)
Along with Porter Nye, Matt Phibbs was one of the original members of the Old Settlers Association which held its first meeting on Sept 5, 1901.
Mary Ann Phibbs purchased Lots 1 and 2, Block 8, original townsite on April 10, 1901 for $550. This was the southwest corner of Sixth and Beltrami. Their home address was 523 Beltrami Avenue. They raised five children here: Fred, Frank, Pearl, Clifford, and Bertha.
Matt Phibbs formed a business with Anton Erickson. That partnership was dissolved in 1908 when Mr. Erickson assumed his duties as postmaster of the city of Bemidji. W. C. Klein and Matt Phibbs then formed a co-partnership under the firm name of Phibbs & Klein as of April 1, 1908. Mr. Klein had been employed as chief lineman for Warfield Electric company for some time past. The real estate firm of Phibbs & Klein was located at 204 Beltrami Avenue.
After the sale of their home at 523 Beltrami avenue, they moved to their farm in Rockwood township for a few years. They lived for a time at 1015 Dewey Avenue, and in 1930, they were at 609 4th Street. Eventually they built a home on Birchmont Drive.
Mrs. Phibbs died Oct 9, 1938. As a widower, Matt Phibbs lived on Birchmont Road with his son Frank and family. Frank was manager of the bowling alley. His wife was a stenographer for county office.
Matt Phibbs still lived in Bemidji at the time of his brother Thomas Phibbs' death in November 1944.
---
Thomas Phibbs (1870 – 1944)
Thomas Phibbs, a younger brother to Matt Phibbs, was born in Jarvis, Ontario, Canada on Aug 30, 1870. He married Lulu Jeffries, also born in Canada in 1897. They emigrated from Canada to Minnesota in 1898.  In 1900, they were living at Rosebud in Polk County, but then moved to the Bemidji area.
Mrs. Tom Phibbs died at her home two and a half miles south of Bemidji, after an illness of two weeks, in 1917. She was 43 years old and left a husband and four children: Lettie, Stacy, Gertrude, Evelyn. Thomas Phibbs continued to farm and in 1920, his sister-in-law, Mary Jeffries was living with them, no doubt helping with the children.
Thomas died in November, 1944. His children, Mrs. Lettie Goerke, Mrs. Evelyn Boyer, and Stacy Phibbs all lived in Bemidji. His daughter Gertrude Holt had moved to Washington, D.C.
---
J. P. Pogue
John Patrick "J. P."  Pogue was a native of Vermilion County, Illinois. He came to Bemidji in 1898 even before railroads entered the Paul Bunyan country. He served as mayor of Bemidji from 1907-09, and was one of the most colorful figures in the early history of the city. He held extensive properties both in the city and in the surrounding farm community.
Pogue started as a "toter" on a prairie freight train. At Bemidji he continued a similar occupation making regular trips, during the rigors of winter and heat of summer, and before railroads were known to them, to Turtle River, Tenstrike, Blackduck, Northome and Big Falls. Gradually ascending the scale of public recognition, Mayor Pogue assumed his first public duty as street commissioner and superintendent of the water works plant, a position he held for three years. He was elected mayor on Feb 25, 1907 and served two terms. By 1909, he held extensive properties both in the city and in the surrounding farm community and was the proprietor of one of the largest livery stables in the city. He was a well known horseman.
He remained in business for more than 18 years after his term of office as mayor, after which he purchased a farm in Hubbard county five miles south of Bemidji. He was extremely active in farm circles until the early 30's when he suffered an accident which left him crippled and forced his retirement.
He and his wife Anna (Tompkins) Pogue lived on farm about four miles south of Bemidji in the 1920s. Anna died unexpectedly in 1928. Mr. Pogue died in 1946. Both are buried in Greenwood Cemetery. They had four sons, Frank J., James, Joseph and John.
---
Leo Poppenberg (1881 – 1933)
Leo Poppenberg was born in Stillwater, Minnesota in 1881. Mr. Poppenberg came to Bemidji in 1899. Since the age of sixteen, he had worked for the M. & I. railroad.
While driving to his home in Nymore one evening he was an eye witness to the derailment of the engine on the Soo line. Stopping his car, he went to the scene of the accident to determine if anyone had been hurt. He was subject to heart attacks and it is thought that when he left the wrecked train, he did so in order to reach home before being taken ill. He drove the car a short distance toward Nymore, then stopped it and got out to lie on the ground, evidently overcome. He was rushed to the hospital but upon examination, it was found that he had passed away. He died Sept 27, 1933.
---
J. F. Remore (1822-1899)
Miss Casindana Brown was born in Watertown, N.Y., Feb. 19, 1824. She was married to Mr. J. F. Remore on Feb. 1st 1848, at Pillar Point, N.Y. Five children were born to them, including Guy H. Remore, of Bemidji, Minn.
Mrs. Remore died at Bemidji, June 3rd, 1899, after a protracted illness. Funeral services were held at Bemidji on Sunday, June 4th, and the remains were taken to St. Charles and interred in Hillside cemetery.
Mr. and Mrs. Remore came to Minnesota in 1856 and for many years resided in St. Charles. They moved for several years to South Dakota and in 1895 removed to Bemidji.
J. F. Remore was born at Rome, N.Y., Aug. 12, 1822, and died at Bemidji, Minn., Sunday, Sept, 17, 1899. After his marriage, they moved to Racine, Wis., where they resided until 1856, when they moved to St. Charles, Minn..
Mr. Remore was elected and served as senator from Winona county in 1876. They remained there until 1878 when they removed to Marshall, Minn., where for twelve years the deceased was sheriff of Lyon county. In 1895 he with his wife came to Bemidji, where he built the first building, the Grand Central Hotel, on the original townsite. It was later known as the Hotel Remore. After his wife's death, he failed rapidly and Sunday, Sept. 17, death came. He walked downtown feeling as well as usual and while sitting on the court house steps suddenly fell backward unconscious. Death had occurred instantly caused by heart failure. At the time of his death, he was probate judge for Beltrami County.
His remains were taken to St. Charles for burial beside his wife. The funeral services were conducted by the Masons, of which order he was an honored member, having attained the rank of Knight.
---
Rhea, George (1878 – 1939)
George Rhea was born in Illinois in 1878. Mr. Rhea came to Bemidji in 1903 as an employee of the Great Northern Railway. He resigned that position in 1907.
"George W. Rhea, who has for the past five years acted as cashier at the Bemidji office of the Great Northern Railway company, is now in the employ of the Lumbermen's National Bank of Bemidji, where he greets his old friends from behind the polished counters, and is no longer stamping tickets for transportation.
Mr. Rhea sent in his resignation to the railway officials about a month ago, and in the meantime accepted a position with the bank. Up to the present time no one has been sent to fill the position left vacant by the resignation of Mr. Rhea.
Mr. Rhea has a host of friends in Bemidji, and all of them extend congratulations on his entering another, and probably a more lucrative, field. (Bemidji Daily Pioneer, Sept 10, 1907)
George Rhea was first elected to serve as City Treasurer in 1912. When he was reelected in 1917, he  received 661 of the 1100 votes cast for the office. In 1919, the local paper reported, "For the position of city treasurer — For the past seven years, Mr Rhea has been elected by the voters of the city to this office, and at no time had any serious opposition, it being generally conceded he was the right man in the right place. Mr. Rhea is too well known to need an introduction to the voters of the city. His re-election is a foregone conclusion, as his record in the service of the city is well known.  (Jan 22, 1919)
For 25 years, Mr. Rhea was associated with the Lumberman's Bank which then became the Northern National Bank. In his last years, he had been associated with the Regional Agricultural Credit Corporation since retiring from the bank. He died in 1939. He was survived by his widow Myrtle Adele Rhea and four children.
---
Fred Rhoda (1869 – 1938)
Fredrick William Rhoda was born on July 19, 1869, on a farm where the village of Swanville is now located in Minnesota to Albert Julius Rhoda and Matilda Rhoda. When he was a young man, Mr. Rhoda moved with his parents from the farm to Long Prairie and served for a number of years under his father, Albert, who was a deputy county auditor of Todd County. In 1892, Fred went to Staples where he worked as cashier in the Bank of Staples. In 1895, he moved to Park Rapids and became cashier of the Bank of Park Rapids.
On December 24, 1897, Mr. Rhoda came to Bemidji and with William M. Taber started the city's first bank, the Bank of Bemidji. It was before the days of incorporated state banks, and so it was a private institution. In 1898, the bank sold out and became what is now First National Bank. In 1898, Mr. Rhoda started the Merchants Bank of Bemidji and operated it until the turn of the century, when it was sold to the Lumberman's State Bank.
Mr. Rhoda purchased two pieces of property in Bemidji in 1899. One was lot 6 in Block 13, which fronted Bemidji Avenue and ran all the way back to the alleyway at the west end, and when addresses were awarded, this became 317 Bemidji Ave. . The other consisted of four lots in Block 4 located between America and Irvine Avenue north of Sixth Street.
He was a member of the Bemidji Gun Club. Fred Rhoda, Geo. McTaggart, J.H. Haner and a few others of the Bemidji Gun Club are attending the shooting tournament in Grand Rapids, yesterday and to-day. (May 1900)
He was helping the county auditor at Bemidji in 1901. He ran for the office of Clerk of Court in the fall of 1902. The front page of the Bemidji Pioneer analyzed the results. "For the election for clerk of court, Fred W. Rhoda received a large majority on the republican ticket, and there never was a man more deserving of any honor the office may bring him than Mr. Rhoda. He is a comparatively young man, but has lived here for five years and has always made friends in every line of work which he has undertaken. Fred was for a year or more deputy in the auditor's office and while there he added materially to his rapidly growing list of personal friendships. He will succeed C. W. Speelman, who was his opponent on the peoples' ticket. Mr. Speelman is a man of parts, but many some among his friends were of the opinion that he had held the office as long as was consistent with the principles of democracy, he having been in the position for six years. This combined with his own popularity gave Mr. Rhoda the place he so richly deserves." (Nov 6, 1902)
Melvina Yunk came to Bemidji in 1906. She and Fredrick married in Bemidji on Nov 11, 1907 when Melvina was only 16 years old. The wedding was covered on the front page of the Bemidji Pioneer on Nov 12, 1907: F. W. Rhoda and Miss Vinie Yunk were married last evening, the ceremony being performed at the residence recently purchased by Mr. Rhoda from A. Clavin. Judge of Probate M. A. Clark performed the ceremony, which was solemnized in the presence of a few of the relatives and friends of the bride and groom. Mr. and Mrs. Rhoda left last night on a wedding trip to Duluth and other points.
Mr. and Mrs. F. W. Rhoda returned last night from their wedding trip and will make Bemidji their home, occupying the splendid residence recently purchased from A. Clavin of this city. They report having had a pleasant trip. (Nov. 19, 1907)
A lawn social for the benefit of St. Philip's church was held at the home of F. W. Rhoda on America avenue and Fifth Street Thursday evening. (Aug 15, 1913)
Fred was Clerk of District Court for Beltrami County from January 1903 until he died at his home at 423 America Avenue on November 27, 1938. Melvina lived at their home on America Avenue from the time she married until her death on June 12, 1959. Since I was a youngster who lived next door, I remember her sometimes sitting on her screened-in front porch facing America Avenue.
Fred and Melvina had one adopted son, Albert M. who was born September 17, 1918. Master Albert Rhoda celebrated his second birth anniversary in September 1920. A party of eighteen little, guests, were invited to play games for the afternoon at the Rhoda home on America avenue. At 5 o'clock a pretty birthday luncheon was served to the little folks. In 1940, Albert, at age 21, was living with his mother at their home at 423 America Ave. Albert was a bookkeeper for a retail lumber yard.
(Information from the Depot Express, Fall, 2014 by Sharon Geisen; articles in the Bemidji Daily Pioneer, and property information from the Beltrami County History Center).
---
A. P. Ritchie (1869 – 1950)
Absie Partee Ritchie was born in New River, Allegheny county, North Carolina, May 19. 1869. When 3 years of age his parents, Moses and Rebecca (Rogers) Ritchie moved to Lawrence County, Ky., where they lived until the fall of 1879, at which time they came to Minnesota and settled at Howard Lake in Wright County.
He attended school in that community and later attended the state Normal School in St. Cloud, Hamline at St. Paul, and Western University in Chicago. At the age of 21 he chose teaching as a profession, and at the age of 23 was appointed assistant county superintendent of schools for Wright County, and was re-appointed the next year.
Absie P. Ritchie was an integral factor in the building of the educational system of this city. He served as superintendent of schools here from 1904 to 1910 and then served on the school board from that year until 1920. He was the chairman of the county educational board, through efforts of his, much credit is due for his efforts in locating  the Normal school in this city, now known as the Bemidji State Teacher's College.
In a civic way, Ritchie found many opportunities to do his bit for building a better city. He was one of the organizers of the Security State Bank and later a director on its board. He served as postmaster from 1915 to 1923 and for 21 years, he was president of the Farmers Mutual Insurance Company and also operated the Mattson-Ritchie Lumber Co.
Ritchie served as county commissioner from the first district from 1913 to 1946 and the last three years of his service as chairman of the board. In 1941 he was named president of the state board of County Commissioners.
Another lasting memorial of this man is Diamond Point, recreation spot of Bemidji which was to a large extent planned through him as well as our Carnegie public library which he was eager to see located here.
He was a member of the Bemidji Lodge A. F. and A. M., No 233, since its beginning and only a few weeks before his death,  Mr. Ritchie was introduced as one of the oldest members still active in the work.
It was in 1906, July 25 that he was united in marriage to Mabel Skinner in Elgin, Illinois. For many years Mr. Ritchie and his family made their home on the Mississippi river two miles south of Bemidji. He died on Jan 31, 1950 at Bemidji.
---
William H. Roberts (1963 – 1907)
William H. Roberts was born in New Richmond, Wis., in May 1863. Prior to coming to Bemidji in August 1897, Mr. Roberts lived at Hamilton N. D. and other points in the "Flickertail" state, where he was engaged in the banking business. After coming to Bemidji, Mr. Roberts figured prominently in the financial circles of the north half of the state. He was a heavy stockholder in the First National Bank of Bemidji and was vice president of the institution. He was also interested at Blackduck, Kelliher and other points north of Bemidji. His success as a banker was very marked, and his business instinct was really remarkable, as to the stability of investments. Mr. Roberts was always closely identified with the growth and advancement of Bemidji, and was always willing to do all in his power to assist in the development of the city, assisting liberally financially and otherwise. He died at the age of 44. He was a prominent Mason, and was at the time of his death treasurer of the local Chapter of Royal Arch Masons. (Bemidji Daily Pioneer, July 31, 1907)
---
Patrick J. Russell (1862 – 1945)
P.J. Russell was known as the pioneer lawyer of Beltrami County.
Patrick Jerome Russell was born in Belle Plaine, June 6, 1862. He took a course at the St. Paul Business College and later entered the Sauk Center Academy. He was married to Cornelia Russell on June 26, 1890, at Drayton, N.D. In 1891 he was admitted to the bar in Crookston and practiced law in the courts of Minnesota for his entire career.
Mr. Russell came to Bemidji in 1899 and was an outstanding figure in the affairs of the city. Cornelia Russell purchased three lots at the corner of Dewey Avenue and Ninth street on Nov. 29, 1902 and an adjoining lot on Jan 19, 1903 and had a house built at 901 Dewey Avenue.
 P.J. Russell was confined to his home as a result of a crushed foot sustained while chopping wood. "Mr. Russell did not crush his foot with the axe, (he is too much of an expert with this instrument) but rather with one of the large pieces of wood which he was cutting in two, which fell upon the member, causing a serious wound." (Dec 27, 1904)
Cordelia Russell died at her home in Bemidji after a four year fight to ward off cancer. She died Sept 11, 1911. They had three sons, William, Charles, and Francis, who was born just a few months earlier.
On June 30, 1913, he married Anna B. (Chisholm) O'Connor in Bemidji. They had one daughter, Kathryn.
City Attorney Weds.
"A wedding of interest was solemnized this morning at 8 o'clock in the St. Phillips church when Mrs. Anna O'Connor became the bride of City Attorney P. J. Russell, Father Philippe officiating. The bride and groom were attended by Mr. and Mrs. R. F. Murphy, and the ceremony took place in the presence of a few of the immediate friends and relatives.
A wedding breakfast was served at the home of the bride's daughter, Mrs. J. A. Younggren, at 9 o'clock. The guests included Mr. and Mrs. P.J. Russell, Mr. and Mrs. R. F. Murphy, Mr. and Mrs. Fred Brinkman, Eddie Brinkman, Miss Ruth Younggren, and F. N. Younggren of Minneapolis, Byron Russell, William Russell and Frances Marshall Russell, and Mr. and Mrs. J. A. Younggren.
Mr. Russell came here thirteen years ago. He was admitted to the Minnesota state bar in 1890. He is serving his ninth year as village and city attorney and has been a member of the state forestry board for three years under Governor Johnson's administration. Mr. Russell is a staunch Democrat and has been mentioned for public office under the present Wilson Administration.
Mr. and Mrs. Russell left on the noon train for Duluth and other points, expecting to return to the city for the Fourth of July. Mr. Russell has been chosen as speaker of the day
at Kelliher for the Fourth." (Bemidji Daily Pioneer, front page, July 30, 1913)
The Russell family lived at 901 Dewey from then until about 1935.  He and Anna moved to 905 Lake Boulevard from about 1935 and he lived there until his death on Nov 2, 1945.
---
Charles F. Schroeder (1874 – 1928)
Charles Frederick Schroeder was a pioneer settler of this district and one of the best known farmers in the state.
During Mr. Schroeder's long residence in Beltrami County he was known as a man who was interested in the growth of this community.
In 1896 he came to Bemidji from Osakis with his brother, Wellington Schroeder and established a tote road between Bemidji and Park Rapids. For several years the Schroeders hauled logs over this road which was hardly more than a blazed trail. There were no bridges over the Mississippi in those days.
After his logging venture which proved successful despite its handicaps, Mr. Schroeder entered the mercantile business with his brother, Wellington.
On October 6, 1896 they started a general store where the Grand theater building was later located [218 Third St.]. A year later they erected the building which later housed the Gill Bros. clothing store. [221 Third St]. This was two years before the railroads reached Bemidji and W. G. Schroeder freighted the merchandise for the store from Park Rapids by team, while his brother attended the operation of the store. C. F. Schroeder later purchased his brother's interests in the business and continued it alone for several years.
Retiring from the store business, C. F. Schroeder moved to a farm in Grant Valley Township, later going to the Carr Lake district where he established one of the best known dairy farms in this region. He served in numerous offices, some of them public and some private organizations. At the time of his death, he owned one of the best known dairy farms in the county. At one time he was city clerk of Bemidji. He served as the first secretary of the Bemidji fire department.
Charles F.. Schroeder was a member of the Better Farming Club. He was the first president of this organization more than 20 years ago.
Among the offices which he held were assessor of Bemidji township, city clerk in Bemidji, member of the Grant Valley town board and Secretary of the Beltrami County Fair. He held the latter office for several years. The exhibit that won the State Fair prize for Beltrami county was supervised by Mr. Schroeder.
He was married to Mabel Gregg Pendergast Schroeder.
He died on Feb 15. 1928. He was survived by Alice Schroeder and Ardyth Schroeder of Berkeley, Cal., daughters; another daughter, Gail, at home, and a son William, also at home. His two brothers surviving him were Frank Schroeder, a mail carrier, and Wellington, farmer of the Grant Valley district. A sister, Mrs. Otto Schwandt, together with his mother, Mrs. William Schroeder, also survived him. (Bemidji Daily Pioneer, front page, Feb 16, 1928 & Feb 18, 1928)
---
Robert Schultz (1848-1917)
Mr. Schultz was born in Hinchinbrook, Canada, April 8, 1848. He was married to Arbelle McKnight on Nov 29, 1868. To them 11 children were born. Robert Schultz was one of the first settlers in the area. The family came to Bemidji from Crookston about 1895 and pitched their tent the first night where Northland Apartments now stands.
Listed at Bemidji on 1900 census. Robert Schultz, wife Arbelle, daughter Ollie Cline, son-in-law John Cline, four daughters, Janesse, Phoebe, Emeline, and Luella, and grandchildren Bertha and Eldon.
Robert Schultz will open his new saloon in Mill Park addition to Bemidji tonight. Much opposition was given to the opening of the resort by a number of the people of the addition on account of its close proximity to the Congregational church, but it seems that the building is far enough distant from the church to allow the opening of a saloon within it. (Sept 24, 1904)
The funeral services for Robert Schultz, who died Tuesday evening, Oct. 16, 1917 were held at the home of A. Hazen, five miles south of Bemidji, Rev M. A. Soper officiating.
Mrs. Schultz died at Bemidji on Sept 27, 1937
---
Judge Hiram A. Simons (1853 – 1926)
Judge Hiram A. Simons, a resident of Bemidji,  and one of the oldest members of the local bar, passed away at his home at 1403 Bemidji Avenue in 1926 after an extended illness.
Hiram Simons was born in St. Paul on Nov 22, 1853. He graduated from the U of M and was admitted to the bar in 1897. He practiced law in St. Paul for a time and came to the north county in August 1902. He was townsite agent in opening Northome for settlement and in Dec 1904 he came to Bemidji as a representative of the Bemidji Townsite Co. In 1906 he was appointed United States Commissioner by Judge Page Morris, which office he held continuously until the time of his death. In 1911 he was appointed judge of the Municipal Court of Bemidji, to succeed Judge Harrison Bailey, by Governor Eberhart.
Judge Simons was survived by his wife Mary Gotwald Simons, and nine children, as well as numerous brothers and sisters. Mrs. Simons died in 1956. Both are buried in Greenwood Cemetery.
---
Hiram A. Simons (1853 – 1926)
Judge Hiram A. Simons, a resident of Bemidji, for 22 years and one of the oldest members of the local bar, passed away at his home at 1403 Bemidji Avenue on March 1, 1926 after an extended illness.
Hiram Simons was born in St. Paul on Nov 22, 1853. He graduated from the U of M and was admitted to the bar in 1897. He practiced law in St. Paul for a time and came to the north county in August 1902. He was townsite agent in opening Northome for settlement and in Dec 1904 he came to Bemidji as a representative of the Bemidji Townsite Co. In 1906 he was appointed United States Commissioner by the late Judge Page Morris, which office he held continuously until the time of his death. In 1911 he was appointed judge of the Municipal Court of Bemidji to succeed Judge Harrison Bailey, by Governor Eberhart.
---
Bert Sisley (1865 – 1900)
After a long and painful struggle with a serious complication of diseases, resulting at last in typhoid fever, Bert Sisley passed to the silent beyond last Saturday afternoon. He was taken to the hospital four weeks ago, and has been unconscious most of the time since. It was a magnificent fight between strong vitality and death, but the scythe of the Reaper again proved the weakness of mortal man. Sunday afternoon the body was escorted in honor by the Bemidji Tribe of Red Men and the Bemidji Firemen, of which orders he was a member, to the west bound train and shipped to St. Cloud for burial. A brother of the deceased and Fred Brinkman went with the corpse and assisted in the last sad rites.
The deceased was 35 years old, having been born near St. Cloud in its pioneer days and his parents still live near Foley. He came to Bemidji in the fall of '98 and joined Fred Brinkman in the saloon business and continued with Fred up to his death. He was unmarried. Two brothers and three sisters and his parents survive him. His father returned with Mr. Brinkman to Bemidji.
Bert was a man whose greatest gift seemed to be the making of friends. And we doubt if in his whole career in Bemidji he has made one enemy. Everybody liked Bert and the whole community mourns as brothers his untimely taking off.  (Bemidji Pioneer, July 19, 1900)
Sisley, William
William Sisley, lately of St. Paul, is conducting an employment agency in the Dewey House. He has several large contracts to supply men for logging and other jobs. (Oct 26, 1899)
---